To date I have visited Thailand 3 times, exploring Phi Phi, Bangkok and Chiang Mai.
This time I am landing in Bangkok and hiring a car for a road trip around central Thailand. First I will be heading north to Kanchanaburi, then south down the coast through Hua Hin and beyond.
As with all my road trips my only plan was a list of places to visit, I had a sim card with unlimited data so I can just go with the flow. If I don't like a place I will continue on to the next.
Since I had been to Bangkok twice before, as soon as I landed I headed straight out of the city towards Sai Yok and Erawan National Park. After 4 hours of driving I made it to Pha Tat Waterfall. The sun had set as I arrived so I found a hotel and relaxed for the evening. The next day I woke early and headed to the falls to get there before anyone else did and what I was met with was nothing like the pictures I saw!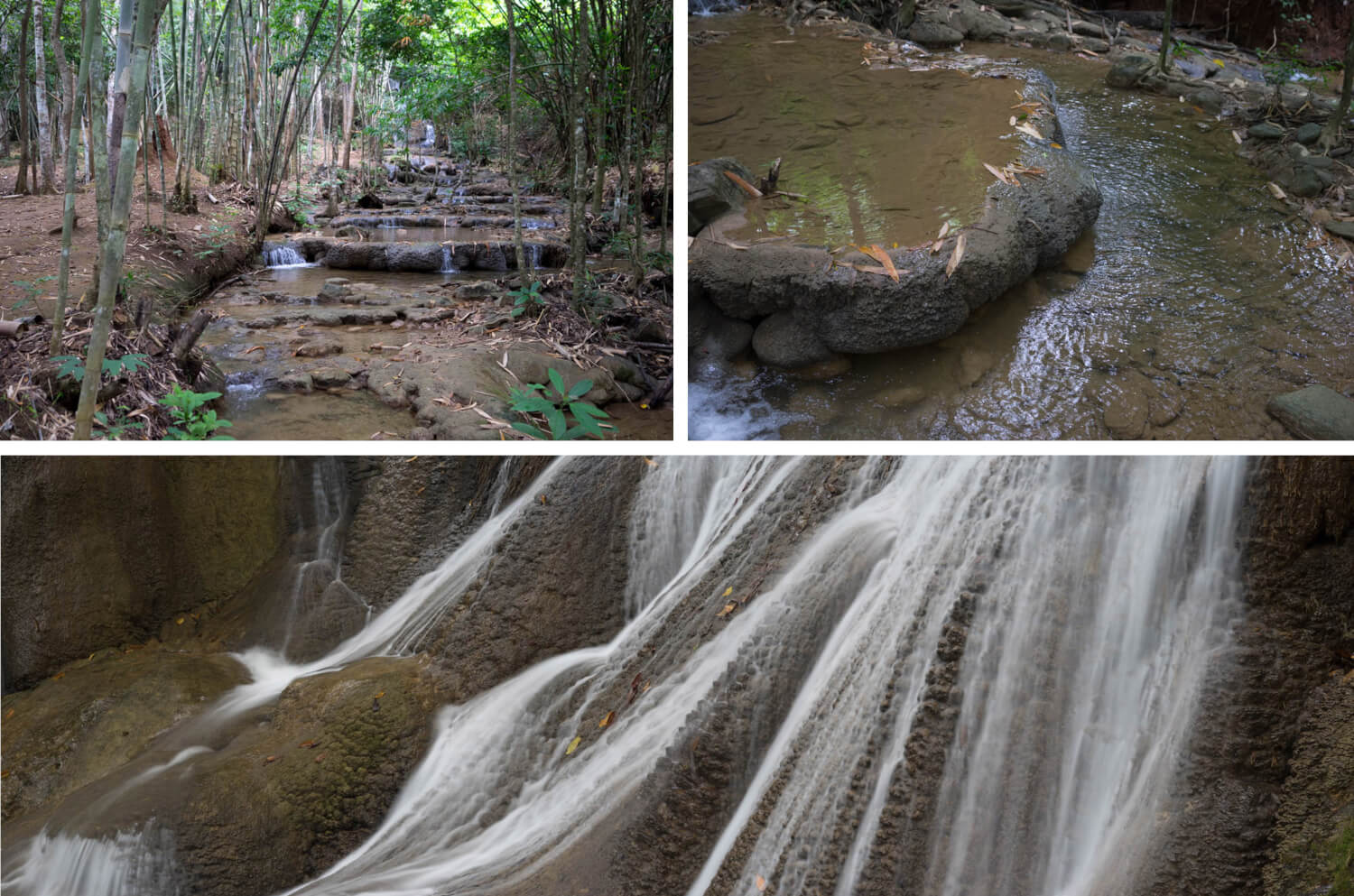 Did I come at the wrong time of the year I wondered? Thankfully as I followed the path upstream it did get prettier and I spent the morning photographing and climbing the many tiers of the waterfall.

I then headed east towards Huai Mae Khamin Falls. Whilst it was 50km directly east, Google Maps told me I had to drive all the way south and then north again for 165km. There was however a small faint road over the shorter distance so I decided to try it anyway. After 2 hours of bumpy gravel roads that almost made me turn back I made it to the waterfall at 3pm. It was time consuming but at least it was an interesting drive through the forest.
Huai Mae Khamin Falls was so beautiful! The colour of the water and the layers blew my mind so much I came back again the next day. There are 7 tiers that span 2km with trails blanketed in bamboo and banyan so I was busy shooting for hours, and happily there wasn't anyone else in sight!


I later found out why it's so quiet here, it has always been extremely difficult to get here until 2 years ago when the road opened. Before that, it was 80km of dirt road or a ferry so there are no hotels or great places to eat which means few people venture here and stay at the more popular Erawan Falls to the south.


After shooting the last tier, I dropped my $150 105mm Polarizing filter into the pool below me, it was so frustrating because they are usually very shallow that I could walk in them but this seemed to be the deepest section so I wasn't able to get it back. But all was not lost- when I got home to see Amazon had a sale on for this filter at only $50, so I bought 2!
Having shot Huai Mae Khamin Falls to death, I headed south to Erawan Falls, the most popular and what I thought would be the prettiest. It was very crowded since it was the closest to Bangkok and had many resorts surrounding it with so many people swimming and having fun, but I am happy to say it has nothing on Huai Mae Khamin Falls so I wasn't too bothered I couldn't take many pictures here.


After only 3 hours here I was back in my car heading south for the Hua Hin and the coast. I drove along the Gulf of Siam not finding anything of interest until I got all the way to Hua Hin which was just a usual tourist town and not worth stopping in for more than lunch. The first place I finally got my camera out again was Pranburi just south of Hua Hin where there was a great fishing village.

It wasn't easy to explore as I couldn't just walk through it, I had to walk to and from the road multiple times to find interesting places to shoot. Crossing the river to see the other side of the fishing village meant a 10km drive over the nearest bridge. I spent hours here watching boats come in and the fishermen go about their day. Whilst the surrounding beaches weren't photogenic, these villages certainly made up for it.



Nearby there was also a Mangrove Forest to walk around at the Pranburi Forest Park. It was a challenge to shoot with it being so dense and getting everything in sharp focus.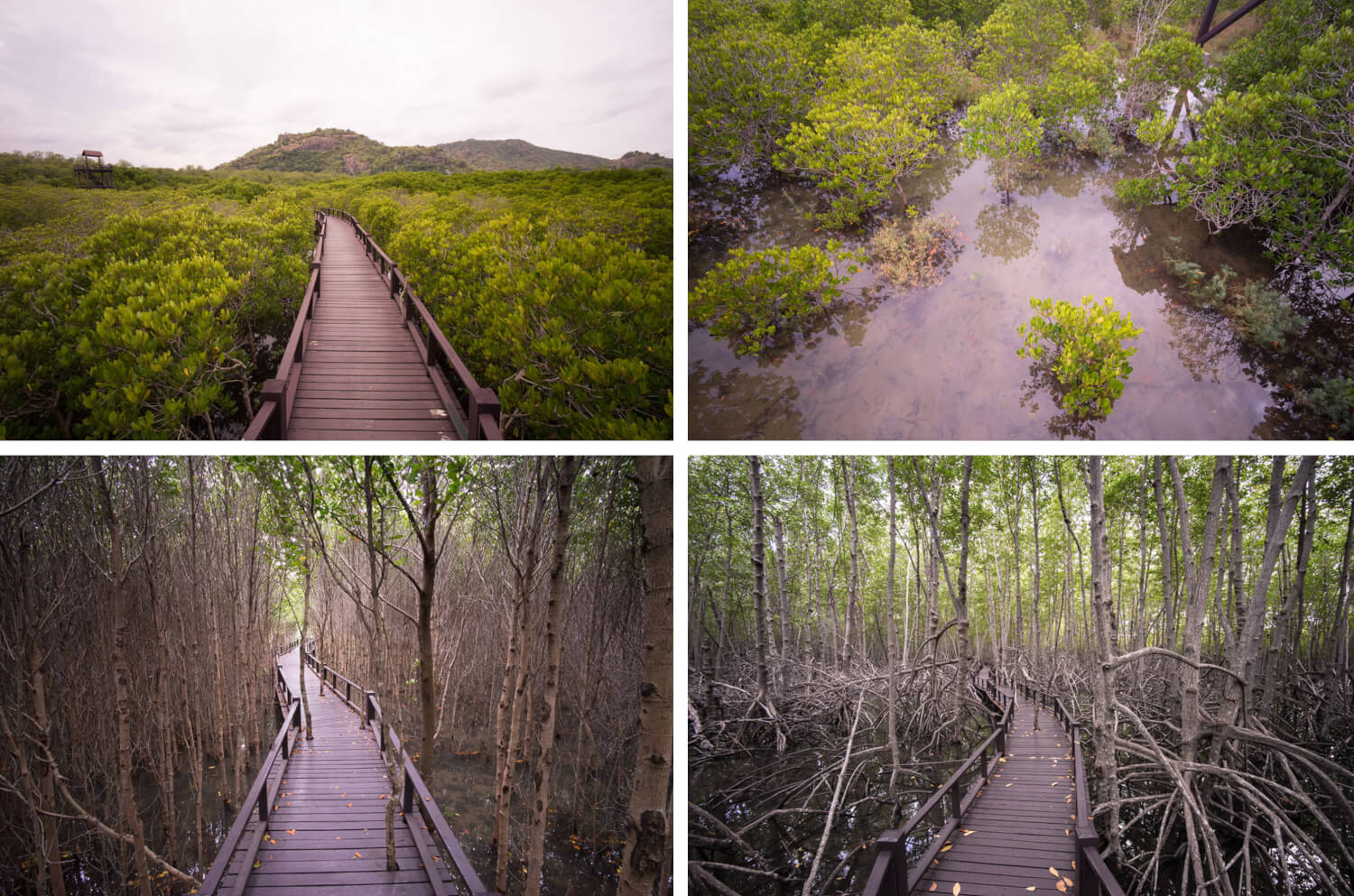 I carried on south to Khao Sam Roi Yot National Park checking out every bit of coast along the way searching for my next shot, I passed through small, quaint fishing villages and pineapple farms amongst the limestone hills.




I was inspired to try a long exposure to create an abstract shot on a rainy day of the boats below, I took a 2 minute exposure which creates a wonderful blur as the boats bob in the calm waters. Even now I can't decide if I prefer the frozen moment above or this abstract version.

To the west sits Kuri Buri National Park, home to 320 wild elephants, the largest number in Thailand and a great place to go on a mini safari.
I booked a private afternoon safari and went searching for wildlife. The guide told me they saw 3 elephants the day before so he wasn't sure what today would be like as he radioed to see if there had been any sightings. After 45 minutes of bumpy roads we stopped at an opening and I watched on as a family of elephants wondered through. It was wonderful to see them in the wild for the first time. In Chiang Mai, I had visited a sanctuary and it was so sad to see them chained up.
After 30 minutes of slowly walking and eating across the valley they disappeared into the bushes. We jumped back in the truck in search of more. We stopped at a large clearing where another huge family of around 15 were walking through, we stood at the top of a hill at a safe distance as we watched them feed and birds followed at their feet to catch any worms and insects they uncover.
When it comes to shooting wildlife I hope to get a group within a landscape scene, there were some nice trees that would be perfect for a panoramic shot but all the elephants choosing to stay away from this area creating fairly uninteresting pictures of just elephants and grass. Still I was happy to see wild elephants so close. Eventually another herd came out of the bushes and walked past only 20 meters ahead of me; they were cautious at first as the leader checked if it was safe to pass. My excitement grew to have seen 3 different groups and over 50 elephants within 2 hours.

They wandered into the distance slowly and then yet another family came out of the trees, this time however luck was on my side and they walked into the landscape I wanted them to, I took shot after shot as they slowly meandered through until I captured the perfect family moment.

I watched on until the sun dipped below the mountains and we headed back out of the park, I couldn't believe I had seen so many today!
On the way back, another family was spotted near the road and we had to stop and wait for someone to come and escort us. This was to avoid the elephants giving chase as it had happened in the past.
The most beautiful sunset appeared across the sky as I bounced around the open air truck, a perfect end to a lovely afternoon.
The next morning I drove back to Bangkok to make my 2pm flight home to Singapore satisfied with my perfect Thai road trip. I feel I have ticked Thailand off my list of places having been here 4 times. On to the next beautiful country to keep expanding my portfolio of Asia!