When my friend Sandra invited me to go on an expedition through one of the world's largest caves in Vietnam, I jumped at the chance! Not even put off by the US $3000 price tag I couldn't wait to see a cave of this magnitude with the largest chamber stretching 3 miles long and able to fit a jumbo jet! Only 500 people are allowed into Son Doong each year in groups of 10.
The expedition involves 50km of trekking over 5 days with 4 nights camping inside the caves with Oxalis. Thankfully there was a team of 20 porters to carry most of the gear and food leaving me to carry all the camera gear I needed. Even though it's dark in there I was going to bring my panoramic film camera and widest lens to see what I can capture with some long exposures. I have never shot in caves before so it will be a new experience, hopefully I won't mess it up!
The team taking us on this tour consisted of 2 caving specialists, Watto and Sweeney from England along with 25 porters.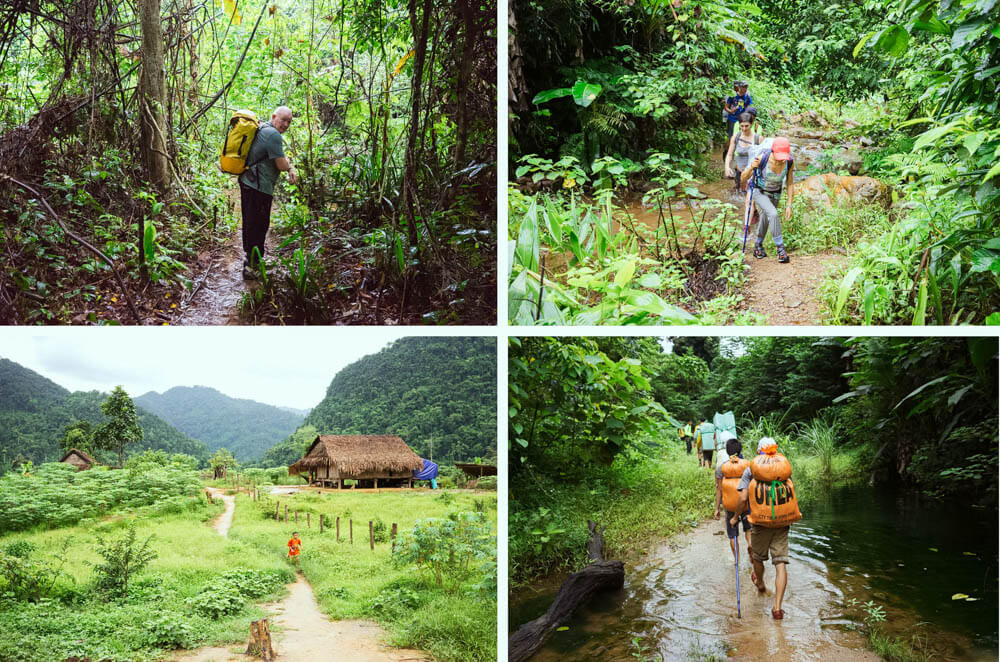 Day 1
---
The mini-bus dropped us at the top of the trailhead at 9am, where we started with a steep descent into the valley below on a rainy July day. Normally I would be very unhappy with this weather but as we were going into a cave and trekking all day I was glad for the cooler temperature. Bad weather wasn't going to ruin any photos on this trip.
It was a muddy hike through jungle, rivers and Ban Doong village with a population of only 40 people.
I had bought some special river boots just for this trip that let all the water drain out and had the best grip. Since there was no way to keep the water out of Goretex boots. they would be useless here.
We arrived at the entrance to Hang En cave at 3pm, we actually get to see 2 caves as this is the only way to get to Son Doong. We donned our hard hats and started a steep climb until we got to see our camp site for the night below.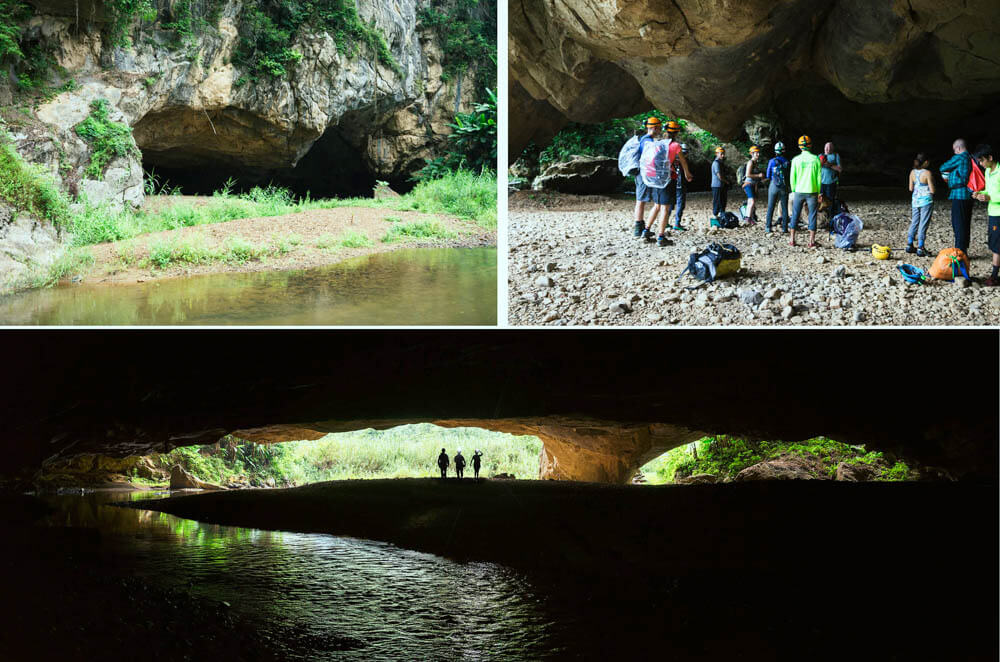 The sheer scale of the cave was incredible, and this wasn't even the largest we would see on this adventure. It was so quiet here with only the sound of the tweeting swifts above and echos of voices bouncing around the cave walls.
First I headed down to the campsite to survey the whole area before deciding where to shoot, and then headed back up with Sandra and a guide to shoot the scene before the light faded for the day, I had them stand on a rock to add scale to the picture.

We headed back down to the campsite where we bathed in the river before eating dinner, a big selection of different dishes as night fell and darkness surrounded us.
The caving experts were very helpful with photography and setup for a great long exposure night scene which we spent an hour shooting as I directed them to light up different sections of the cave as I shot my panoramic composition. I hope getting them to shine time and time again didn't annoy them until we got it just right.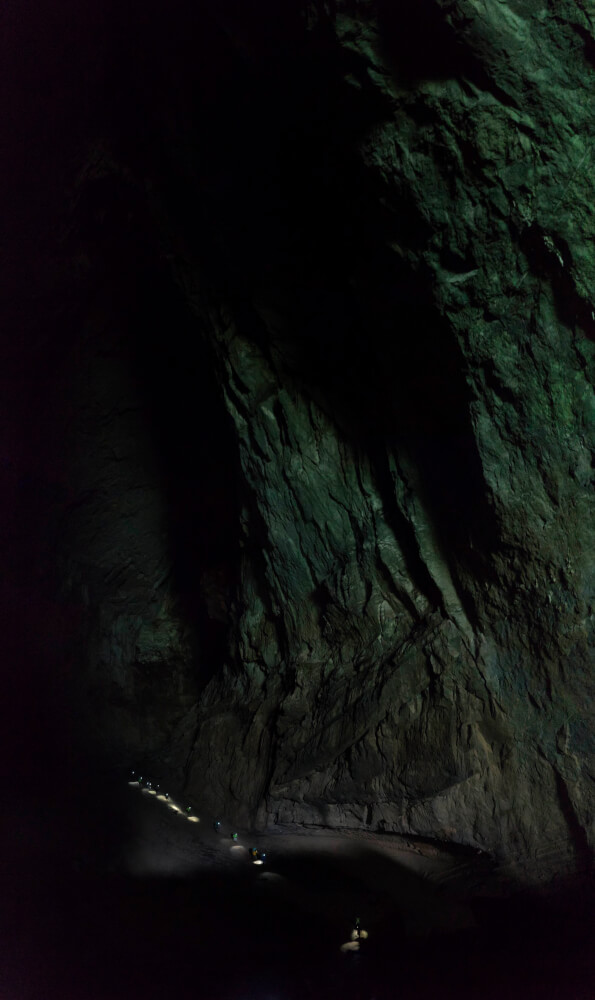 Day 2
---
We rose early the next day, ate a bowl of Pho for breakfast and went on our way.
Already I had fallen to the back as I took my time looking for shots, but this had its advantages such as the immense scene below made only by the line of the group walking way ahead of me, something I couldn't have gotten if I was at the front.
After 30 minutes of walking through rivers and climbing over huge rocks we made it to the exit of Hang En and stopped to take pictures of the huge opening. Even with the widest lens it was tough to get it all in for a great composition, and only having a person stand in shot would you have any sense of the vast scale.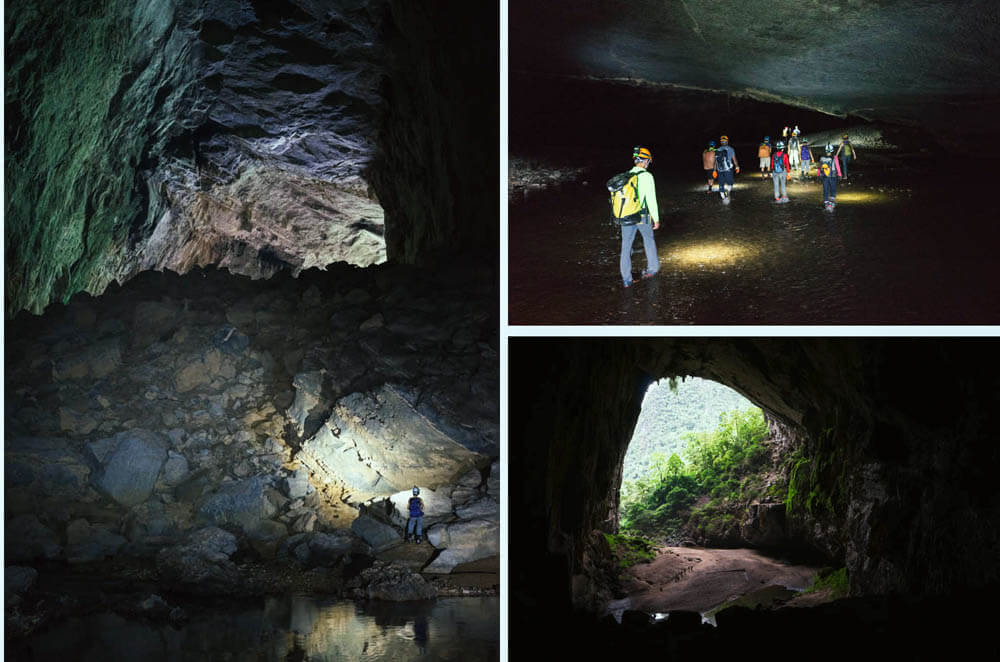 Out in the open again it was dry but cloudy as we meandered through rivers, forests and steep, muddy inclines until we eventually reached the opening of the great Son Doong cave. You realized how it was so hard to find as the cave went deep underground.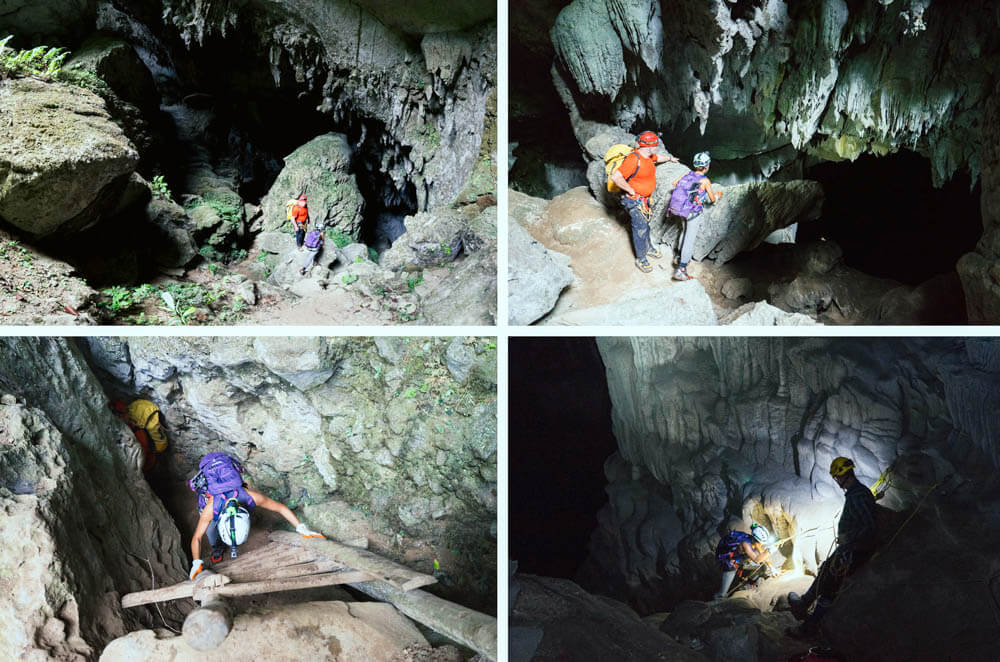 This was when the real caving began. We started by descending 80m on ropes deep into the cave, at the bottom it was a perfect opportunity to shoot a pano as the team descended towards me with the incredible formation of the cave up to the opening. It was a slow process so I had plenty of time to experiment and get the best shot. I brought my film camera with me but this became dead weight as the exposure times were just too long to use for most shots, especially when it's important to have someone in shot to show the scale of the scene. Whilst I did attempt some, most were too dark and not good enough to show, with light trails from the group walking through shot. I knew this would happen but hoped it would be useful in the daylight sections.

We had so much time that whilst waiting Sandra took some great portrait shots of me. I tried to replicate the same for her but for some reason my versions were rubbish!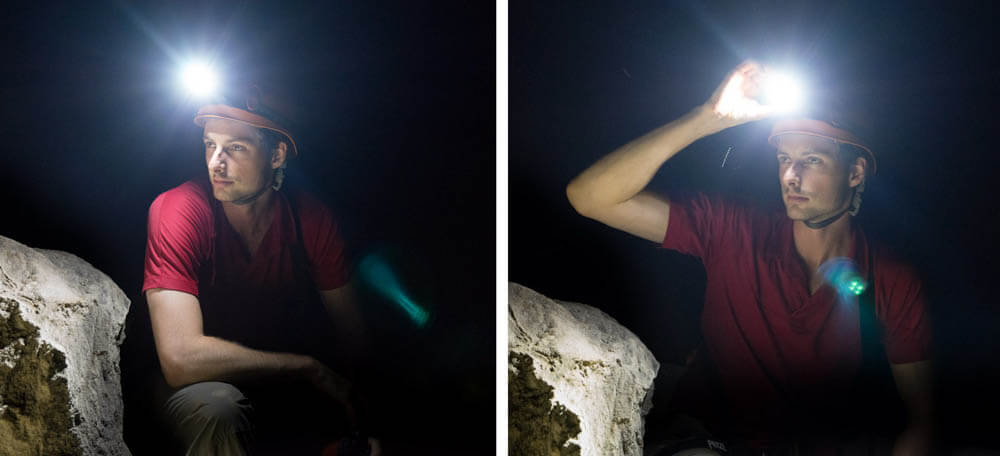 Son Doong required a lot more bouldering and climbing than Hang En which I loved. It took me back to when I was a kid in Brimham Rocks climbing the big boulders in England. At all times I had my camera around my neck looking out for shots to take, sweat and water dripping onto it, it certainly was a good test for the Sony A7 which never skipped a beat.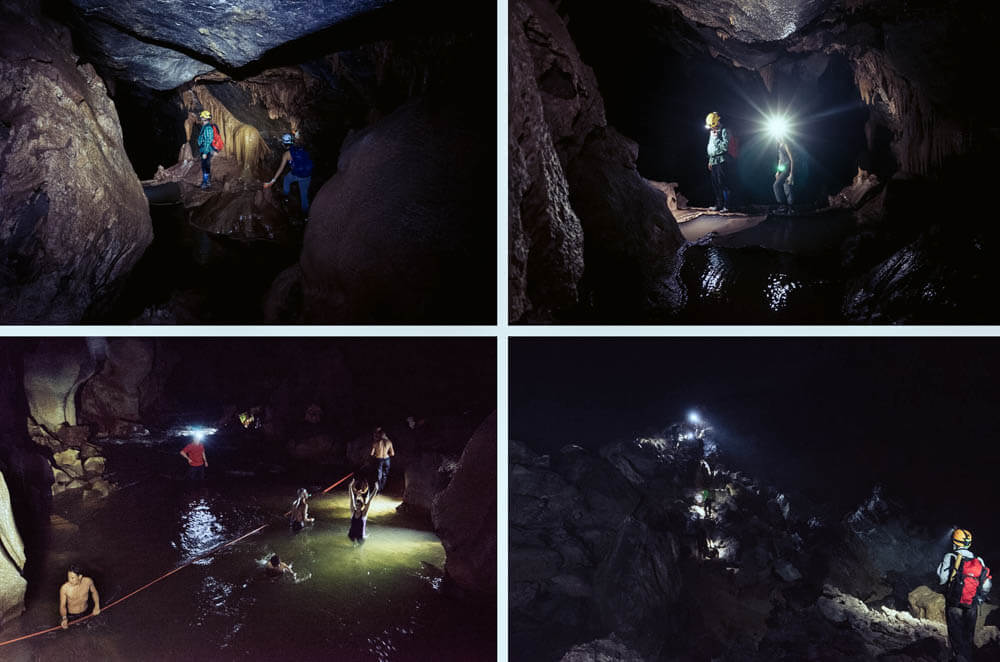 We had to cross the river twice to continue through which came up to my waist, it's times like this I am glad I am tall as I watched the rest waddled with water coming up to their chests. It was nice to cool off in the water as the climbing has been more intense today.
The best thing about the caves is they stay at a constant temperature of around 25 degrees, much cooler than outside so it's bearable.
Eventually we came to the best view yet, looking down 1km of the cave towards a rock known as the Hand of Dog and the first opening, the perfect place to show the vast scale of Son Doong cave. Large enough to house a whole New York City block!
I had to be quick to shoot as no one wanted to wait around.

Scrambling over rocks through the 1st large passage as we passed big drops and the Hand of Dog, we finally reached our 2nd campsite. All the campsites were chosen near openings so we had light as once darkness engulfed the caves it made it a lot harder to see what you were doing. I guess that was why dinner was always ready and served before sunset which was no fun for a photographer who wanted to keep shooting as the light fades.
There was no place to wash this time so I used wipes to clean off the dirt of the day.
The toilets were the most interesting thing about this expedition, they were just buckets underneath a seat and we used rice bran to cover our waste. They did however have some of the best views for toilets looking out the epic openings. One had a rock that hilariously had a mouse that had died on it, it was sat right in front of me as I did my business and was lying with it's feet up as though it had been scuffling past and died from the stench.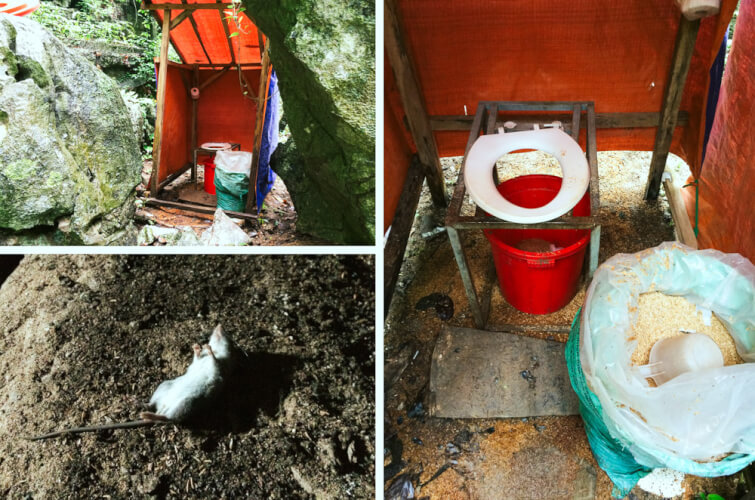 The porters had the toughest job, carrying 20-30kg on their backs, amazing when many in the group struggled the tough climbs carrying nothing, and all in flimsy $1 sandals. They packed up the campsites after we left and arrived ahead of us to set up the next camp rushing past us as we made our way. It was in the evenings they could relax which they did by the campfire, reading or with colouring books.
Day 3
---
The chef was always the first up and busy getting our breakfast ready, in his makeshift kitchen, with the barest of utensils and cutting surfaces.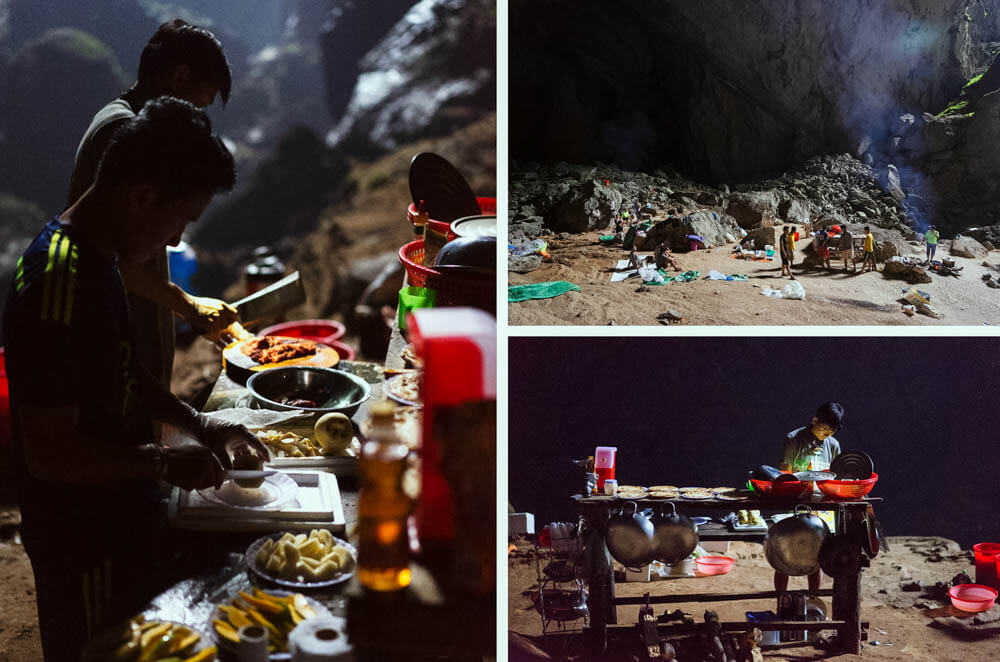 After breakfast we had to scramble over and through many boulders before we got to a steep climb to reach the first jungle in the cave, something the porters did with ease in their cheap sandals and we struggled with in our fancy grippy boots. It was very slow using the ropes as we had to go up in twos because of loose rocks that would fall below. We waited at the bottom for a long time taking photos looking up into the opening.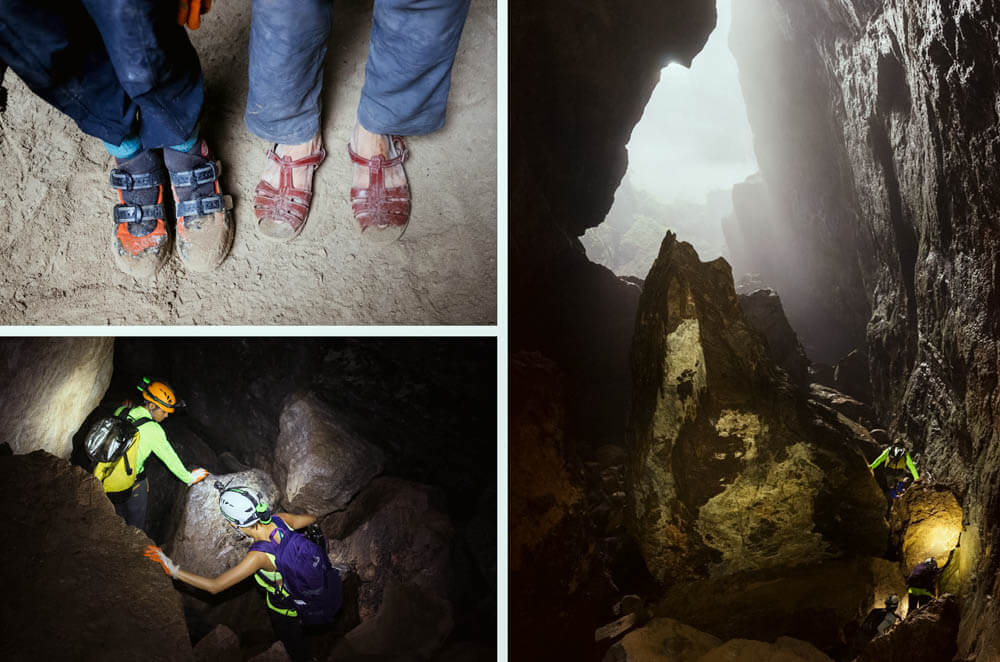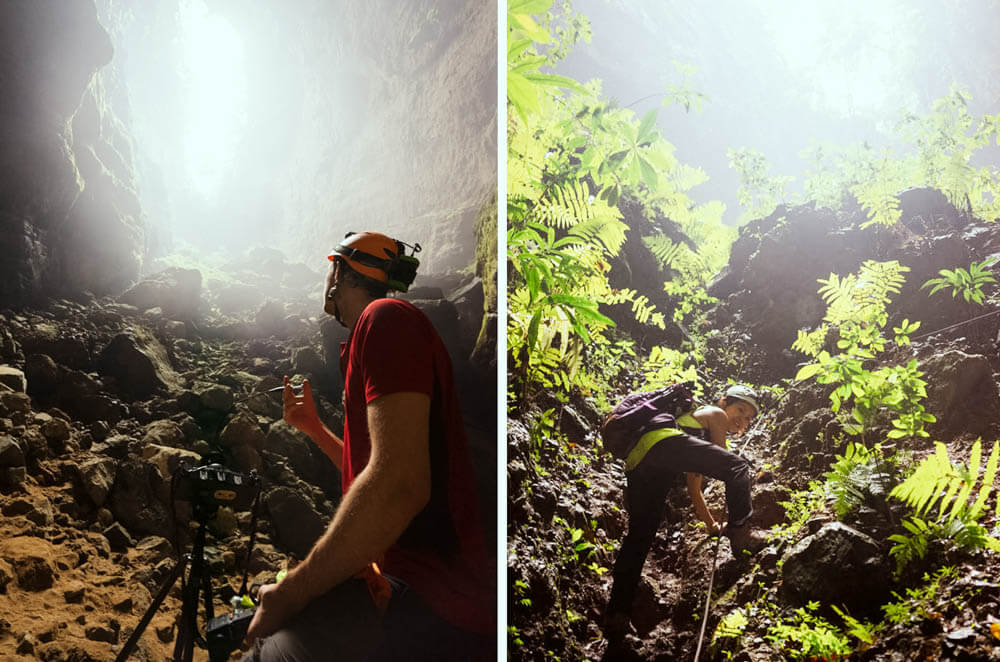 We eventually made it to the top to explore the first opening we got a glimpse of yesterday, it was raining again which was nice and refreshing after the intensive climb and no bath for over a day. We walked down to the most famous spot called The Green Gours where we could take a photo under the small waterfall that fell from the cliffs above. It was an incredible place to stand surrounded by the huge walls. Even the 20 shot pano below doesn't get it all in.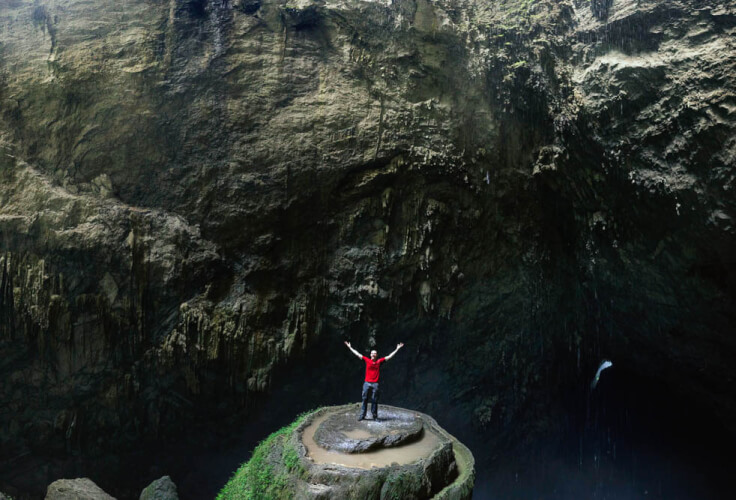 Continuing back into the cave I discovered the most impressive spot yet. It was so vast I had to use a 16mm lens in portrait to shoot it all. I event tried a film shot with my panoramic camera which required a 30 minute exposure but that failed completely.

We continued past huge formations and the most impressive 2nd opening masked by an incredible mist until we reached the jungle of Son Doong cave which took 45 minute walk.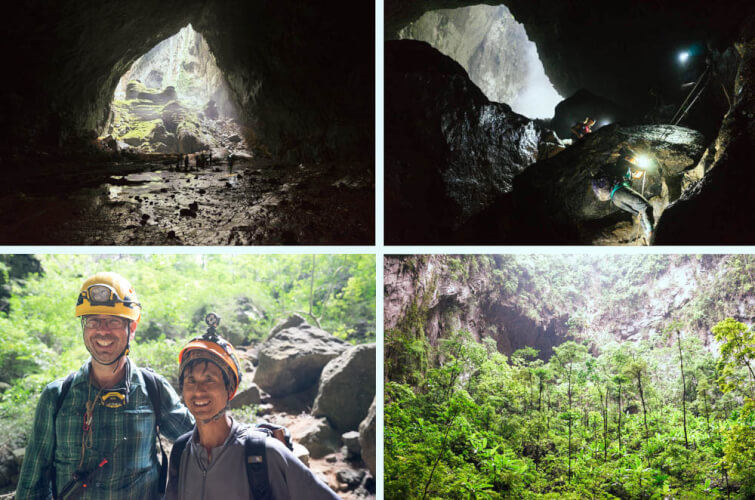 That wasn't the end of the day though, we were close to the very end of Son Doong so we continued on into the darkness past huge stalagmites, I posed the group for the shot below having them shine their torches in just the right spots to light up the caves.
Because I spent so much time shooting, the rest of the team went way ahead allowing me to feel like I had the whole caves to myself. There were times when I sat down and turned off my light in pitch darkness, it's amazing how vast the cave was but in complete darkness the walls close in and you start to feel very claustrophobic.

The end of Song Doong is a place called the Great Wall of Vietnam, where to reach the final opening you have to scale it which wasn't part of this expedition is it requires some skill to do it. Rather than walk the 300m muddy path to reach the wall I opted to stay and shoot down the passage as the team made their way. Whilst not a panoramic its still a unique shot of the cave with a small amount of daylight peeping though too. I did shoot the same scene on film but it was too dark and nothing came out. During the 8 minute exposure we shone out torches all around the cave at various angles to bring out the details of the walls.
We headed back to the campsite for dinner and spent the night trying to light paint the words Son Doong for a photo. We passed the light between many team members and it took forever to get it right which made me wish the cave had a shorter name!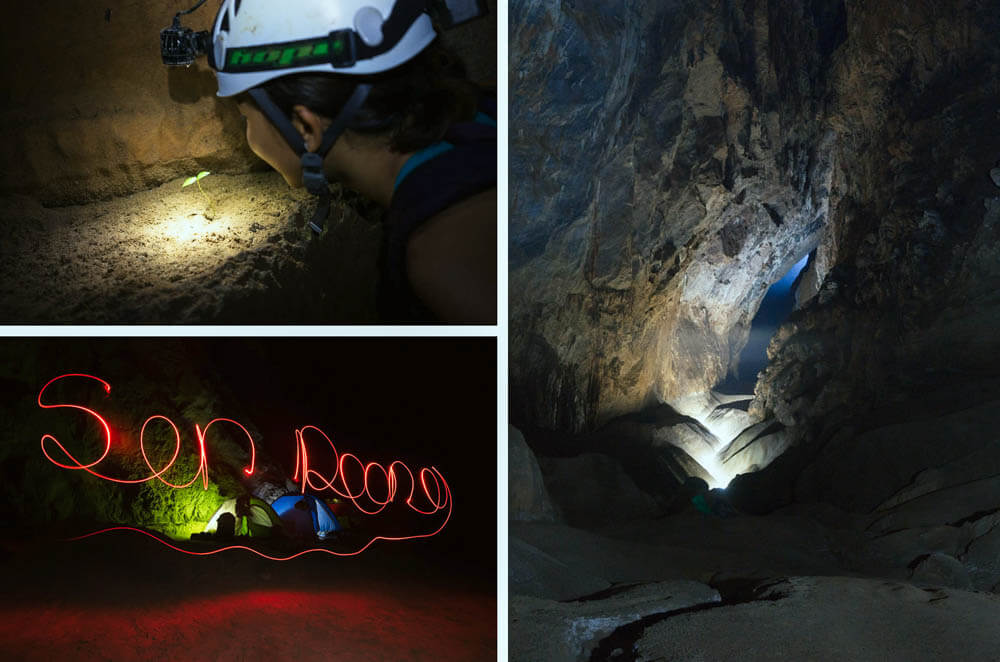 Day 4
---
Today was our last day in the caves and the goal was to make it all the way back to our first campsite in Hang En in only 8 hours, something that took 2 days with all the photo stops we made. Thankfully I had shot what I wanted to already so not having time to photograph more wasn't a huge problem.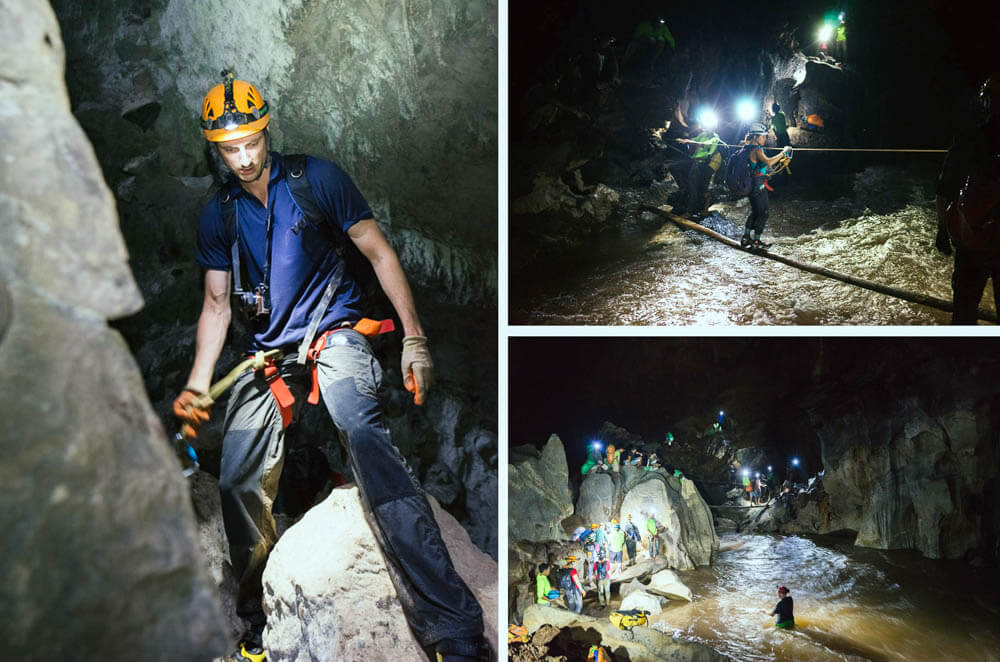 As we reached the river crossing it was now too high and strong to cross due to the rain the last few days. But thankfully the porters were well prepared, a few weeks ago it was so high they were stranded and had to chop down trees in the cave jungle to make bridges to cross. It didn't take long for them to set up the make shift crossing and we were all on our way. It was amazing to watch as the team put everything in place and made sure it was safe.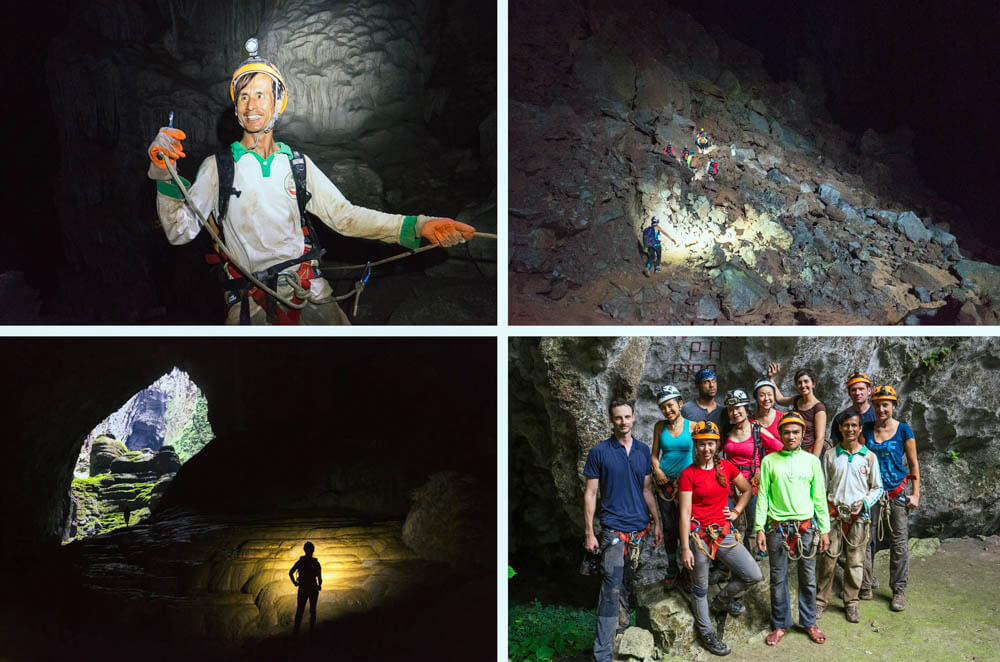 It was wonderful to be back in Hang En and bathe in the river again after 3 days of trekking with nothing more than baby wipes to clean our muddy, sandy bodies.
I did wonder if I will ever get the sweaty stench out from my socks.
Day 5
---
We woke early at 6.30am so we could make it back out of the valley before lunch, and it was the steep climb out that became a killer for me, having been trekking for 4 days with 11kg on my back my leg were officially tired and it felt slow going getting back up to the mini bus to take us into town by 12pm.
It has been an amazing experience, I would never normally do a tour because I like to explore on my own and take my time but this is something I just can't do alone.
I am happy to have expanded my portfolio with something new, it's just a shame I wasn't able to get any film shots of the caves, still after 12 years of photography I am learning!