When I got the chance to go to Beijing in December to work for a week I jumped at the chance wanting to photograph the Great Wall of China which is nearby along with ticking another city off my list. Other than Hong Kong which doesn't really count this is my first time in China so I need a visa to enter which requires a flight booking before I can even apply.
I spent the first few days in Beijing exploring the city, sadly it's freezing cold this time of year and 10 months in Singapore has ruined my tolerance. This also means coal fires are ablaze and the Beijing smog is ruining my attempts for a great city shot, but I see this as an opportunity to shoot it both with and without so long as it clears before I leave. Amazingly on the same day I shot the lost city below the winds came and the evening was clear to take the next.


The smog seems to have also taken it's toll on the Olympic Park, I would have thought it was built in the 80s walking around seeing the poor state it's in. So much for the Olympic legacy 6 years on.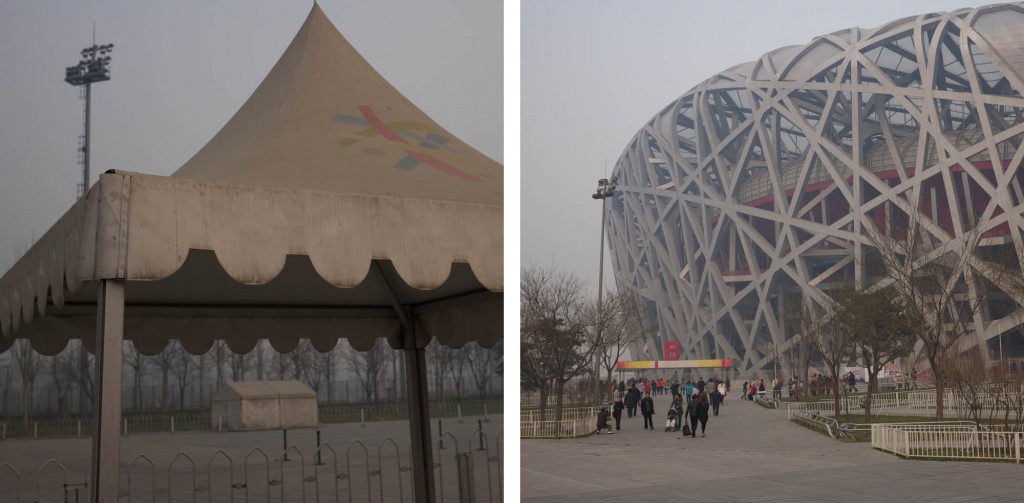 It's an interesting city to wander and see how people live differently, quite happy to hang their meat next to the laundry on the street. It has a huge art district called the 798 Art Zone  full of interesting sculptures like the cow below. China's lack of copyright laws was apparent with Jessica Alba on the box of a vibrating condom and a toilet with a famous painting and the tag line "feel the art life." Oh boy I had never felt so artsy sitting on a toilet.
There are numerous sections of the Great Wall near Beijing so I had to do my research on where to go for my 4 days, I ended up choosing Mutianyu and Jinshanling because they were not as touristy as Badaling meaning I wouldn't have to worry about people walking through my pictures and Simatai was currently closed. I tried to reserve hotels there but couldn't find any way to do that online so decided to wing it armed with google translate. To get there I had joined a tour so if I couldn't find anywhere to stay I could just head back to Beijing on the bus. My tour to Jinshanling set off at 8.30am but when I arrived they said it had been cancelled as I was the only person, I was devastated. The good news was they had a tour to Mutianyu leaving at 8.30 too, so it was lucky I had no hotel bookings and also wanted to visit that section.
I was in my element wandering the Great Wall for miles, the weather was perfect and once the few people that came for day tours had left I was the only person on the wall for sunset. At every corner there was something new to see and loved every step  as I left the restored sections of Mutianyu into the old of Jiankou. I loved the mountainous backdrop and being able to see the wall traverse the mountains for miles but this mean a hell of alot of steps that I got bored of at the end of only day 1. Atleast getting down was easy as they have a toboggan from the top for a fun exit. I spent the whole day wandering the wall buying extortionately priced snacks from sellers on the wall, I didn't really mind since they had made alot of effort to get up here.




I was told by the tour guide that a local restaurant may have a room I can stay in a with luck they did for 150rmb. It's a shame the food was pretty terrible but the subway nearby was no better. The best thing was the owner would drive me to the 2 hours to the  Jinshanling section of the wall for 750rmb and arranged a hotel for the 2 nights there.
Jinshanling is by far the prettiest part of the Great Wall, just as I thought when I was doing my research. The hotel was nice and quite new and the owners home cooked food was surprisingly good, it's a shame I have no idea what the hotel is called to recommend it. The owner  and I would talk by pointing and using google translate to get by. Each morning I woke up early for sunrise and spent the whole day on the wall walking as far as I could, heading back to my perfect spot twice for sunset to make sure I nailed it.