In my quest to visit and capture every country in Asia on panoramic film I booked 7 days in South Korea. From research, it doesn't appear to be the most exciting country to photograph but I am looking forward to exploring somewhere new and the challenge to make some epic shots here.
One thing that really excites me is that I can get my E6 Slide Film processed in a few hours here at 1/3 the price of Singapore and in ony 3 hours compared to 3 weeks. So I am taking some rolls that have been left in my fridge. I can also get any rolls processed before I leave, meaning I won't have to wait to see my work when I arrive home and risk the shots getting damaged though airport x-ray machines.
For my first 3 days I stayed in Seoul to explore and capture the city. It reminds me of Hong Kong with its hills dotted around to climb and find great. I walked up everyone of them looking for the perfect scene hoping to include the Fortress Wall that surrounds Seoul. Mount Anson had the view so I hiked up to the top twice and despite it being cloudy I was rewarded on my second day with this stunning light before the sun dipped behind the hills. The army have little stations up there and they restrict which angles you can take a photo of.

I opened the shutter for 4 minutes to capture the movement in the clouds and as my shot was complete the light vanished for the day.
I explored as many of the interesting places as I could from markets to the many bridges that span the Han River travelling by subway the entire time.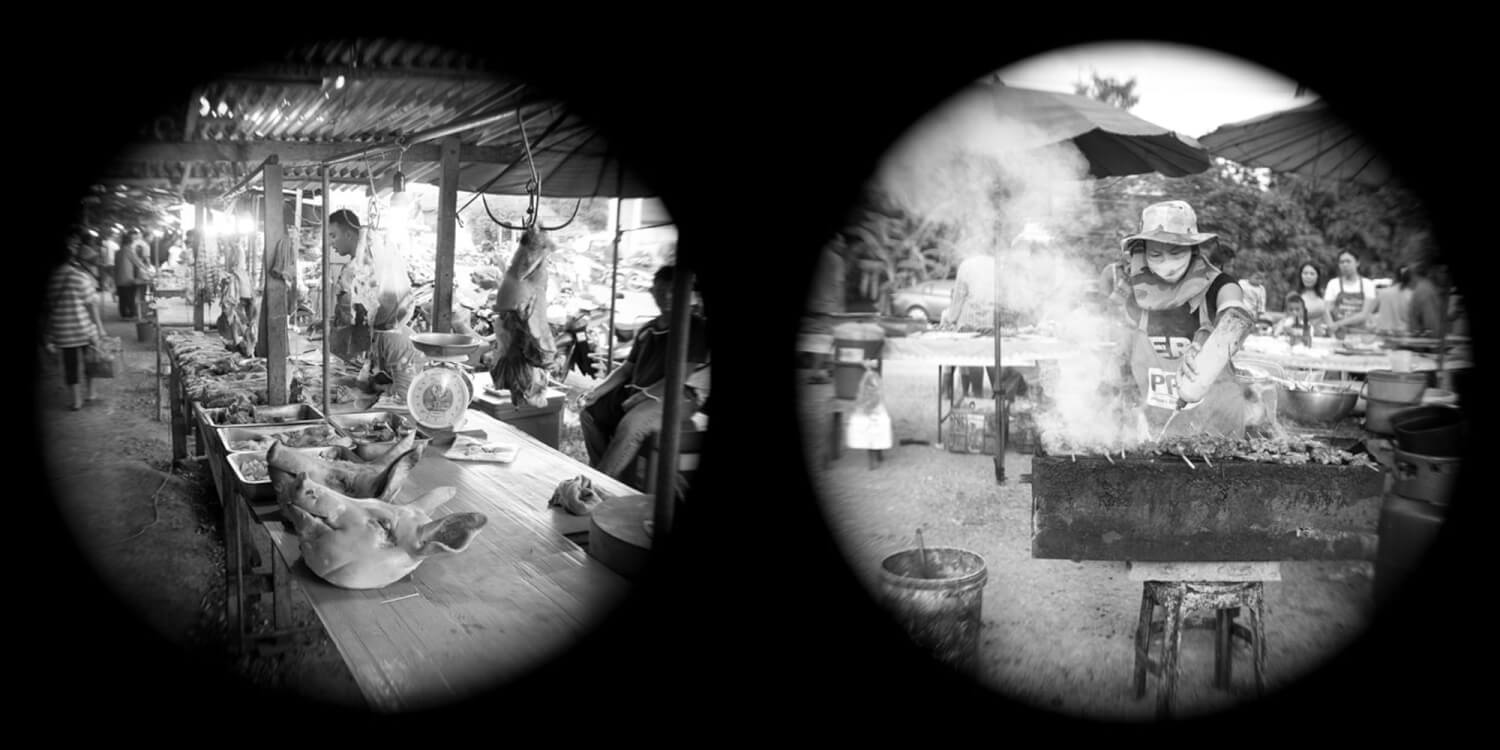 Gwangjang Market was an interesting place to wonder and watch people eating their lunch, it was so tightly packed it was hard to not get in the way of people walking though and shoot.


Noryangjin Fish Market is one of the best fish markets I have seen in a big city, and great to shoot since there is a second floor that overlooks the stalls below that gave me a unique perspective you can rarely get at a market. It also helped avoid anyone knowing I was taking their photo so can could hang around wating for the perfect moment.

By the time day 3 came around, my legs were tired but there was one more vantage point I wanted to visit, on top of Mount Achasan. It was 1 hour on the Subway then another 1.5 hour hike so rather than recce first I just went up for the last sunset, the weather looked good for it to be worth it. As I arrived at the top the rain clouds came over and it rained for an hour. As I waited for the night glow the rain eventually stopped and the view cleared for me to capture this epic shot of the city showing the roads zig zag with the rivers.

When I got back to my hotel at Namdaemun Gate it was pouring down but there was still one last shot I wanted to take. I was staying at the just opened Marriot Courtyard which had a great view of the gate, it was outside on a terrace but luckily where I needed to shoot had a little cover so I didn't get drenched shooting many long exposures for almost an hour. Eventually the Hotel security came as the area I was in was closed, but by this time I had captured what I needed to.

When I was researching where to visit near Seoul, I found somewhere that looked amazing amongst all the mountains – Seoraksan National Park on the East side of the country next to Sokcho.
It's 3 hours from Seoul so I hired a car to make my own way there, I could do it by bus but that would make it difficult to be flexible. There is a hike that takes 2 days and take you across the spectacular Dinosaur ridge, named because it looks like the back of a Dinosaur. It's a tough hike that requires staying overnight on the mountain in a shelter but the shots look too good not to visit. I stopped at a supermarket on the way to buy snacks so I would be ready to be alone in nature.
It was a rainy day when I arrived at 2pm, I went to buy my entry ticket and reserve a space at the shelter for tomorrow night. This was when I sadly discovered most of the trails were closed due to a coming storm. I was so disappointed as the park had really excited me, hiking alone for hours in the mountains. Something I haven't done since the Canadian Rockies in 2011.
That left me with 2 options that I still wanted to try, the cable car up to Gwongeumseon and a 3 hour round trip to Ulsanbawi Rock. First I hopped on the cable car, even though it was raining I hoped it would take me above the clouds and see the great views. Sadly it did not and I couldn't see a thing up there. Then for some stupid reason I hiked to Ulsanbawi still thinking I could get above the clouds. The last 1km of the hike was completely steps to the top gaining 500m in elevation in the 3km of walking. Again I couldn't see the incredible view before me and I got completely drenched the whole way up. I waited up there for an hour thinking it may clear for sunset but I soon realized it wasn't going to happen as I struggled to stay warm and headed back down. I did make a little friend up there though who enjoyed my muesli bar.

The next morning I got up early and made my way back up to Ulsanbawi Rock. It was clear this morning and the mountains were covered in an incredible mist. I walked as fast as I could not wanting to miss the epic scene but my legs were so tired from yesterday that I was slow and the last 1km of stairs felt like hell with my 11kg back pack. I had missed the sunrise but what made the scene was the raising clouds before me as I pressed the shutter. It's not the Dinosaur Ridge but it's still an amazing sight.

After 2 hours up there waiting and shooting as the mist danced around me I headed back down the devils steps. I chatted with a couple from America all the way and made another mistake on this trip. I thought it would be ok to drink the temple water which came from the mountains at the temple, I was thirsty and had run out so I went crazy and drank almost 1 litre. It wasn't until 3 hours later driving back to Seoul did I realise my mistake and had to rush to find a toilet. I then spent the next two days in Seoul glued to my hotel toilet, barely leaving the room or eating before I felt better and flew home to Singapore. I don't know why I drank the water but I guess I had nice memories of drinking from the crystal streams in Canada.
South Korea was an unexpected delight for photography, and whilst Seoul is not the most beautiful capital city the vista available from the srurrounding hills make up for it. The only thing missing was good food from this trip, I like Korean food but for some reason I wasn't wowed by where I ate here. Part of me wants to come back to hike the Dinosaurs ridge one day, but theother want's to keep exploring the amaxing places I have yet to see in Asia.