Java, Indonesia and its many volcanoes has always excited me and has been on my list of must visit places since arriving in Asia over a year ago. I invited along a good friend, Sandra, who I had met a few months ago and had been teaching photography to. Java would be a great chance to just concentrate on her photography for 6 whole days would be the best way to learn. We planned the trip together and initially it was going to be a road trip but with her suggestion, we hired a guide instead, which turned out to be the best decision and possibly saved us from falling out with each other as we tried to navigate unmarked roads in the dark.
Our guide was called Machdi  who ran Bromo Ijen Tours, and he instantly struck me as a fun and friendly guy who seemed to get my sense of humour which is rare here. Our car was comfy and included pillows in the back so it felt quite luxurious. Our driver, Kaka was also very friendly so it looked like it was going to be a fun trip, except for all the crazy early mornings ahead. Our first stop was Mount Ijen a 7 hour drive from Surabaya airport, we arrived at 8pm at our basic homestay where we were served dinner and went straight to bed as we had to wake up at 3am to start our 2 hour hike to the top.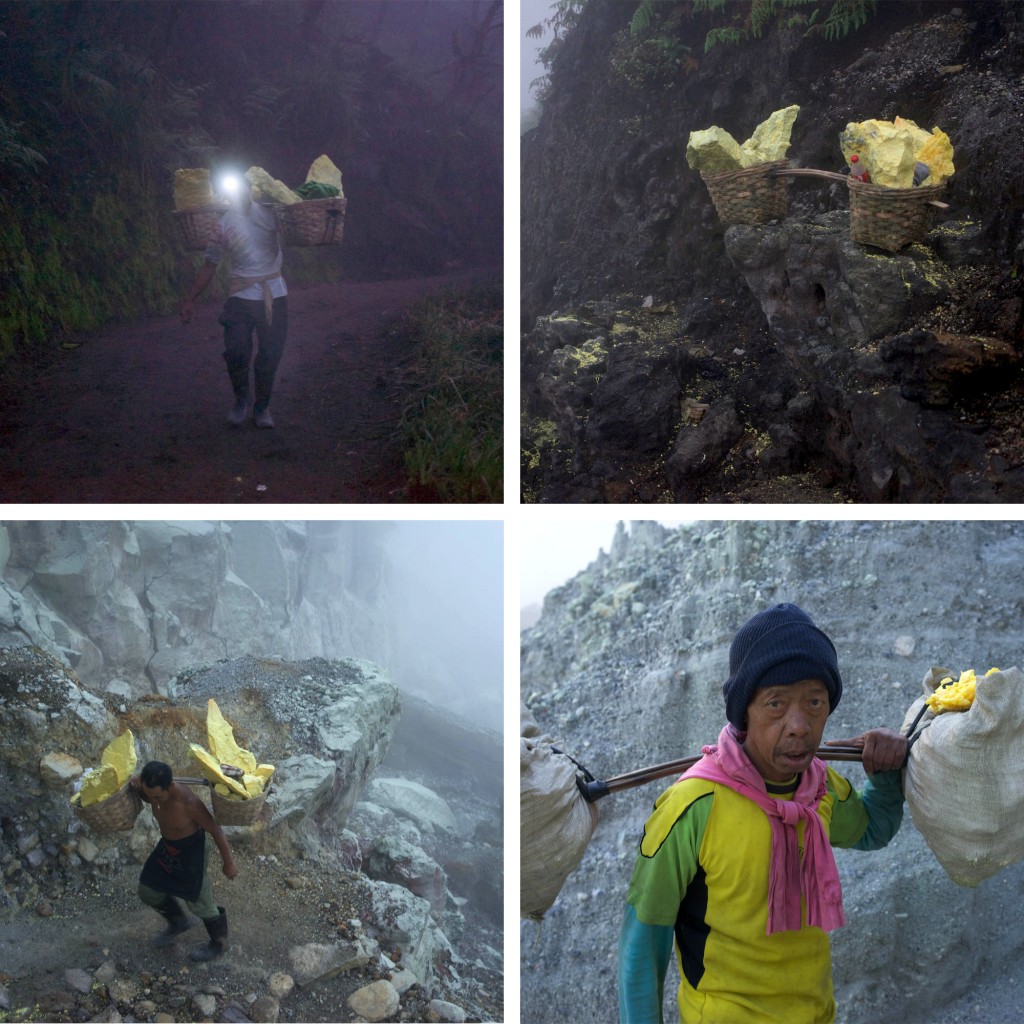 The hike was steep and I was just glad it was cool and breezy up in the mountains unlike at sea level, quickly my layers came off. It was completely dark as we set off but as we reached the top the sun rose and we could see the interesting landscape around us and the workers carrying the sulphur from the crater, they carry up to 100 kg through some steep and hazardous trails in poor air quality all for very little money. A tough job that most do for a lifetime. Seeing them made me think about ways their lives could be made much easier through technology, most ideas however were quickly shot down by Sandra.

Inside the crater was one of the most amazing views I had seen so far, so many shapes, textures and colours to see and photograph. We started at the bottom shooting the workers amidst the hard to breathe gases that occasionally blew across us and we quickly donned our face masks which were little help and we still felt the burn in our throats.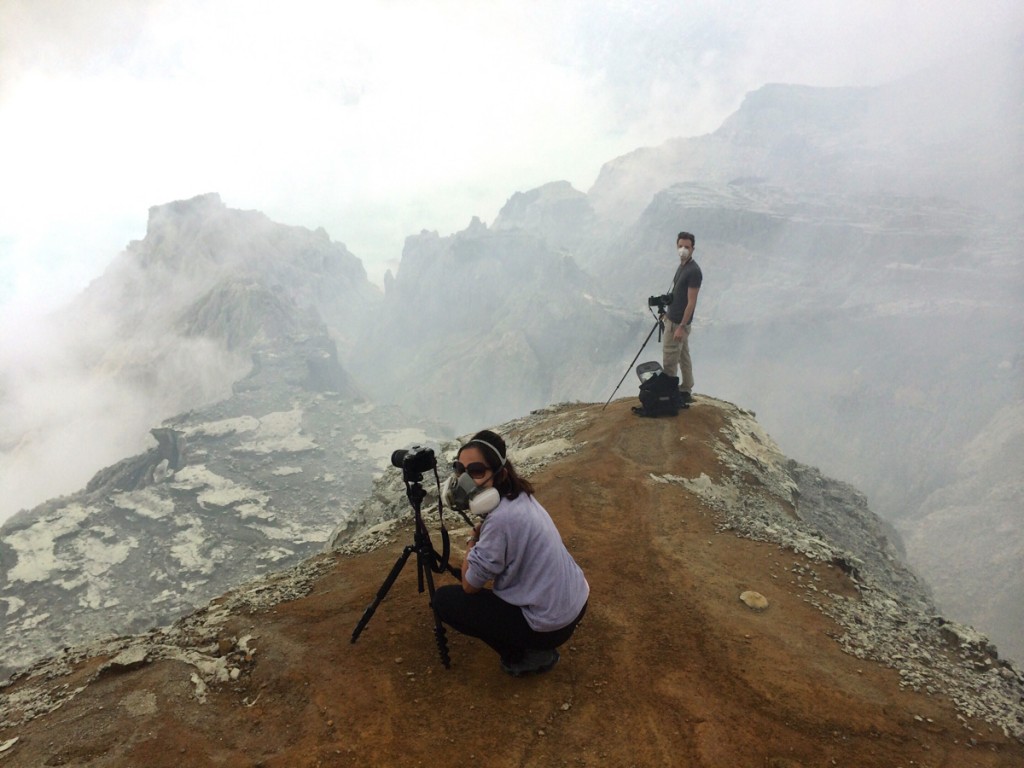 We slowly worked our way back up to the top shooting panoramics that caught our eyes along the way and stopping workers to take their photo with a small payment. I could see the hardship of their lives in their eyes. Once set up I would wait for the wind to blow just right so the rising mist flowed across the scene perfectly, sometimes it took seconds, sometimes 20 minutes. It was just nice to be with a fellow photographer for this reason as I didn't feel rushed to get the shots I wanted.


My favourite view was from the top at the crater edge, the textures in the crater from the rain were incredible, like an Alien world. Macdhi had a schedule for us to keep to be we had spent so long up here we didn't get back to the car until 11am, he had sent another guide to come looking for us and even started walking up himself to see what had happened to us. I guess this is his first experience with photographers.
We were both exhausted now as we headed to our next stop, the isolate Sukamade Beach,sleeping a little in the car before switching into a jeep for the 4 hour bumpy journey that took us through a river. It became the best ride of my life when we got to sit on the roof and chat all the way to the beach in beautiful weather and surroundings.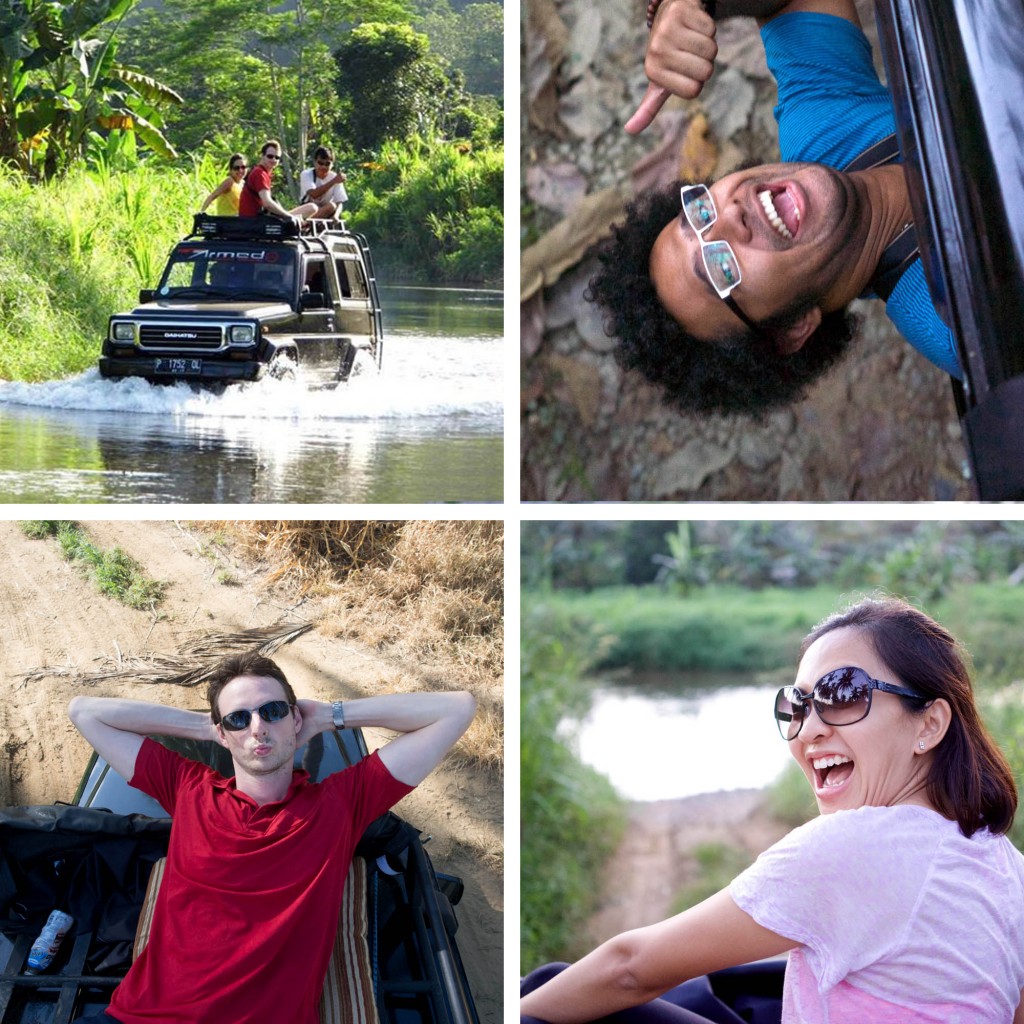 Sukamade Beach is a Sea turtle sanctuary and we came to see the turtles and release them into the sea. Because of our (my) extended time shooting on Ijen we had missed the evenings release but Machdi being a great guide arranged for us to do it at sunrise the next day. We went to our rooms which were the worst either of us had stayed in, not to mention we think this is where Sandra got her bed bug bites, I felt so guilty as it could have been me since we switched rooms twice as she was scared of the geckos in her room but quickly discovered I had more in mine than hers. So I narrowly avoided the bites myself. We didn't even have hot water or a proper shower so I was splashing cold water on myself to bathe before air drying in the room since no towels were provided. After dinner we headed for the beach watch turtles lay their eggs along with 30 other people also visiting. We were made to sit in complete silence and darkness so as not to scare them away whilst we waited for a sighting, I wasn't even allowed to take star pictures they were so scared any light would scare them. Then as one was found the horror show began, we all slowly walked toward it, then when the signal was given everyone went crazy tormenting the poor creature taking selfies and firing their flashes as she just tried to get back to ocean. If I was the turtle I would never come back again and they call this a sanctuary, Sandra and I were mortified by what we saw and decided to head back to our rooms when it was over rather than wait for a second sighting.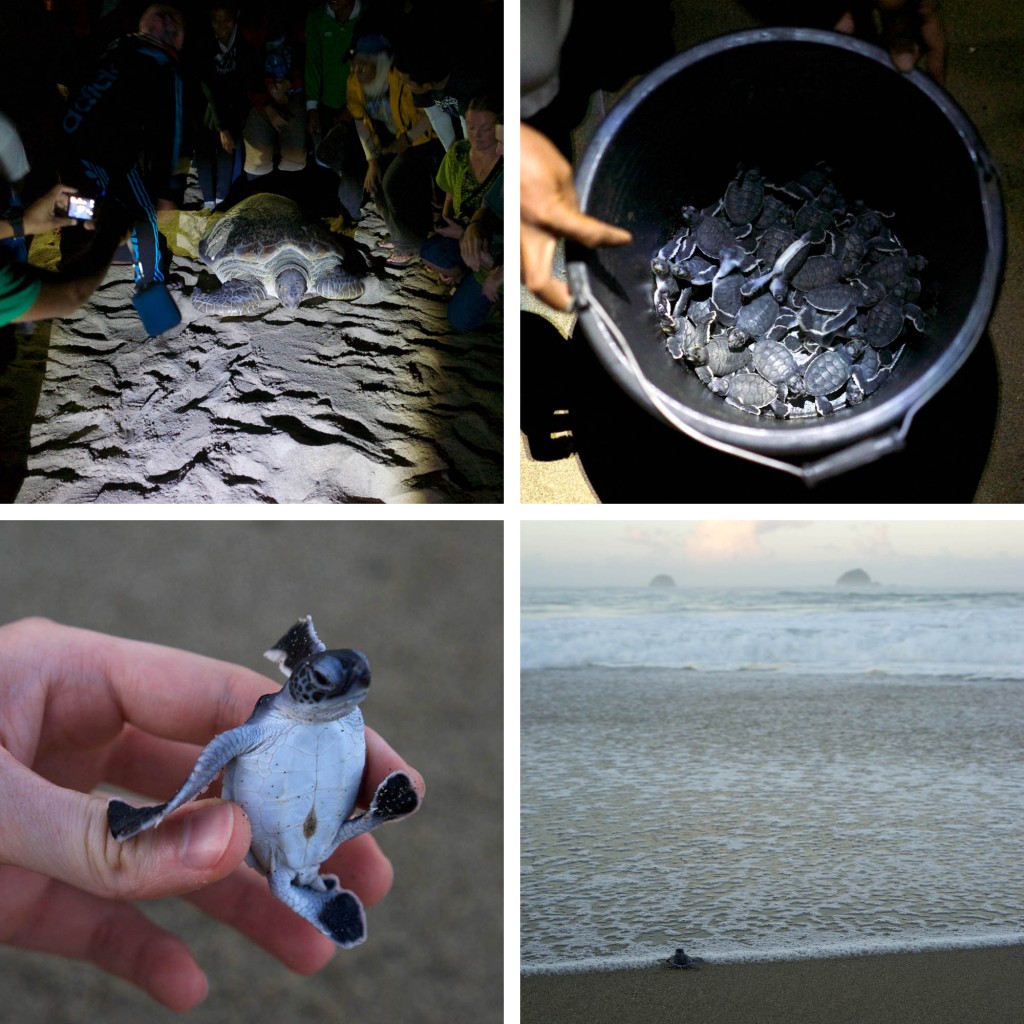 The next morning made up for all that though as we got a private release with a bucket full of baby turtles, it made being late worthwhile as we would have been with 30 other people the night before so it was so special and we got so many turtles to ourselves. We raced them and took pictures as they waddled toward the ocean, it was beautiful, romantic even as the sun rose seeing them begin their life journey. To Machdi's horror I kept joking I wanted to eat the cute little turtles,  it was a wonderful beach and I couldn't miss getting a shot .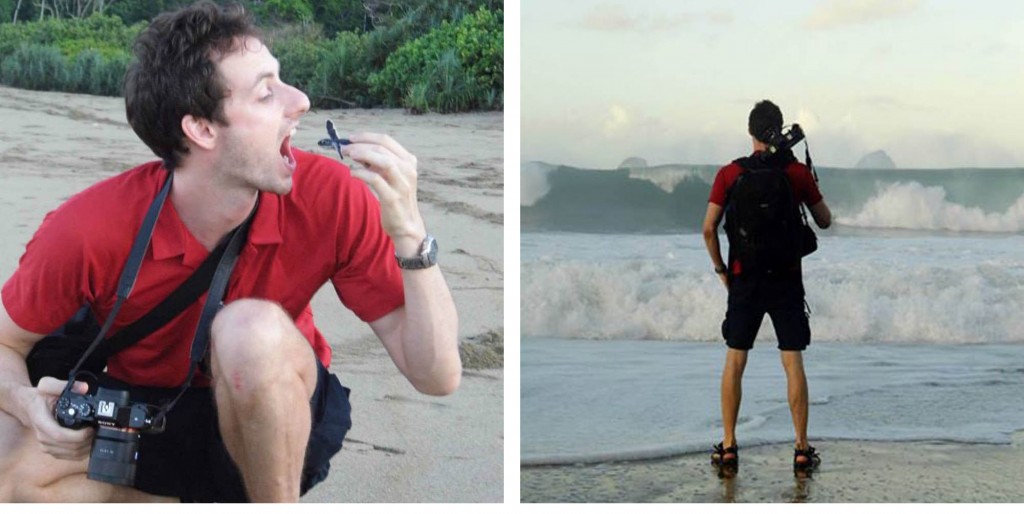 With a 7 hour journey to our next Volcano, Mount Bromo we had no time to spare we were back on the roof of the jeep after breakfast for another great ride bumping along slowly. We arrived after sunset at our homestay, the nicest so far, there were 6 beds and we had the whole place to ourselves. We were both exhausted already only 2 days in and went to bed early before having to  wake at 2.30 am to jump in another jeep to get the best spots at the main sunrise viewpoint, we were the first to get there and secured our places but then had a long wait in the cold shivering for the sun to rise. Slowly the crowds poured in until there wasn't any space to move, it is the best view of the volcanoes for sure, just a shame many would miss the great view there were so many people. It was both amazing and horrible at the same time, I'm just glad Machdi was experienced enough to know we had to get here very early otherwise we wouldn't get our shots.
After we headed along the tourist trail down into the valley with the hundreds of other jeeps to hike up to the rim of Mount Bromo, now the sun was out and it was so hot, not to mention we were tired so the relatively easy hike felt harder than Ijen but the view at the top was worth the effort looking into the middle of the active volcano. We sent an hour up there waiting for the wind to blow the smoke just right for another amazing picture.

It was now 9am and the sun was too high to take any more dynamic shots so we explored the area looking for a spot we could come to for our second day in Bromo, it didn't take long to find it at the base of the mountain amongst some dunes that bikers love to come and ride.
I was completely lost as what to do for sunset, the angle of the mountains and sun this time of year meant everything was best at sunrise so we decided to see what Machdi had in mind and he took us to his sunset spot, this was very pretty however it wouldn't be right after the sun has set since there isn't enough shape in the mountains for it to look great in silhouette. It looked beautiful before the sun dipped below the mountains.

It became a beautiful moment as the clouds started to drop into the valley below masked the scene, not good for a picture but we realised that maybe tomorrow the valley would be covered in mist, we were no torn on where to be at sunrise, I really wanted a great mist shot with the volcanoes but I couldn't bare to go back to the sunrise point with hundreds of people so early again. We stuck to our previous plan to go to the dunes, that way we got a lay in until 4am before jumping in the jeep again and heading into the valley. We both felt and looked exhausted that morning, but Sandra had so much energy still it seemed to rub off on me. The valley was full of mist and I was a little gutted I hadn't planned to be at sunrise point for an epic shot, but we made the most of the dunes as the sun slowly cleared the mist I shot as much as I could, even moving the jeep itself into shot for a new style.
We were meant to leave Bromo after sunrise and head west to Malang and visit a strawberry farm, but Sandra and I decided we loved Bromo so much we wanted to stay another night to get one last sunrise. This time however we opted for the fancy Java Banana hotel, the best in the area, we just needed one night of luxury for our last night and a good shower. Whilst we waited for sunset we went to visit the nearby Madakaripura waterfall, Sandra said she is not interested in waterfalls but we had nothing better to do so thought why not, and it turns out she loved it. We had to walk under the falls as it dropped like heavy rain to get to the main pool, it was a very beautiful waterfall that no picture could do justice, you have to be there to appreciate its width and it falling from above the cliffs with the lush green foliage all around. Still I tried to take one pano that showed part of its beauty.

At 3pm we headed back to the dunes at the base of Bromo, I was sure this would be the best time to photograph them with the sun hitting them just nicely from behind creating some nice shadows. We even got a great surprise when we arrived, some bikers were getting ready to ride the dunes so I quickly setup for one of my favourite shots of the trip, a Landscape panoramic with a human element. This shot alone made staying the extra night worth it and we got more the next morning as yet again the clouds rolled into the valley and I knew tomorrow we may have mist.

When we arrived at the hotel the power to our rooms was out, we were so disappointed  as we were looking forward to a nice shower and if we didn't have power, we may as well have stayed at the homestay again.We went for dinner and looked at the photography that donned the hotels walls of the area happy we had bettered many of the shots on display. Thankfully by the time we finished, the power was on and we could shower and rest before our last sunrise.
We woke at 4.30am but Sandra decided she wanted to lay in, she was so tired still so I left in the jeep without her, as I arrived at our chosen spot the valley was full of mist so I called her to see if she wanted to come only to be told no. Moments later, however ,she called back and Machdi rushed back to pick her up ready to see the sunrise. It was beautiful, the light, the mist and we were the only people there, it was perfect and she was happy I called her to see it.

Afterwards we headed back into the valley to try to capture a view we saw on of first day in Bromo with the mountains behind and the jeeps driving though shot. We positioned our jeep on the side of the road and waited for other jeeps to drive by, eventually I asked Sandra to pose on the jeep to finish off the shot, to add the human element again and I timed my exposure just as 2 other jeeps rushed by. A perfect final shot to an amazing trip, never before have I taken so many great shots on a short holiday.

We ended the trip by visiting the rather disappointing strawberry and apple farm as originally planned before driving back to Surabaya airport for our 8pm flight, Machdi had one last surprise though, we all jumped onto the back of motorbikes for a 15 minute ride to visit Renokenongo, an entire village that was lost to the earth due to natural gas drilling, it was very sad as many lost their livelihood and years later still haven't been paid any compensation.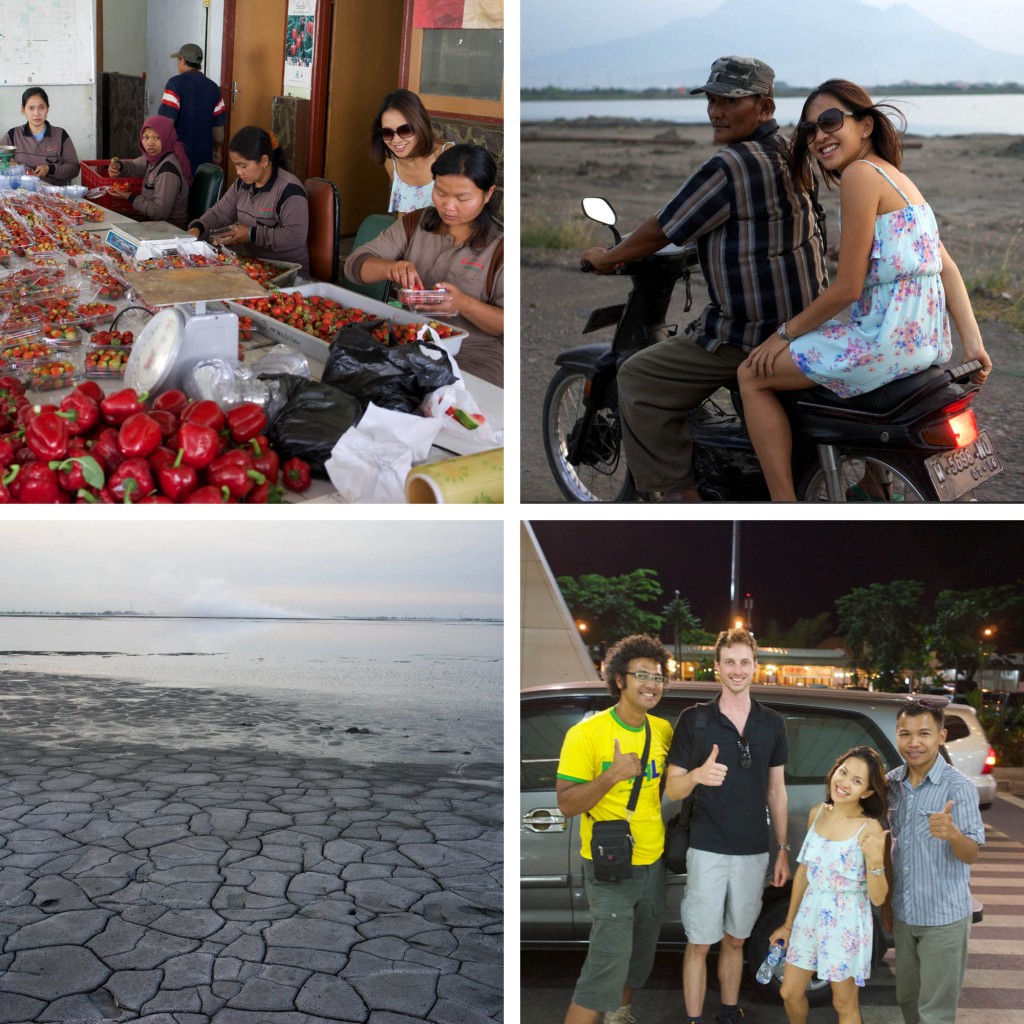 I  was sad to leave it had been so much fun thanks to both Machdi and Kaka, they did everything to make the trip fun and I hope I can visit again one day for a reunion. I wanted the trip to never end which is surprising for how tired I was the whole time. Java really is a visual feast.