Yann's new role is the Financial Director here in Singapore which oversees the whole of the Asian market, this is good news for me because it means she goes on plenty of trips to the offices that I can tag along and see more of the world.
This would be a quick 3 day visit to Hong Kong, that Yann would be working late each day which means I could explore fully and take as many shots as I like. We both flew Cathay Pacific this time and one huge benefit was that since Yann was a gold BA member that counted with this airline as they are both part of the One World Alliance so we got to use the 1st class lounge and get priority baggage.
The Taxis here all look very old, but all amazingly run on clean LPG fuel, as far as I know Toyota still make them in this style.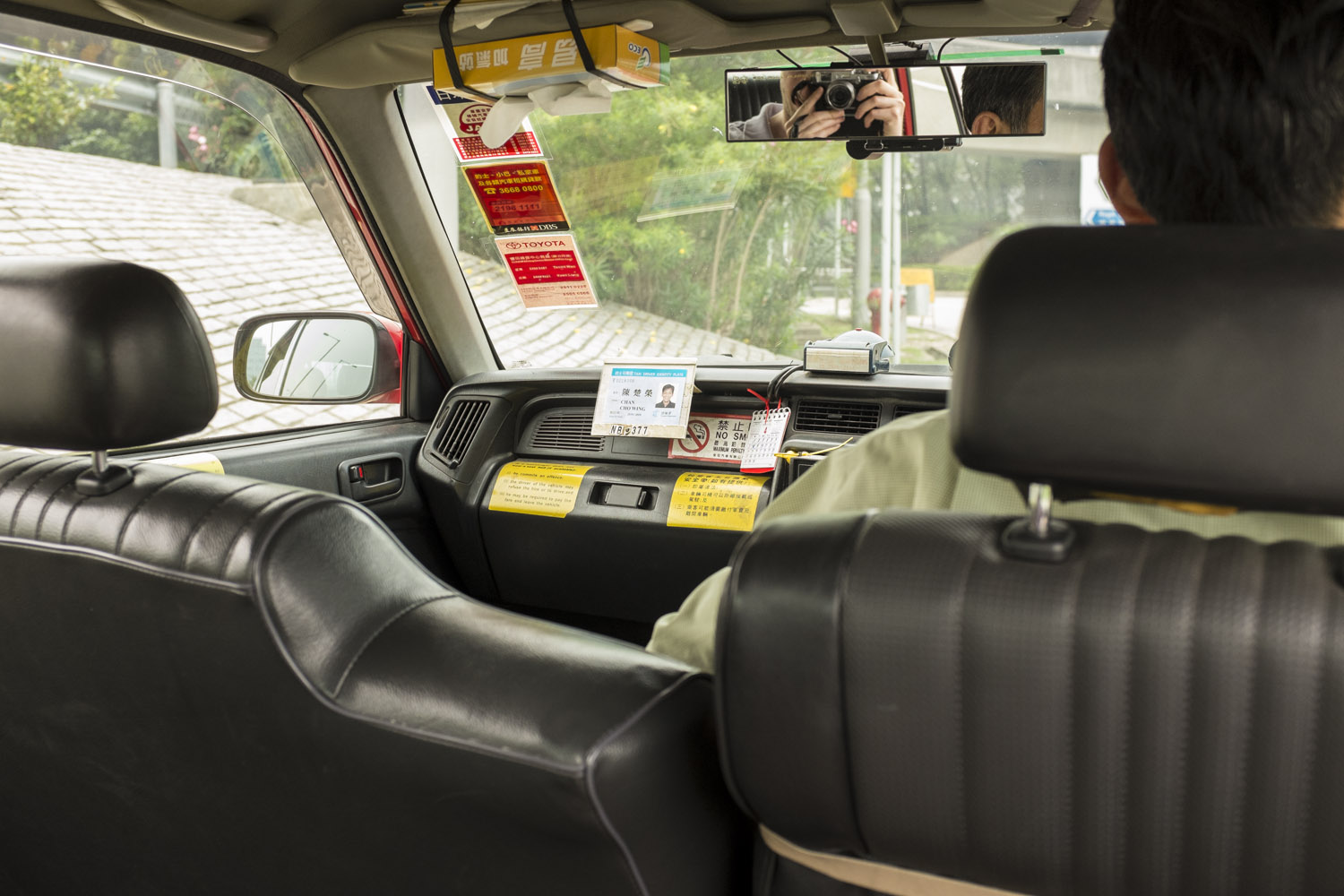 It was nice weather in Hong Kong but sadly the pollution spoiled most of the view from the airport in the taxi. For more money than Manila this Novotel Hotel room was tiny and not as extravagant, but that's what you get in Hong Kong.
It instantly made me feel like I was in an Asian New York, very busy and dirty with little green space. The first thing we did was jump on the trams that run across the Island, it's a great way to see and photograph the city since the windows all open and they double deckers. I love that they use bamboo for scaffolding here.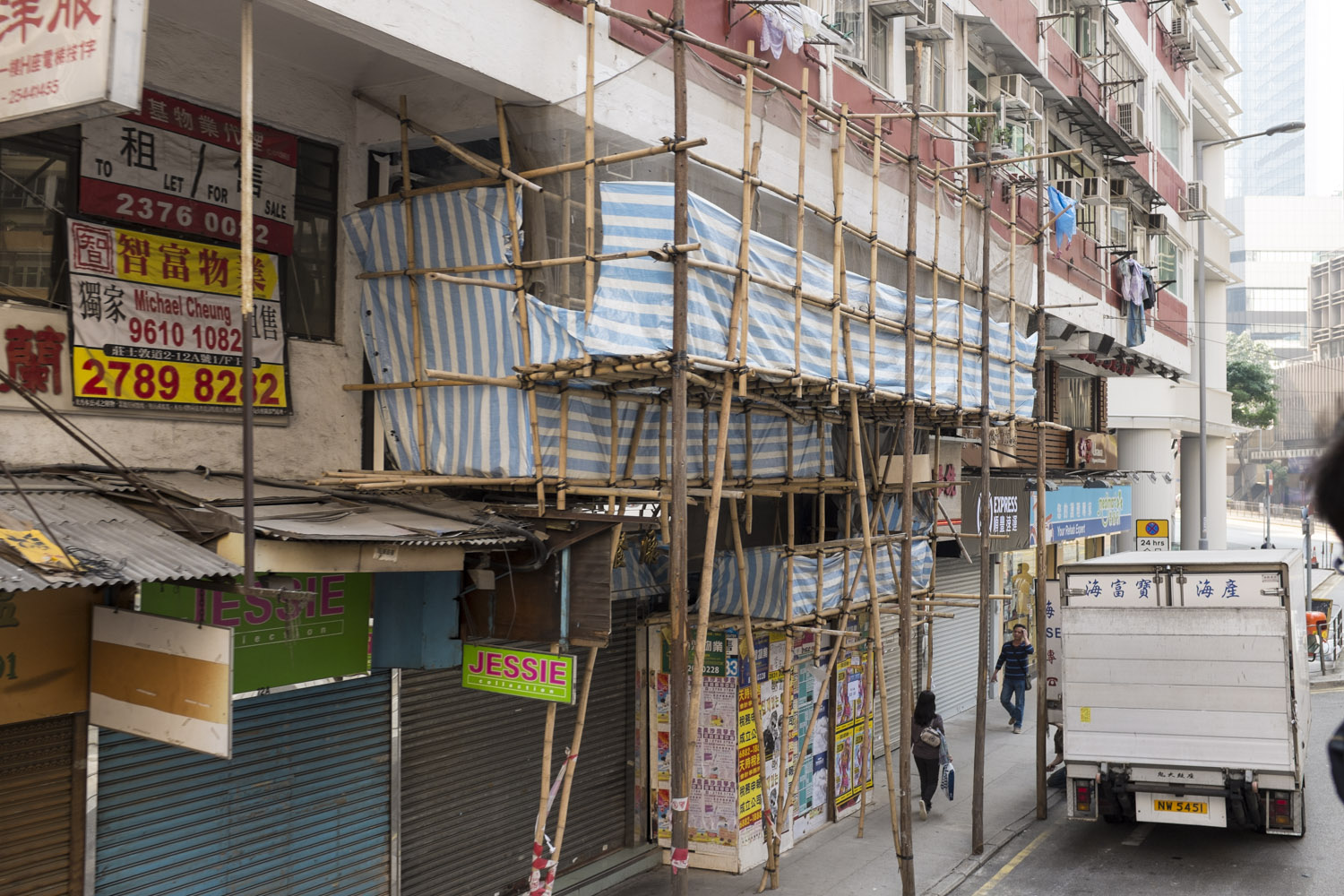 It costs about 20p a trip and you pay on exit,  you need exact change which we didn't have so when I waived a HK$20 bill in front of the driver he pointed to the slot, but I wasn't going to put that much in so just got off and the driver looked astonished but like he didn't care enough to do anything about it. You can also pay with the Octopus card so I must get one of those to make it easier.

As it was a sunday it was all the helpers day off here so the streets are full women sitting around having a good time, as they aren't allowed to have relations with local men they would all look at me because foreigners are not off limits, apparently it's heaven for single guys in the right areas. They seem to like to hang out outsider the expensive shops.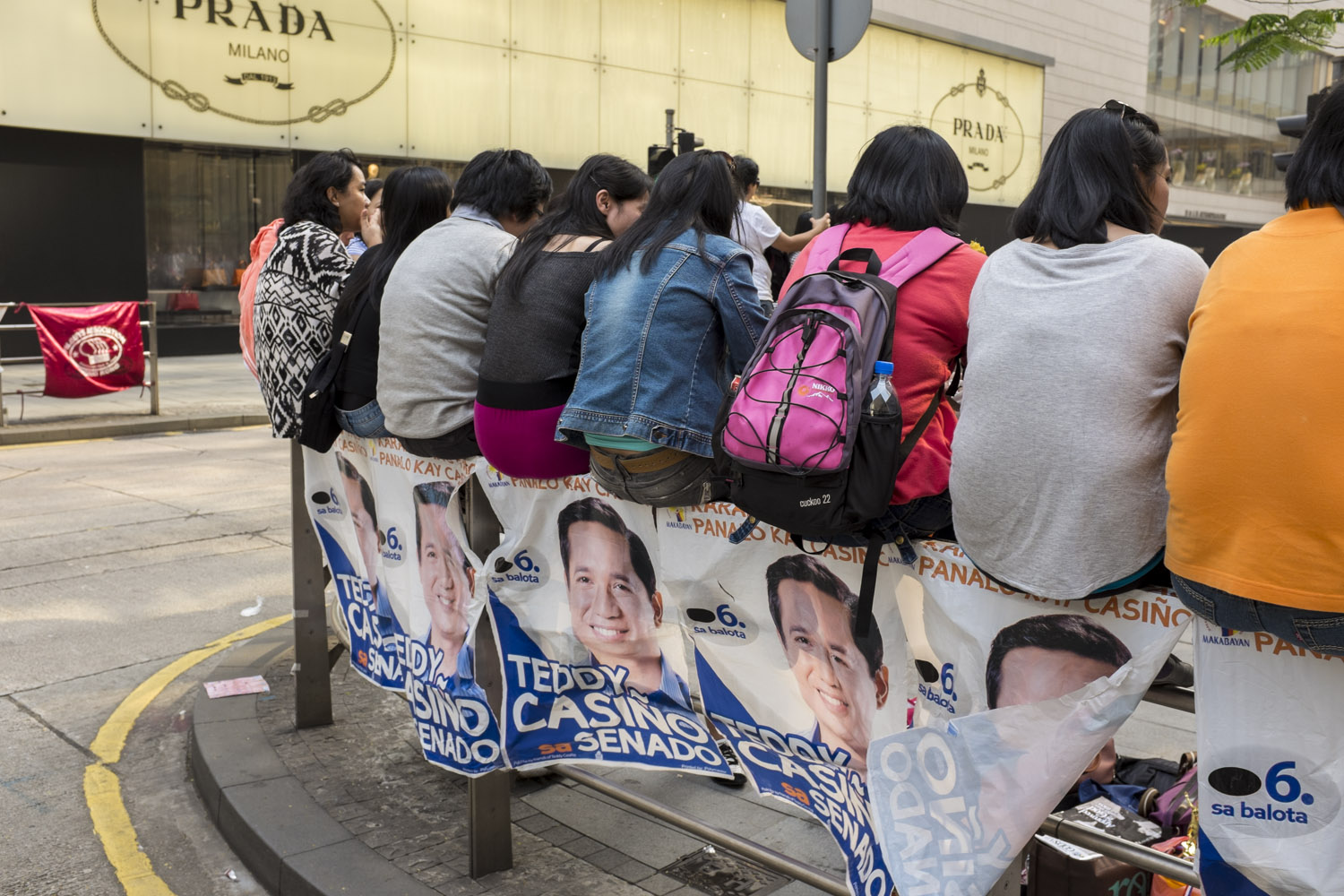 We had a late lunch at a Michelin Star Dim Sum restaurant called Din Tai Fung, there is always a wait here but atleast you get to watch the Chefs make the food.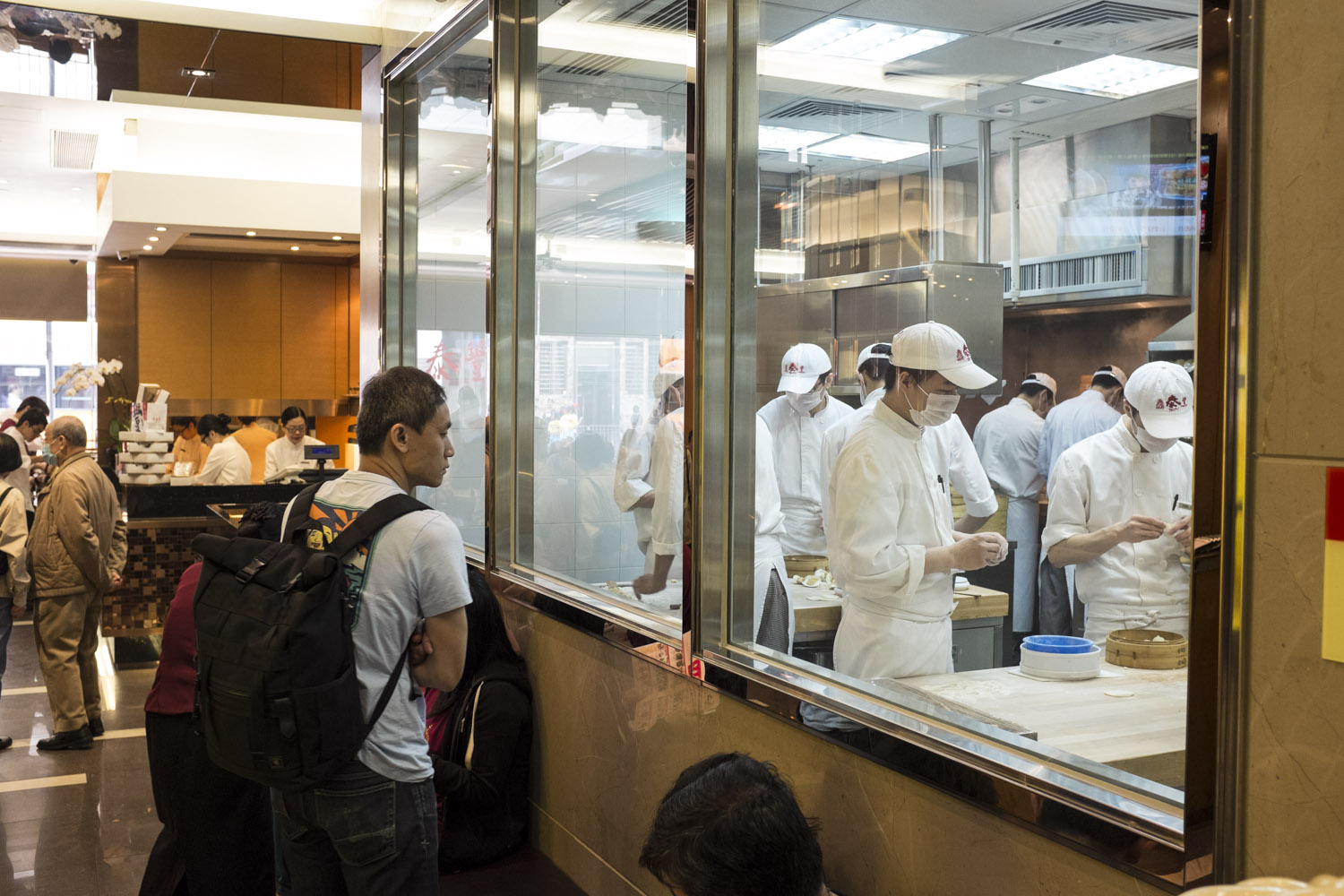 A visit to Hong Kong is not complete without going up the peak tram for the best view here, the visibility wasn't ideal but it is Yann's only chance to go up. The queue was long since sunset was near but after 45 minutes we were at the top. You can also use octopus cards here which would mean we could have jumped the queue a little. Whilst the view is good on the viewing platform it's very crowded and I preferred walking 20 minutes along Lugard Road, not as high but a pretty walk with no people. The view is also better too.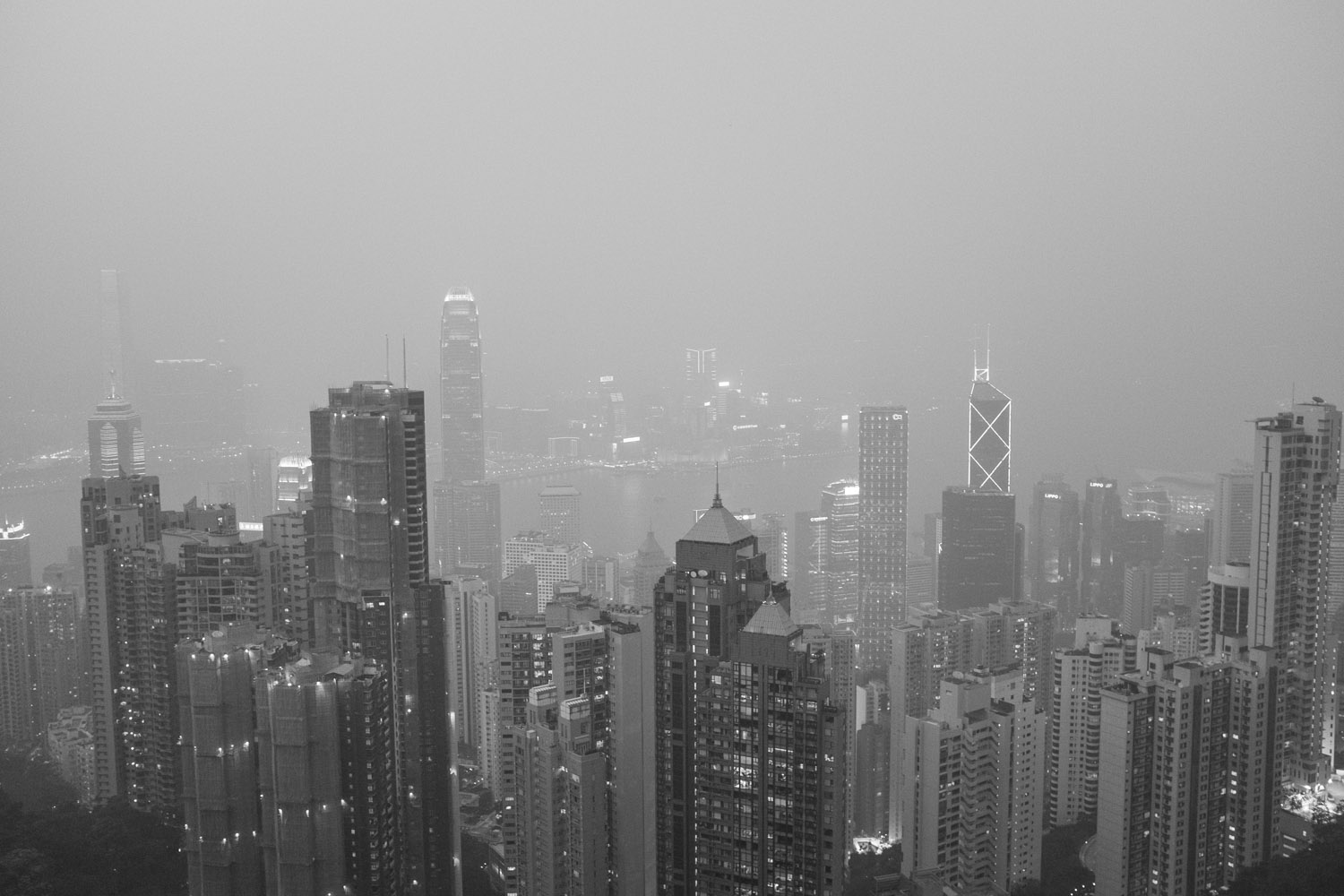 The next day as Yann went to work I set out to explore with my backpack. The first thing I did was buy an octopus card with HK$300 on it, more than what I would need since trams are HK$2 and MRT HK$8.
I then went all the way across the island and back on the trams, it's perfect for shooting because it's so slow and high up, I ended up spending 4 hours on them. It even went down this busy market street.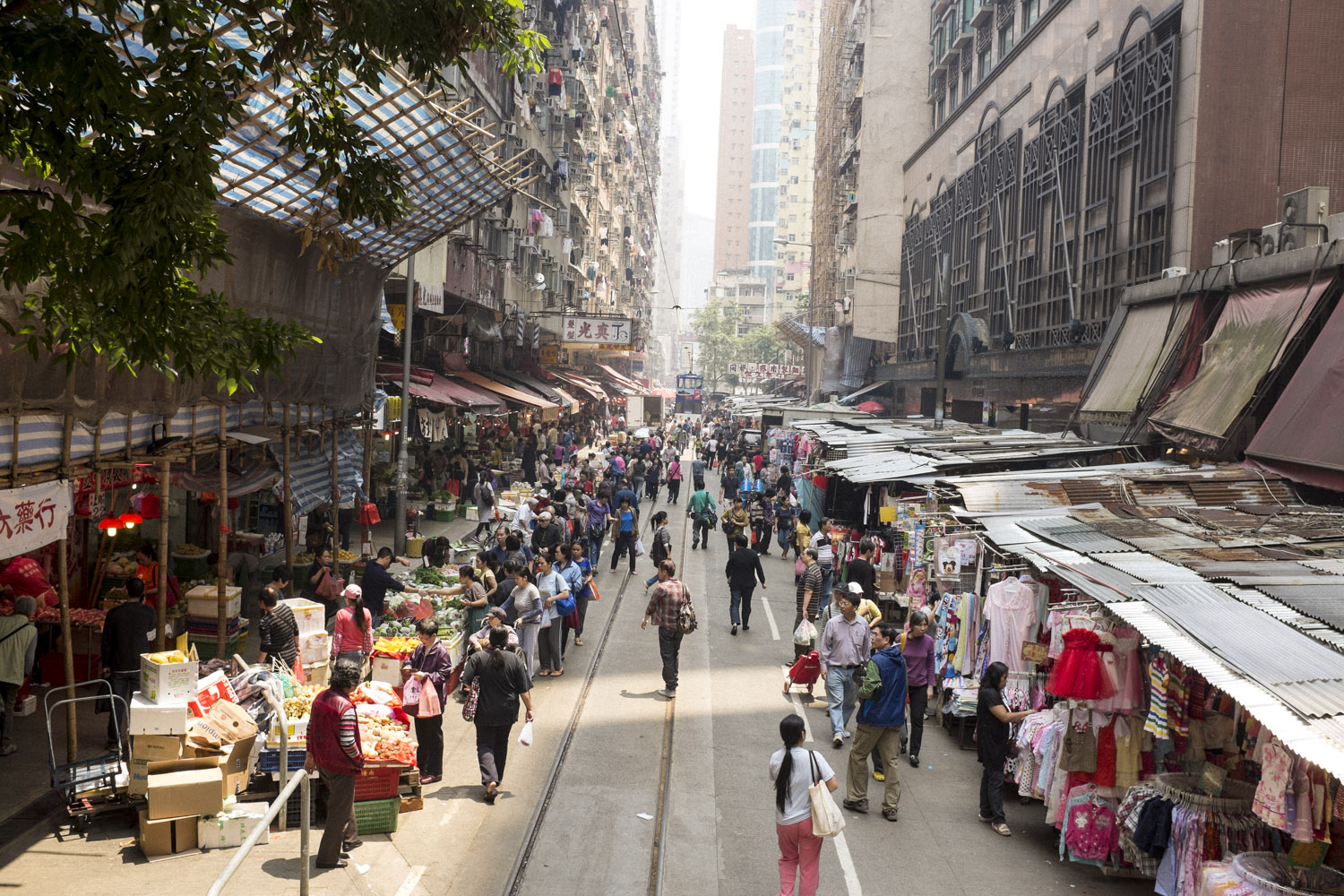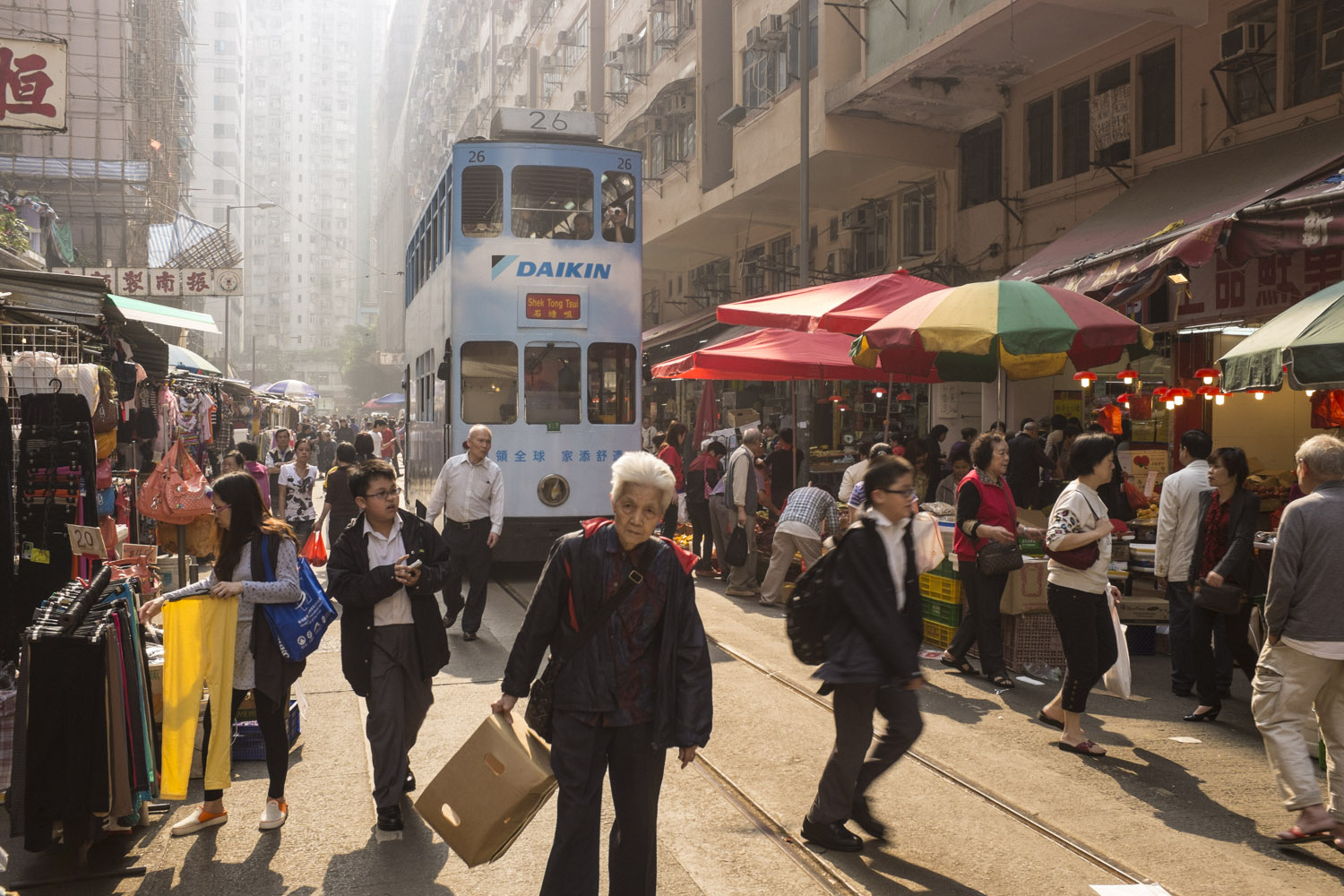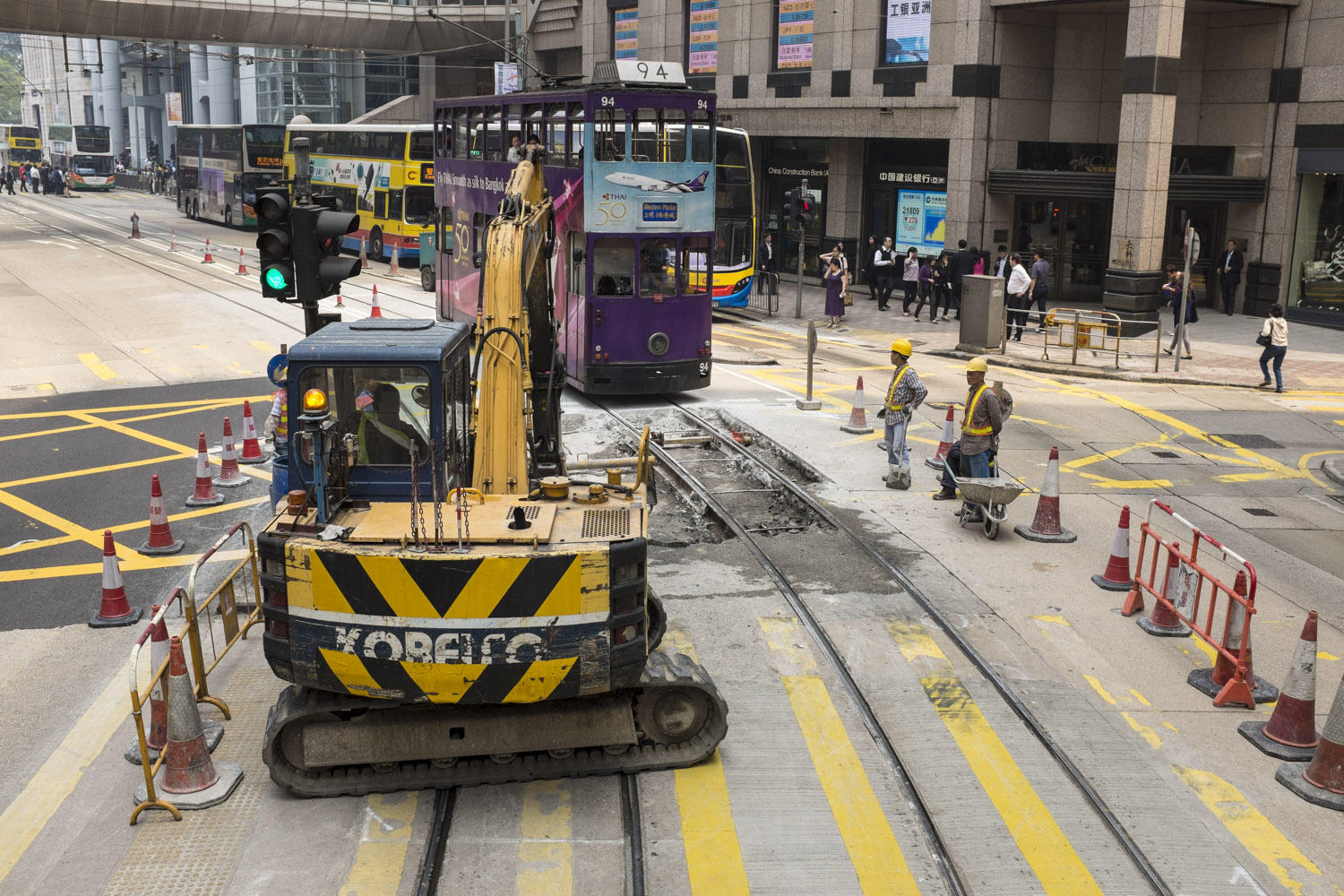 For the afternoon I went to check out Hong Kong's cheap camera shops in Mong Kok on the mainland so I ventured on the the MTR, the trains are so long here, possibly double the length of singapore. Other than that they look exactly the same and are of course very clean.
My friend Singe who has visited many times sent me a list of shops and malls to visit full of new and used cameras and all sorts of gadgets, I didn't intend to spend any money but ended up buying 45 rolls of film, batteries, a memory card and other camera accessories.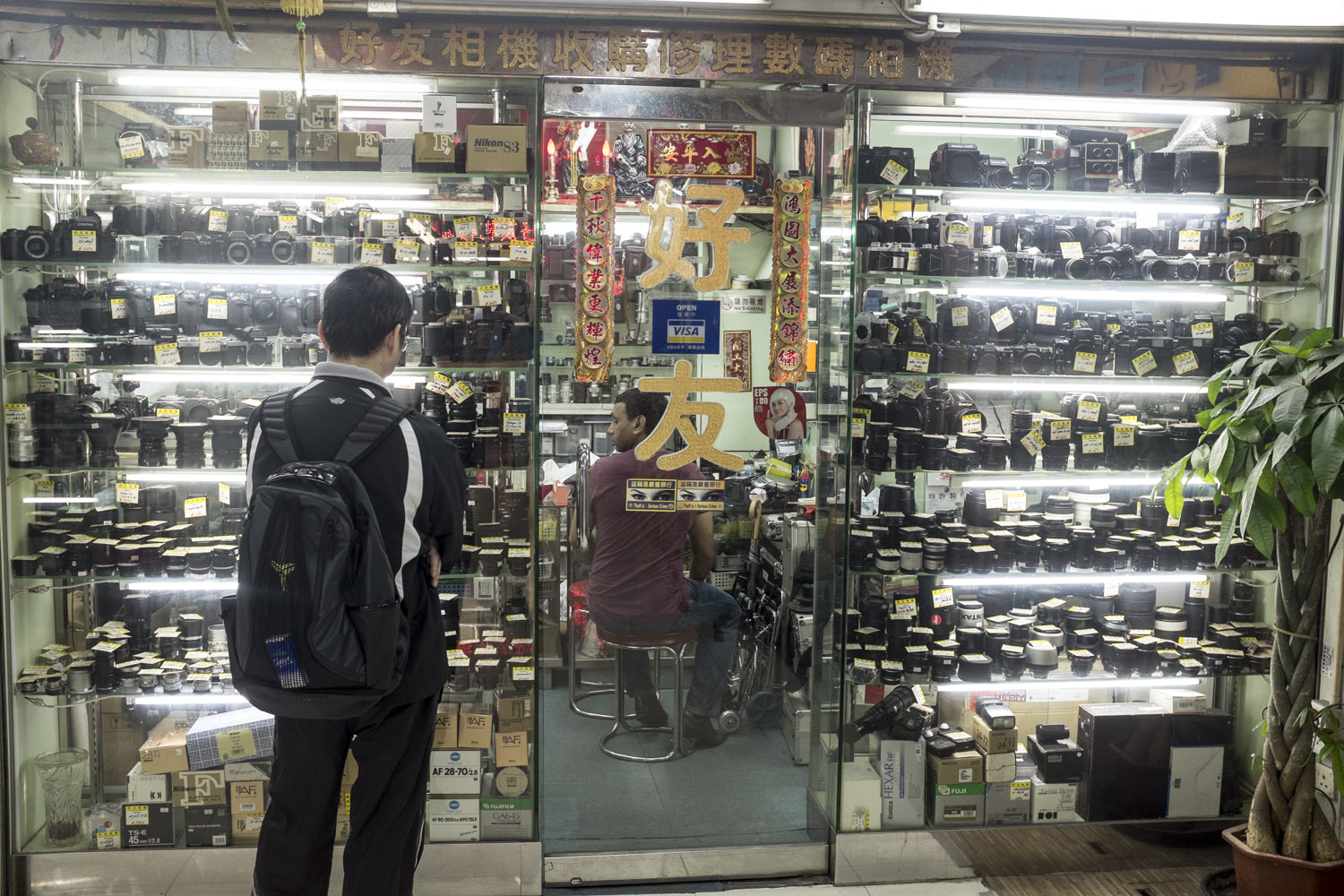 Monk Kok has some crazy looking streets so I waited for the sun to set so I could shoot them with all the lights on, I found a high walkway to be able to take this shot.

I then went exploring at street level looking for a street with even more colourful signs, I came upon this shot below which just as I arrived the taxi parked up whilst the driver parked for dinner which gave me just enough time to set up and wait for the right moment for traffic to stop. Barley 2 minutes after I pressed the shutter to capture the moment the taxi was gone.

I love to try new food but the problem here is that not everyone speaks good English and so I found myself pointing at stuff that looked interesting on the street stalls and just trying it, thankfully nothing was too spicy and I got to try some great cheap local food, please don't ask me what I ate though as I still do not know.
When it's home time people love to queue here for a bus, crazy!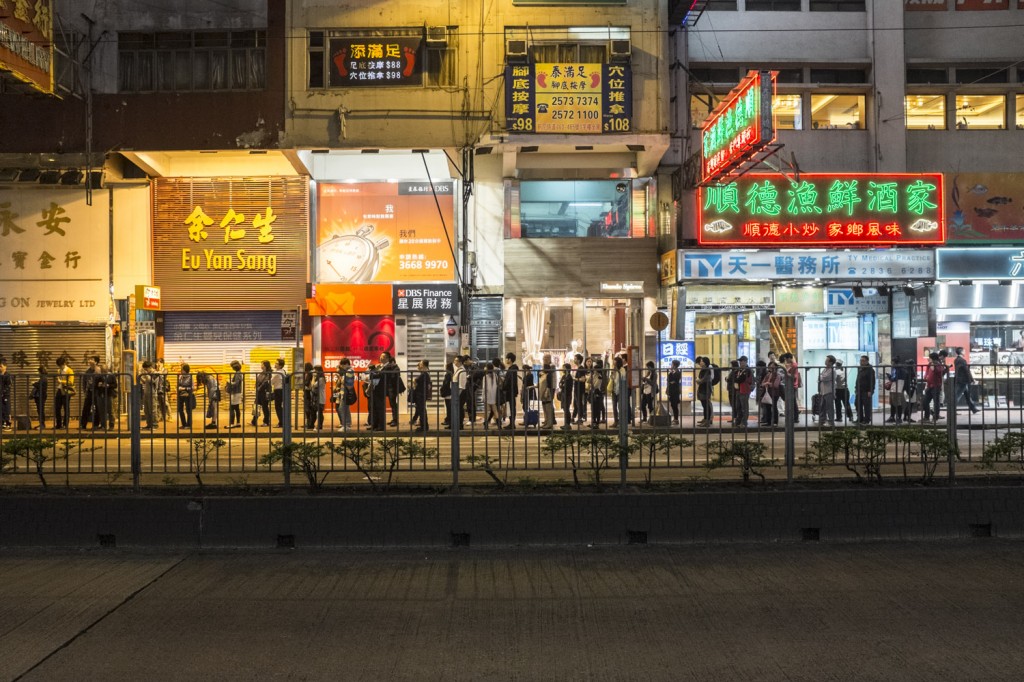 I love this street scene and I wanted to capture it on my panoramic camera but there isn't enough going on to make an interesting composition in that format. It reminds me of Blade Runner.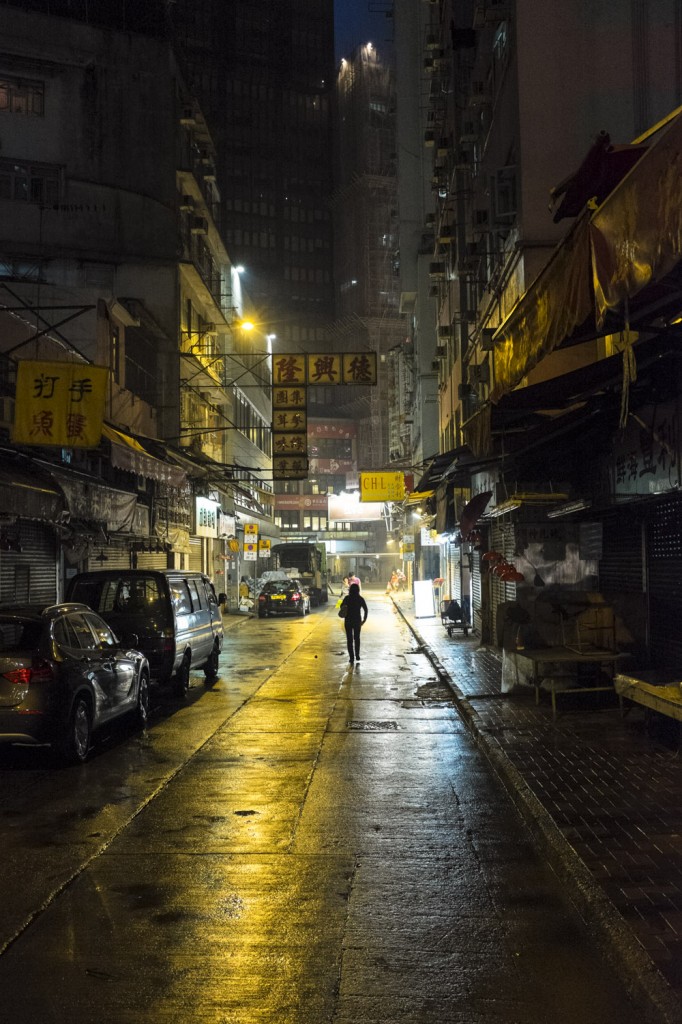 Since the fog made visibility poor up at the peak I wanted to go back again early one morning and waited until my last day hoping it would clear, sadly I was out of luck because this fog was actually smog and I would be very lucky indeed to get a day without that this time of the year. When I woke it got even worse, it was raining. I headed up anyway in the hope of something moody that would produce a different shot to my usual cityscapes. At the top I couldn't see anything, not a single building. I decided to wait in the hope that it would clear a bit and after an hour it did just as the rain began to fall on me. I waited for the moment when the buildings on the mainland were just revealed to press the shutter.

The tram taking you up to the peak goes up some very steep hills, the ride is so much fun I decided to do it 2 more times since it's so cheap and I had too much money on my octopus card. I walked back down from the top so see if there was anywhere along the way I could shoot the city and the tram all in one shot and amazingly I was not disappointed.

It's a nice walk down through the stations along the way and popular for those who want a good work out running up.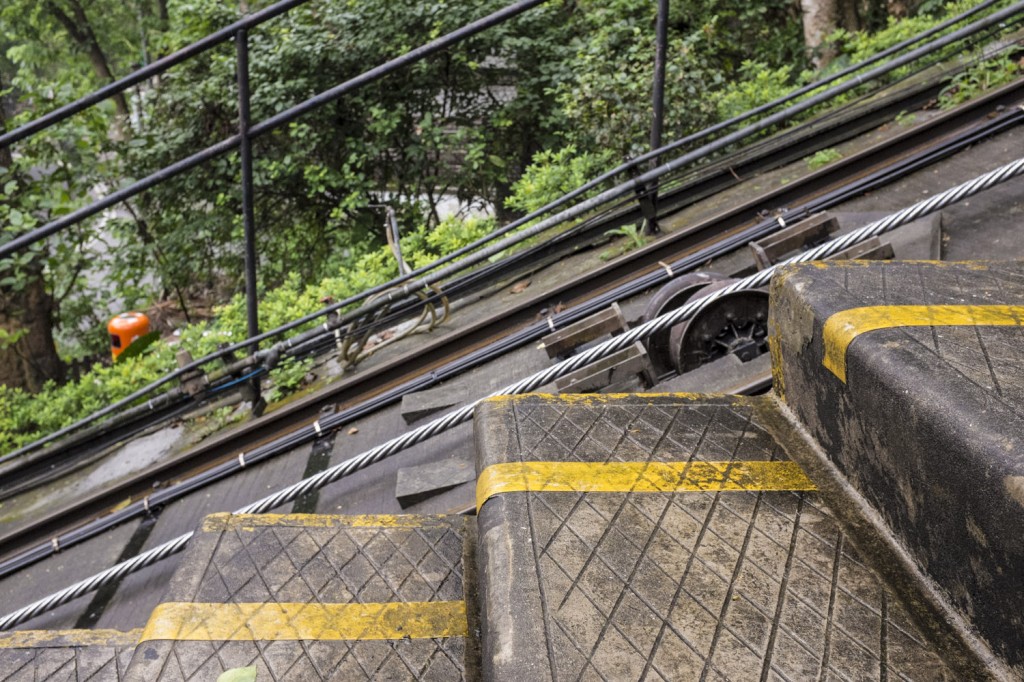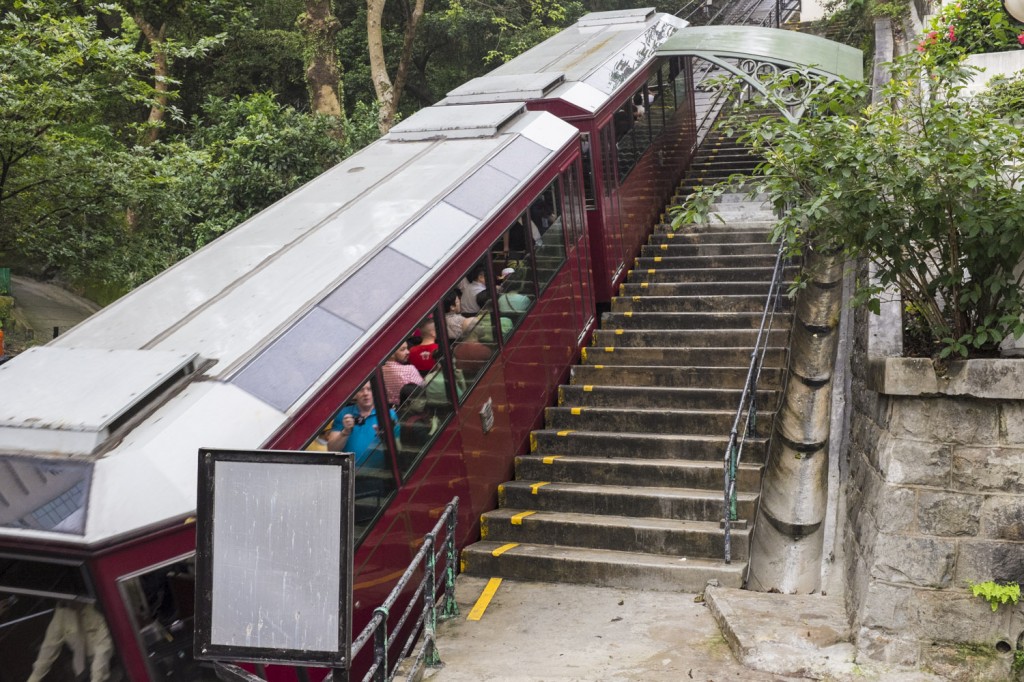 I was planning to go visit the huge Buddha that day but apparently on a cloudy day you can't see it so I am going to save that for the next time as I am sure Yann will be back here again soon.