Yann, my girlfriend, is heading to Manila in the Philippines for work so I decided to tag along and check out a new city.
Manila isn't on my to do list, and most people say to avoid this city and I can see why, it's not a place you want to go jet lagged with lots of baggage as it's so busy and dirty and hard to get around. Luckily I was not jet lagged and only had a back pack so I found the city fascinating, even though it is essentially a shit hole. It's a shame as apparently once it was a great place to live.
I flew solo because as usual Yann was on an expensive airline with work, she would meet me later that evening. Upon landing we had to wait for 30 minutes on the plane waiting for a free gate, only to have to get on a bus, I'm not sure what happened to the gate. Getting through customs was fairly efficient but the airport is not pretty.
The airport has no public transport so you have to get a taxi for which they have put in place a set fair which would be around 800 Pesos to the centre. I had done my research so walked up to the departure level and jumped in a cab, something I read that wasn't recommended for you first time in Manila, but what the hell. So i walked from taxi to taxi saying Meter until one of them agreed, it they don't agree to the meter they will only rip you off. It was half price than the airport taxis on the meter and I got dropped at the Intramuros, the oldest district of Manilla, but coming from England the old spanish buildings didn't interest me, what did was the people and the way they lived.
All through the streets locals would shout trying to sell me a ride on a horse and cart or a cycle tour.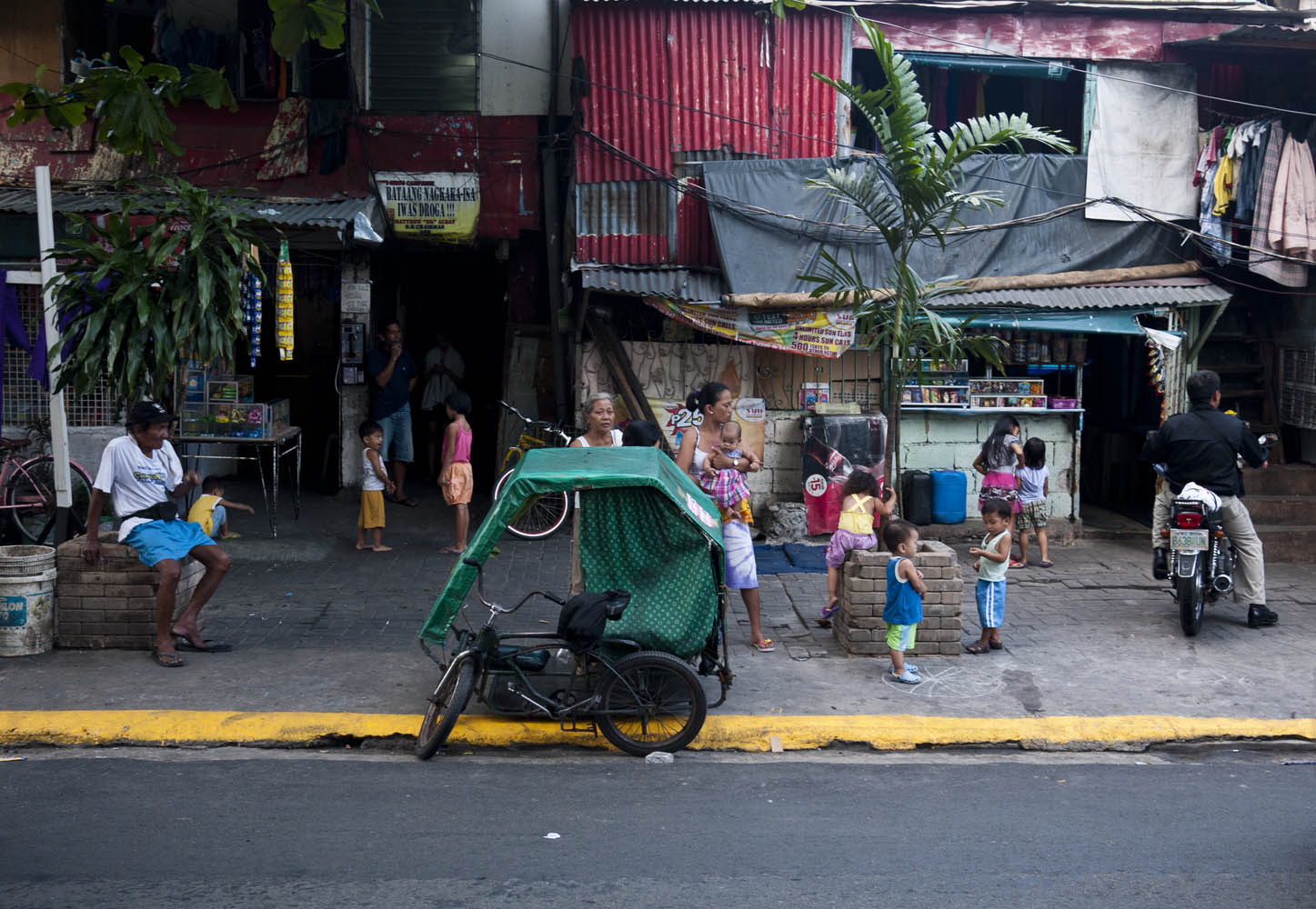 What I was most interested in to photograph here was the Jeepneys, they are the cheap local transport and I just love how they are all customised. It became my main goal to get a good shot of them for the next few days standing in spots along the road where they would pass regularly, it was very hit and miss waiting for the right moments.

You can tell most people here are very poor, most of the city is a mess with pockets of shanty towns everywhere, which is why I thought it was fascinating to photograph because it's a new experience for me. I didn't get to wander freely like this  Nigeria.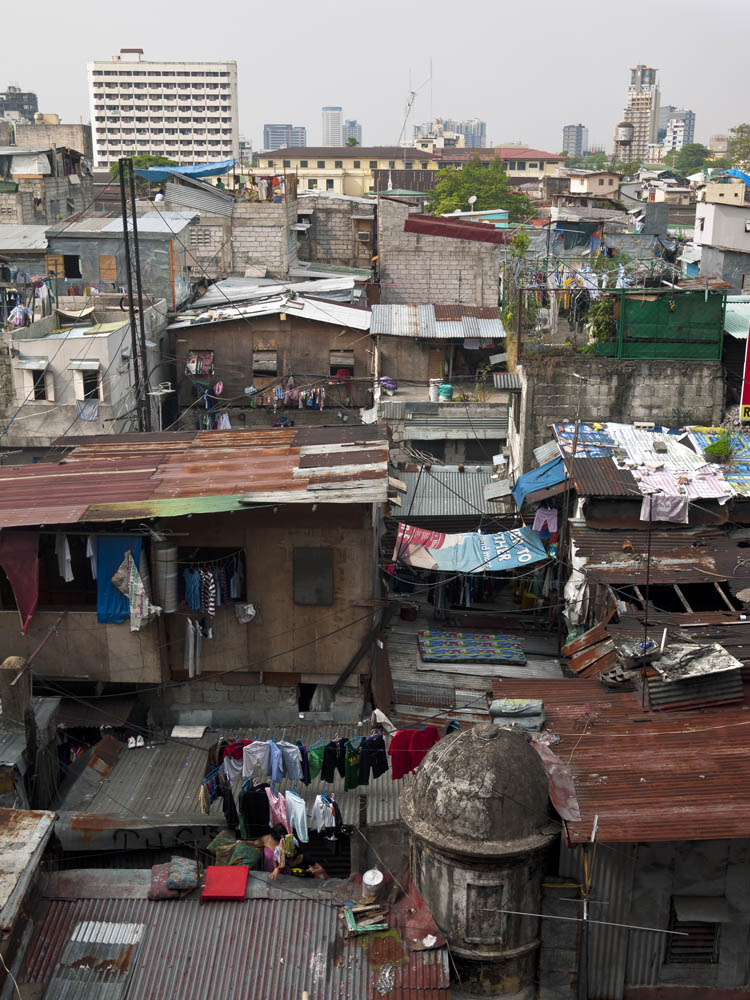 As the sun set it was time to make my way to the hotel to meet Yann, I asked a passer by the directions to the MRT and he was kind enough to help me get a bus as he was going in that direction anyway, he even paid my fare which I didn't expect especially since the fare was so cheap at 10 pence.  It was a very slow ride with the crazy traffic so I asked Sherwin many questions about Manila, from my reading up on Manila I didn't expect to meet such a nice man on my first day.
I jumped off the bus at the Makati City which is the new and pretty area of Metro Manila, it felt like I was back in Singapore except for the security guards with guns throughout the park I walked through. Manila is very cheap which is great for any traveller, I ate dinner at a gourmet cafe at the cost of £3. Expensive when you can eat a good lunch for only £1. Sat in probably the safest park in Manila a young local lady walked up and sat next to me and started a conversation, I already knew where this would go especially when she said she wanted to buy me a drink. She could be one of two things, what they call an opportunist that sees my white self and thinks she can make some money, or a thief who planned to spike my drink with some friends steal my belongings, I almost wanted to play it out to see but declined and headed for the hotel. Yann's flight also ended up being delayed into Manila, it's starting to look like the airport isn't very well organised.
The Oakwood Premier Hotel we stayed is one of the nicest I have been in, especially for £90 a night, it was a big one bedroom apartment, everywhere in Asia so far has had King size beds so it's going to be hard if I ever have to go back to a queen.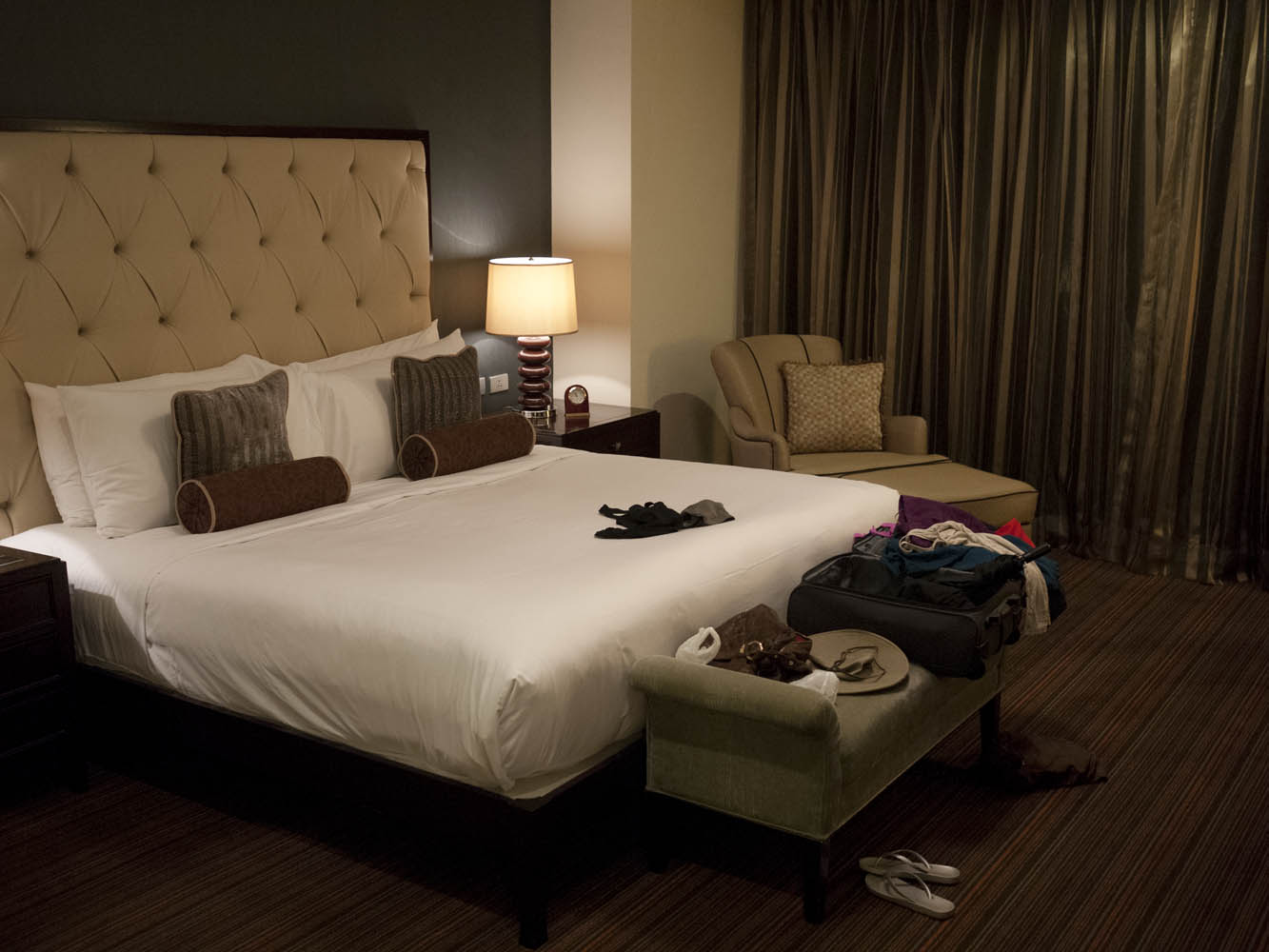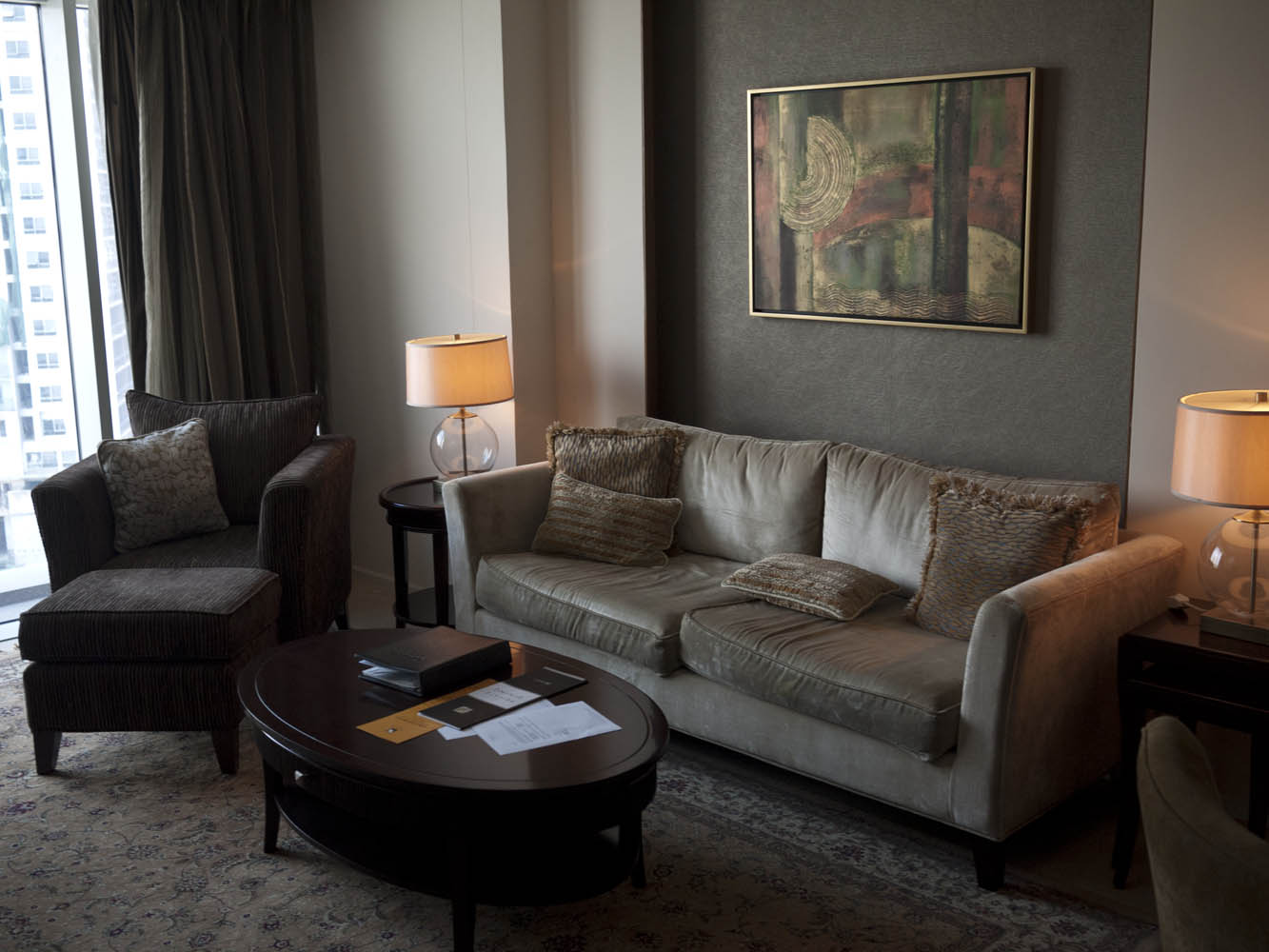 Whilst Yann went to work I continued to explore the city, this time venturing onto the MRT. There is only 3 lines here and they don't serve much of the city but it is cheap at about 15p. However this is a cash only system as none of the ticket machines work and the prepaid systems for each line are different, t really is a third world system. I had to wait 10 minutes in line just to buy a ticket, then a few more minutes to go through security where they glance in tour bag with a magic wooden stick. This terrible security makes me feel less safe. With most buildings you walk into here you get your bag checked or go through a metal detector, even the malls. The MRT is crowded and dirty but thankfully there is AC.
But atleast I was really getting to see Manila now even with all the public transport annoyances,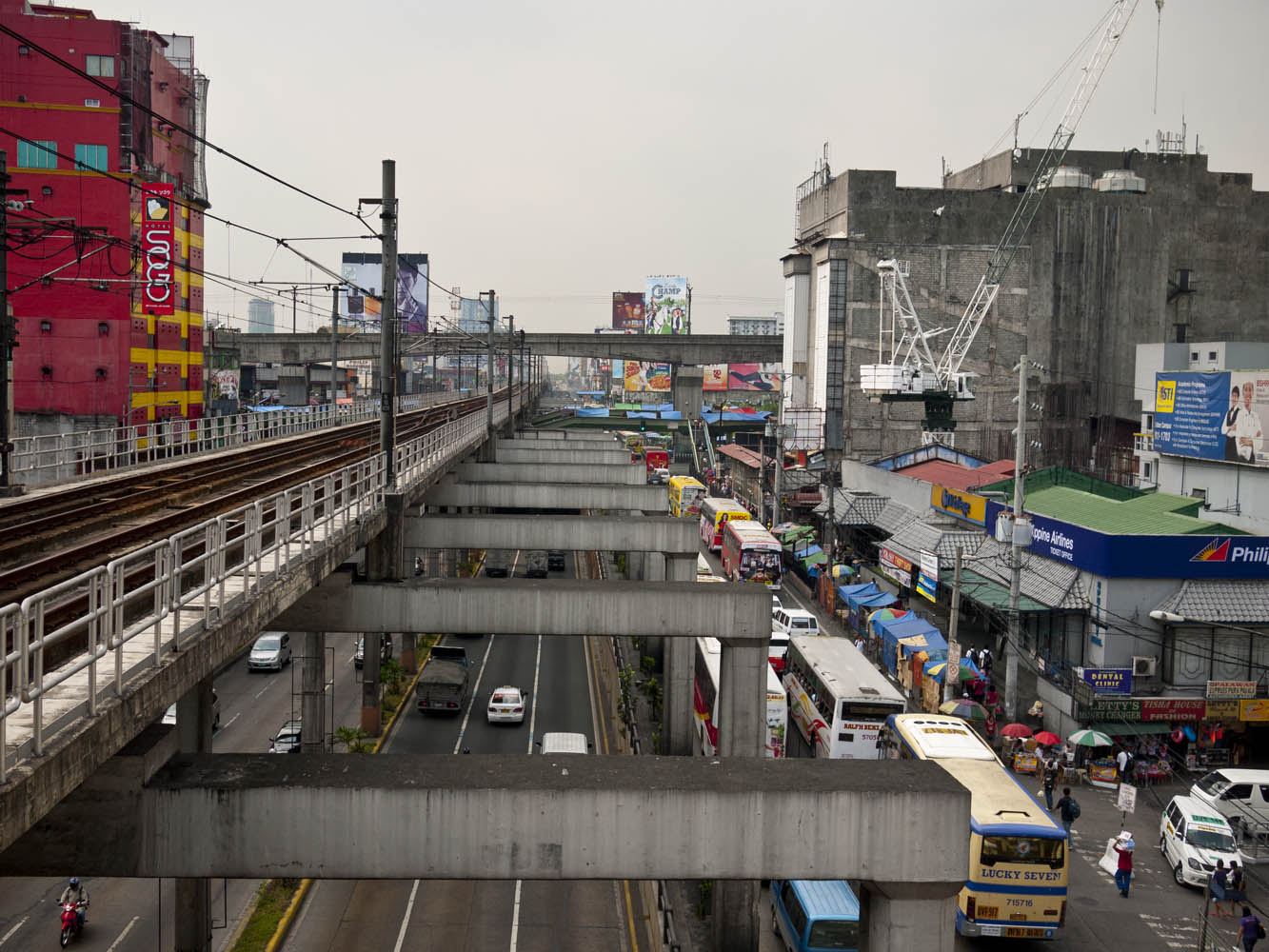 In the picture above on the right you can see a red building, this is a hotel chain called Sogo which stands for So clean So good, it is very cheap and apparently the rent rooms by the hour. I wonder if it's as good as Motel 6 in the states?
Everywhere I walked I was the only tourist around and I got plenty of strange looks like they had never seen a white guy before, maybe they hadn't in these parts because I was later told by locals they would never walk around the areas I had been to. These areas were the only ones I wasn't hassled into spending money. I loved this street below as it has so much going on, whilst waiting for the right moment to take the shot kids were coming up to me and saying "give me money". You can see one in the photo I took, he was trying to get in shot and ruin it but the bike distracted him for a moment.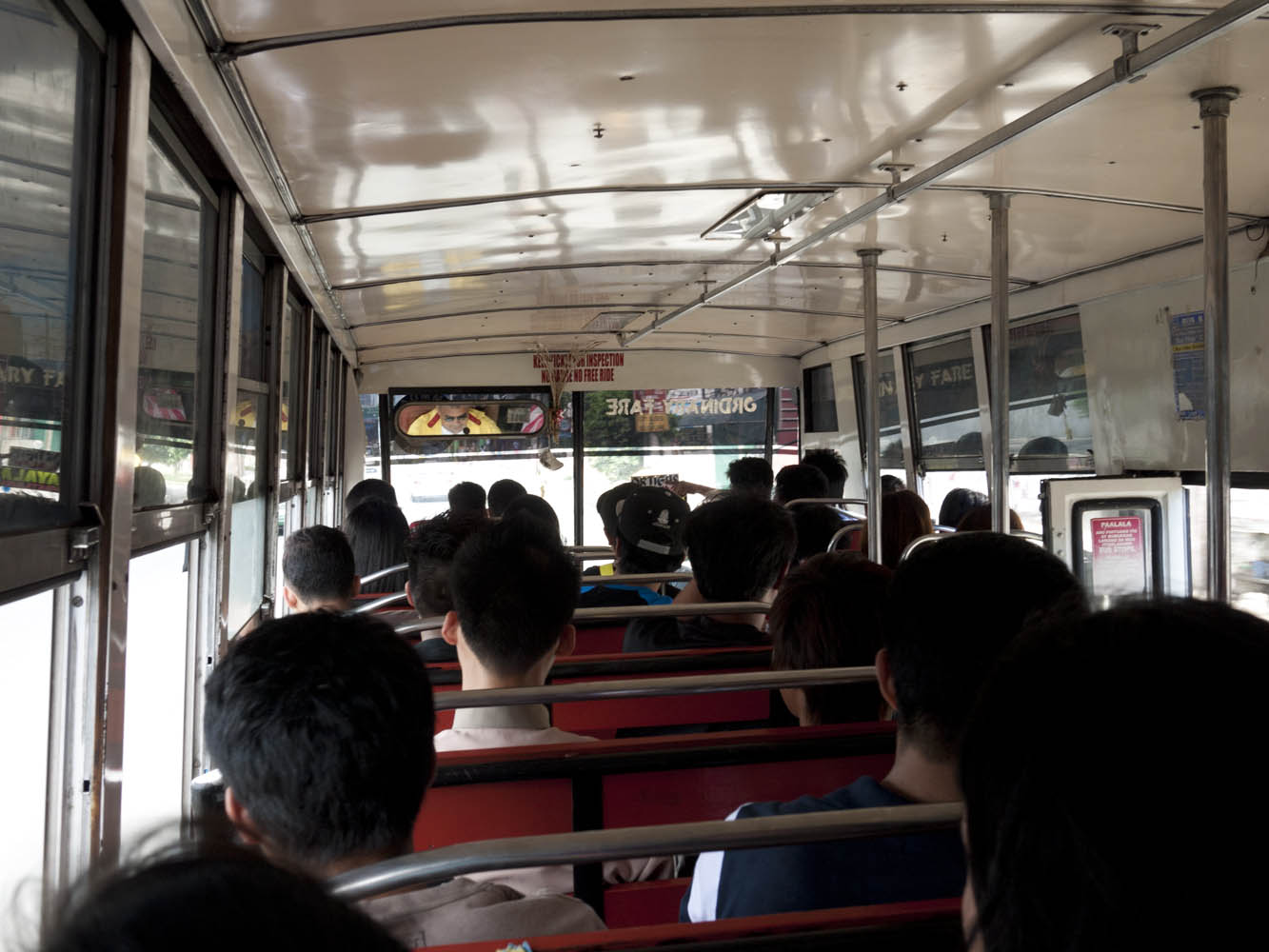 Holy Week started on my 3rd day here which is a big holiday and meant the MRT was no longer running which meant I got to experience to bus again, on my own this time though. I just jumped on one heading in the right direction and jumped off when I could see on my Iphone map I was in an area I wanted to be. Smart-phones are a godsend for days like this, otherwise I would be lost. This bus had no AC so it was open on the sides.
I arrived near the coast and stumbled up on a market that had a walkway above it. The walkway was closed but I found a way up anyway as it looked like a great vantage point to take some photos of the life below. Every so often a mini jam would happen and I would take a shot. I ended up spending 2 hours there just watching life go by.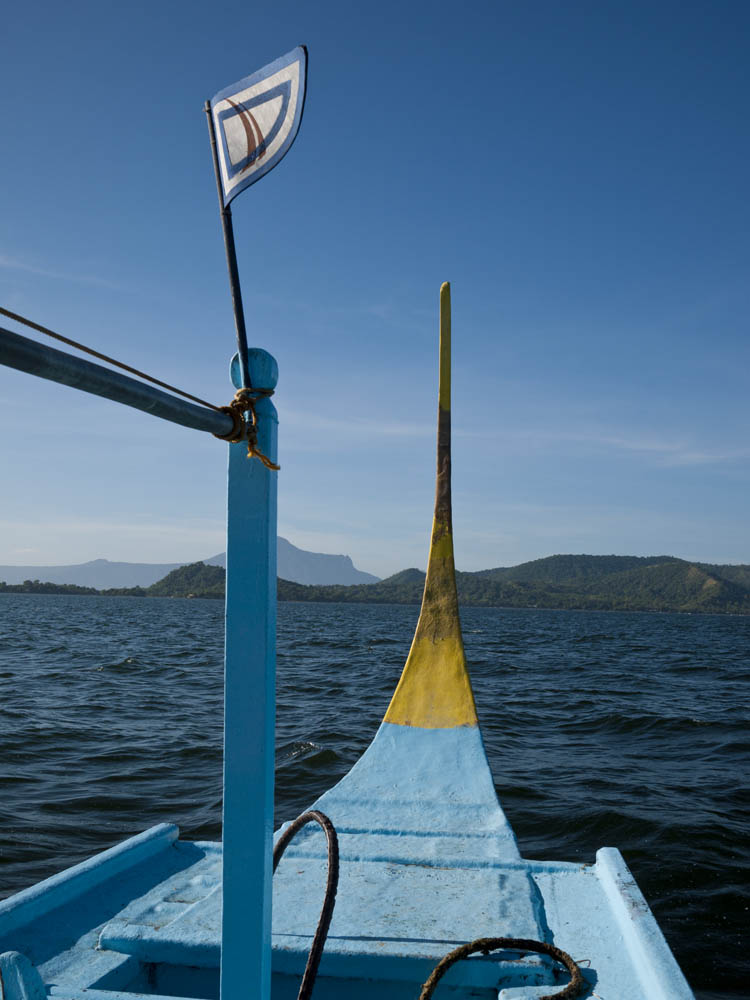 Yann has an old school friend here in Manila so we spent the weekend with them and they drove us out to see the Taal Volcano 100km south of the city. We set off at 5.30am since it was a 1 hour hike and not something you want to do in the midday heat. Getting to the volcano requires a boat ride across Taal Lake, the breeze was amazing.
The hike up followed a dirt track where horses also went and all the way up they would try to sell us a horse rife up the hill to make it easier, they literally followed us up behind hoping we would eventually give up.
It's an incredible view at the top with the green water, I wanted to walk down to the bottom but I knew I would regret that with the steep hike back up, it's just too damn hot even at 8.30am.
Thankfully at the top, as always there were stalls to sell sell you drinks and other rubbish but luckily it had some shade to cool off before heading back down.
In colour my cheeks are incredibly red in the picture below.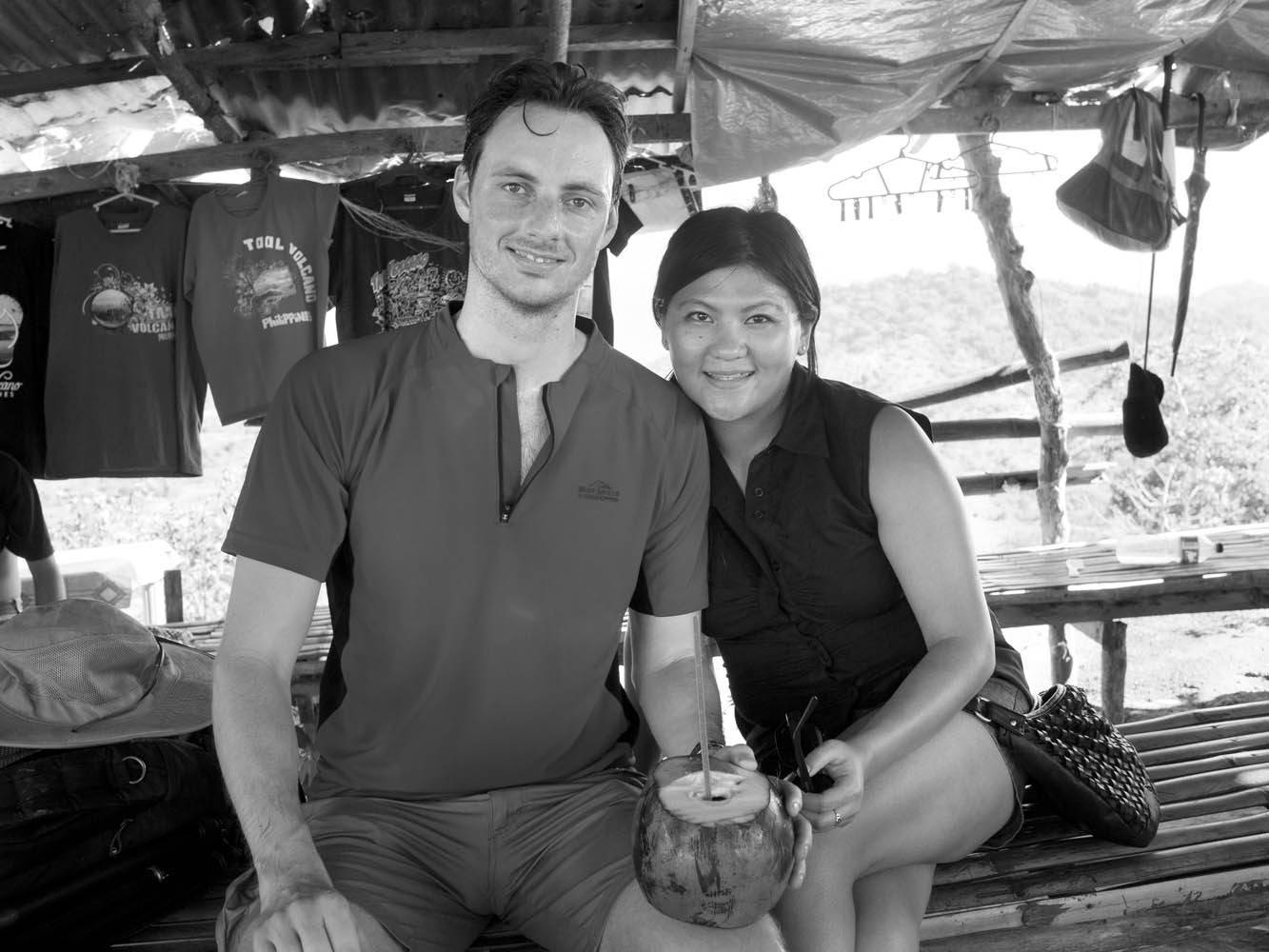 It was great being with local people because they knew where to go and what to eat, but that also meant I had to try Balut, a local delight you can only by on the street in the evening. Maybe that has something to do with needing to be drunk to want to eat them. They are basically fertilised duck eggs that are cooked once the chick inside has grown a little.
I thought I was going to throw up but it  was actually quite tasty, like a meaty version of an egg. Yummy.