Siem Reap is the gateway to the amazing ruins of the Angkor region, a place I have been looking forward to exploring since I arrived in Asia 2 years ago.
I booked 3 days which would give me plenty of time to explore every temple and get the shots I wanted since they were all in a small area and easy travel between.
I landed on a Saturday afternoon where a Tuk Tuk driver sent by the hotel was waiting to collect me, I headed straight out to the temples wanting to make the most of my time here. My first was location was Angkor Thom.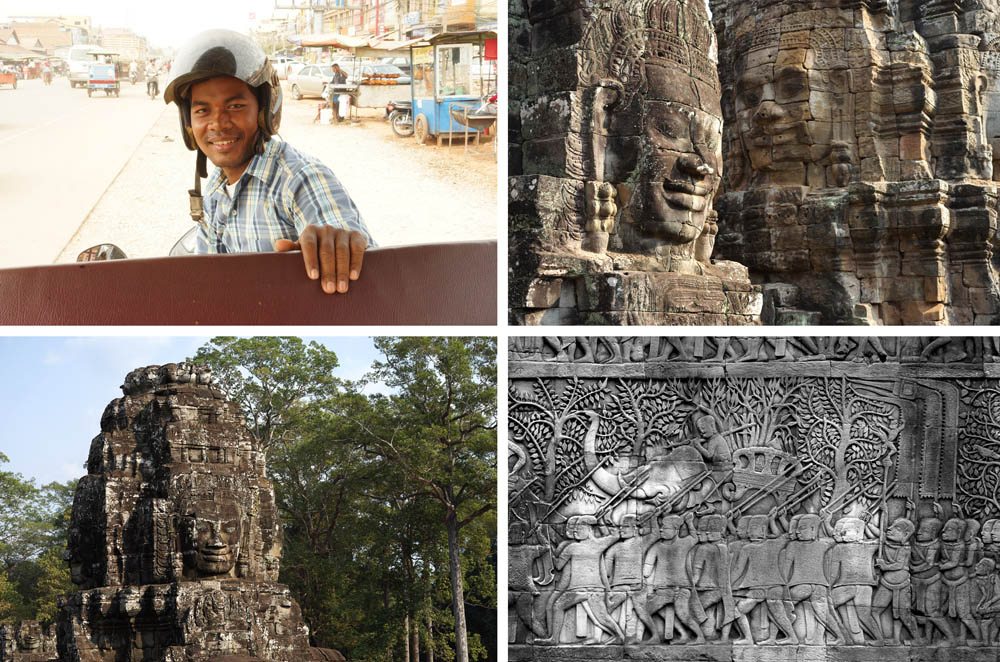 Angkor Thom has lots of intricate details which wouldn't be seen if captured in wide angle, but it's great to capture up close. I spent 2 hours just wandering around as the sun set, and as most tourists would be at the sunset point now. As a result, I had the whole temple to myself before it got to dark.

I wanted to avoid the crowds as much as possible on this trip to have people-free shots, and my research told most follow a standard route. This route starts at Angkor Wat for sunrise, then onto Angkor Thom, Ta Prohm, before heading to the sunset point of Bakheng, so I avoided those places at those busy times. I was looking for almost untouched temples as many had been restored, but Ta Prohm was one that was still close to the broken state it was found in, so I headed there first at the crack of sunrise to avoid the crowds.

It wasn't long though before people trickled in and I found myself waiting for clear scenes in some of the wide open spots, but others I had all to myself. I loved Ta Prohm so much that I decided to come back each morning at sunrise to make the most of all the impressive sections.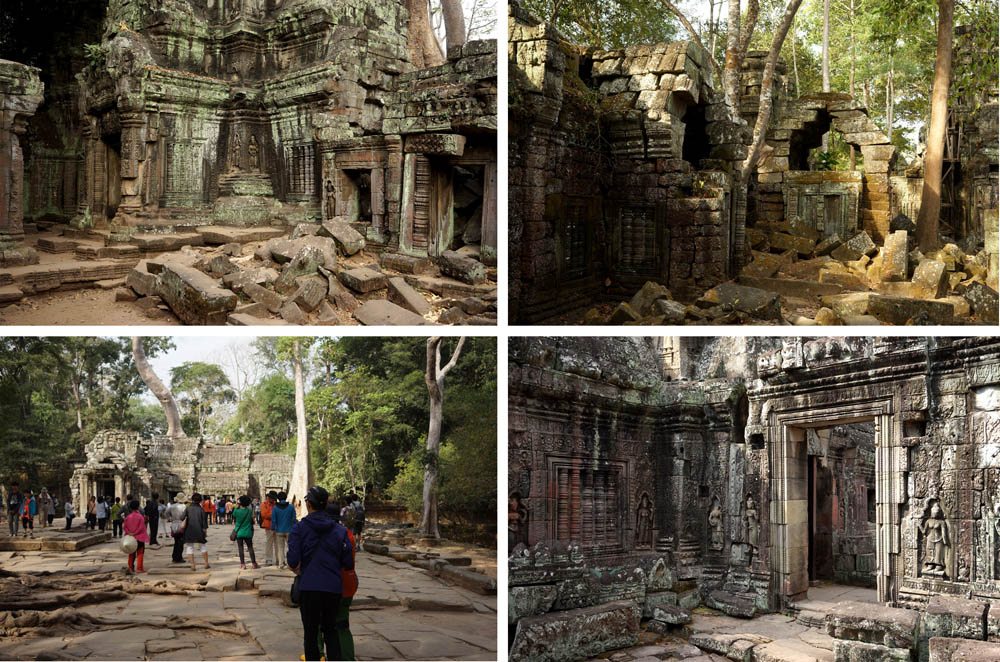 I found my favourite shot from Ta Prohm on the last morning, pictured below, and the hour I spent there I only saw 2 people walk by, it was so peaceful and I took my time to find the perfect angle and exposure to capture the amazing ruins. The light was perfect as it filtered through the trees.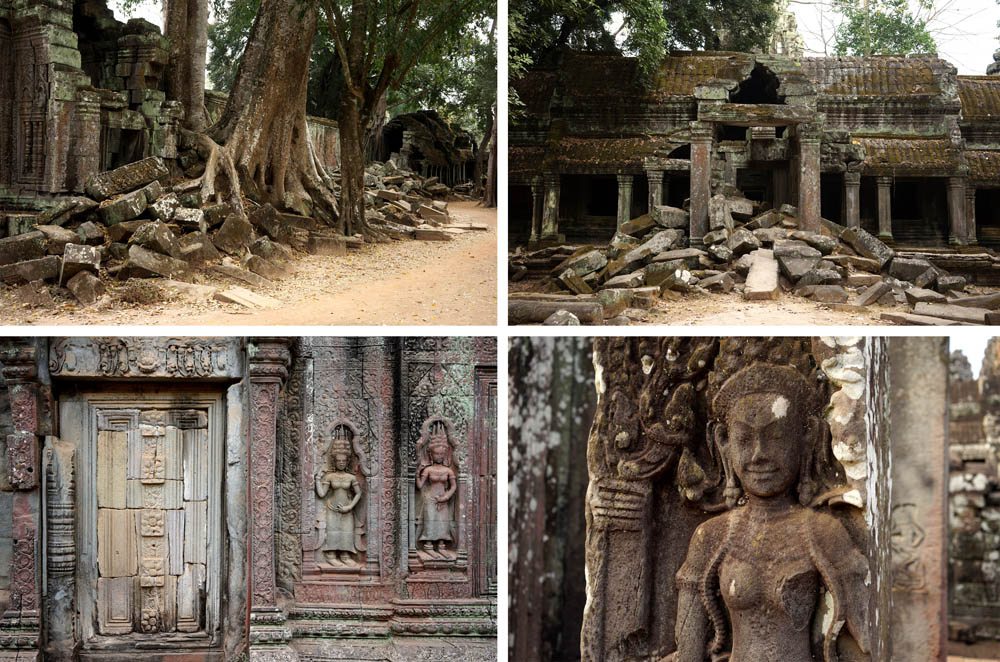 There were so many nooks and crannies to discover with every turn, I almost felt lost inside as I spent at least 10 hours shooting this temple alone over the 3 days.


I loved travelling between the temples on the Tuk Tuk, watching the local life as I flew by shooting with my circular lens. I set my shutter to 1/1000 and shot everything that caught my eyes as I rushed by.
The busiest temple, Angkor Wat was a little uninspiring for me compared to the ruins of Ta Prohm as it was too nicely restored, along with crowds of people walking around the main areas I found it hard to find a beautiful scene to capture. The east entrance though was completely quiet, literally walking through a doorway took me from queues of people to no one where I sat and waited for sunset. Whilst the temple in full light didn't inspire me, the silhouette of its pillars against the sky was beautiful.

Ta Prohm certainly stole my heart, but there were other temples I visited along the way that had some charm, some that were so peaceful as they were rarely visited, shown by the lack of stalls outside trying to sell me souvenirs. Gave me an idea of what it would be like to explore the area years ago before it became so popular.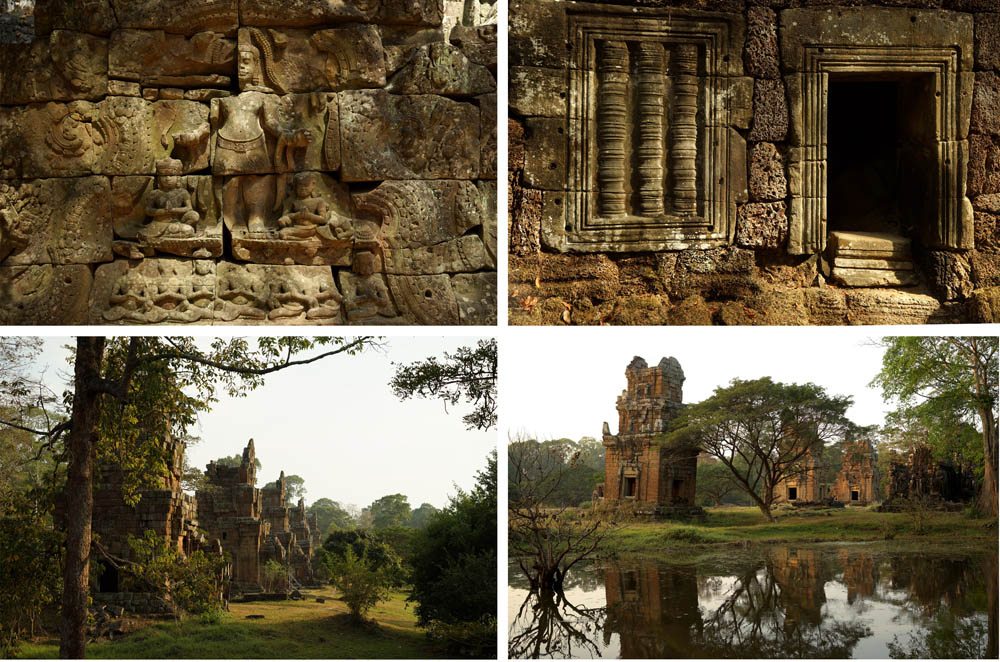 For my last sunset, I explored the Prasats Suor Prat, which many visitors passed right by barely giving them a glance. I was again alone amongst the beautiful 12 towers, wandering as the sun set searching for the perfect composition.

On my final day I my flight back to Singapore was at 5pm, and after so much time inside temples I wanted to see something different so I asked my Tuk Tuk driver to take me around some local places. He took me on a tour of the most interesting places he knew. I have visited many markets in Asia but still this one amazed me with the way they sold the meat, I just love how their feet sit amongst it. Such a great array of colours to capture as I wondered shooting for an hour amongst the local people.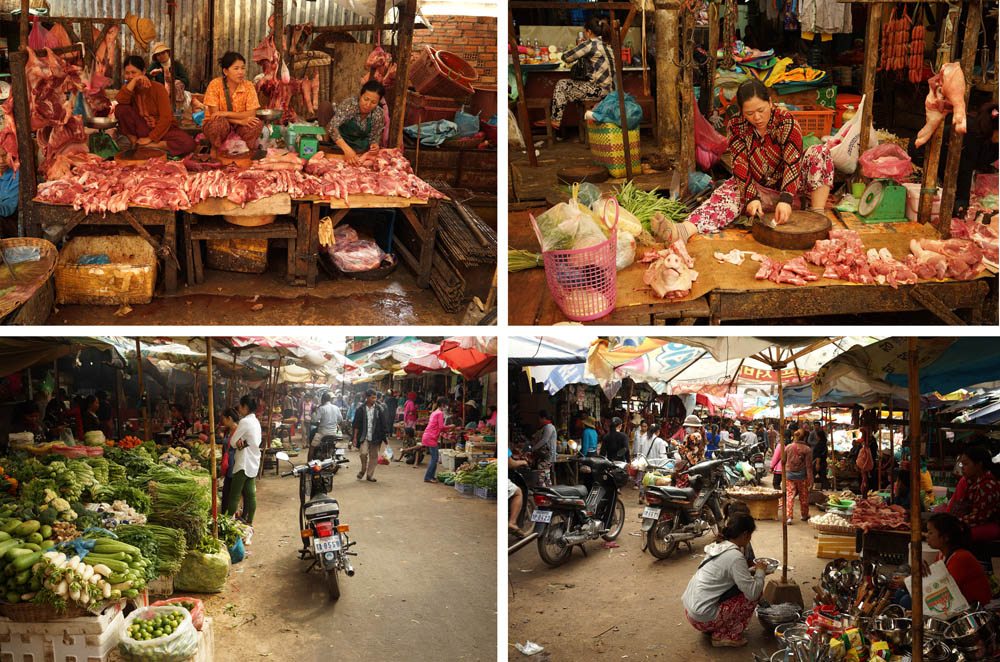 It was nice to spend 4 days shooting the intimate scenes or Angkor Wat, but also frustrating at times having to avoid the crowds. I also find it sad they are rebuilding my favourite temple, Ta Prohm. For me, it's the ruined state that gives it the charm and magic to photograph and I wish all the temples had been left that way, being over taken by nature like a lost kingdom as they were once found.