Over Christmas my Girlfriend, Yann, wanted to take a long break and visit Vietnam where her family are originally from and  it would be an interesting change to the usual Christmas with the family. Starting in Hanoi I planned the 10 days with a surprise in the middle for Christmas day for her.
Yann has visited Ho Chi Minh City before and said it was crazy with congestion and bikes so Hanoi was a nice change from that, there is still a crazy amount of bikes and general chaos on the roads but apparently it's heaven compared. We had 3 days to explore the city where we wandered the markets, watched a water puppet show and ate lots of food. I'm sad to say though that I didn't really have any food I though beat the great Vietnamese of London, the best we had was some street food that I have no idea what it was pictured below. Our Hotel, the Golden Sun Villa, was very nice and a bargain for the quality, but I did feel the staff were over doing how nice they were, it seemed fake just to get a good trip advisor review to get to the top of the charts, they even mentioned it as we checked out. There was even an elderly American man staying there too who had a very young Vietnamese girl with him, oh dear.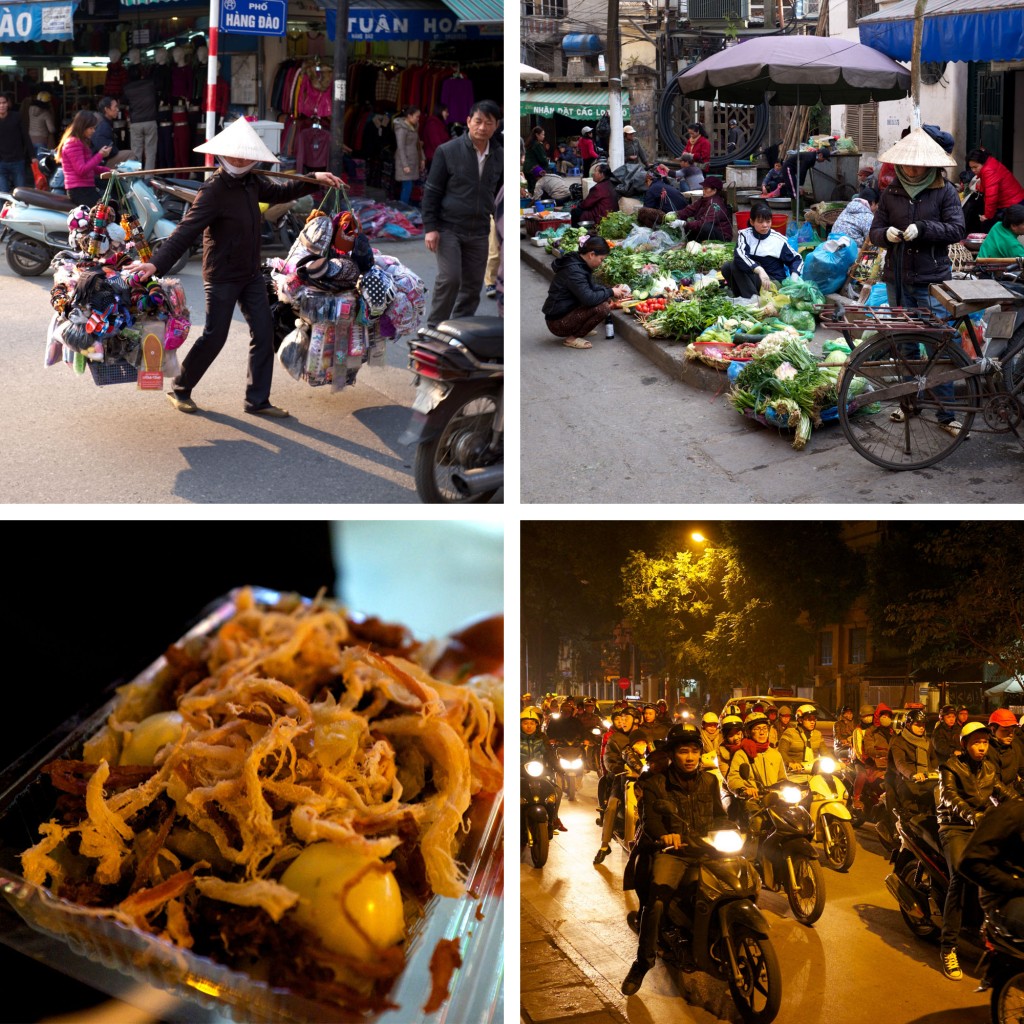 I wanted to capture the organised chaos of the junctions as well as the old town architecture on panoramic film so searched the streets for the best spot where I then waited for the perfect moment during a 2 second exposure, pictured below. For me it sums up Hanoi completely with the traffic fighting it's way through, it's amazing to watch. I can imagine it would have been wonderful to visit before the motorbike was invented and everyone rode on bicycles.
I was told Vietnam was a good cheap place to get a suit made and I had always wanted a nice casual linen jacket so I decided to be fitted for one, at first I thought it was a bargain when he quoted the price, until I find out it was in US dollars not Vietnamese Dong. Still $150  was a cheap for a nice jacket from a the best tailor in town so I went ahead anyway, you can see the jacket if you look at my exhibition photos posted here shortly.

Our next stop was Hong Hai near Ha Long city, my research had found a great viewpoint you could hike up to so naturally I booked 2 nights at the Ha Long DC hotel nearby so I could head up at sunset and sunrise. To get there we took a tour bus from Hanoi that was taking people for a boat tour of Ha Long Bay and it was a bumpy and cramped 4 hour drive, the funny thing is many passengers on the bus were only doing a 1 night boat tour which means they would have the same long drive tomorrow back to Hanoi, we had a few days here to make the journey worth it.
Yann had some work to do so I headed straight for the viewpoint which took me about an hour to find the entrance to the stairs because of wrong directions from the hotel, of course I also had to pay a fee as I had to walk through someones land but it was only a dollar and more than worth it for the spectacular view from the top. By far the best view of Ha Long Bay I saw on the whole trip.
Christmas Eve morning we both woke up early to head up to the viewpoint for sunrise and were greeted by a closed gate and a barking dog was chained up the day before. I thought what the hell and opened the gate to walk through at which point the owner came out and quickly moved us through but then Yann was bitten on the bum by the dog as we walked up the stairs, she ran straight past me the angry little thing! It was worth it though for the view of the sun rising behind the cliffs. Later on I took the Hotel manager to talk to the dog owners to make sure it has a Rabies shot, Yann is a worrier! The angry dog is pictured below.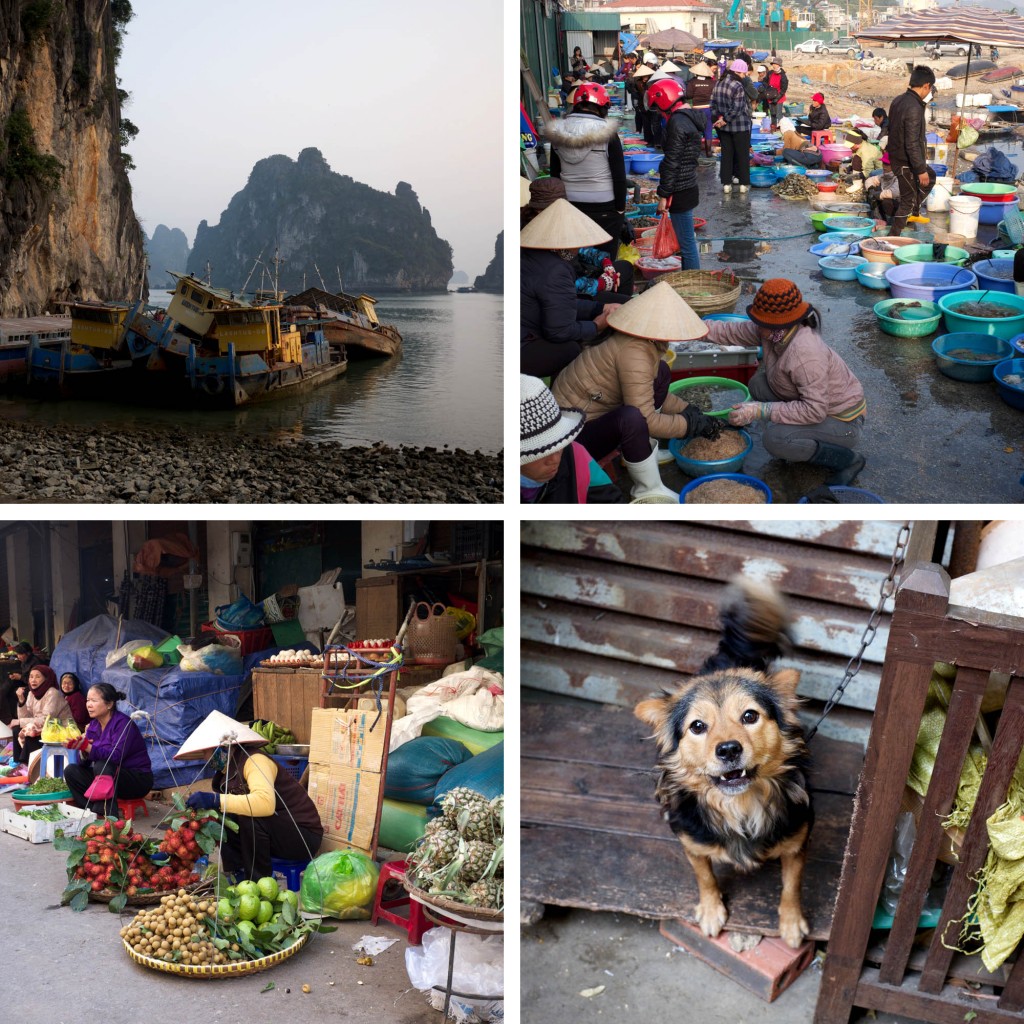 Hong Hai is not a very touristy area as many usually just head straight for a boat tour , it was nice and quiet around and had a local feel wandering the food markets and the coastline. Christmas Eve is when all the festivities happen in Vietnam so hordes of people were out to visit the church that night and of course I was the only white guy so I would get whole cafes looking up and staring and even a handshake from one guy. At least it's a better reaction than in Indonesia where they want to take a picture with me and then walk away giggling saying 'it's because you are so white.'

As Christmas day came it is time for my surprise, a 2 day fancy boat tour of Ha Long Bay. I'm not usually one to do tours hating the set itinerary but it really is the best way to see the area and included fun activities like kayaking through caves and relaxing on an empty beach in some remote parts of the bay where very few people visit as it isn't park of the 1 day tour.  I did miss a german guy falling into the water fully clothed with his camera too, poor guy but apparently it was funny because they couldn't get him back out the water, that would have been a great video.

On the boat women would row to our window and try to sell us booze since it was expensive on the boat, I was well prepared for that and had already brought a bottle on board. It was very cozy (cramped) but a fun experience to sleep in on a boat and wake up with the amazing view.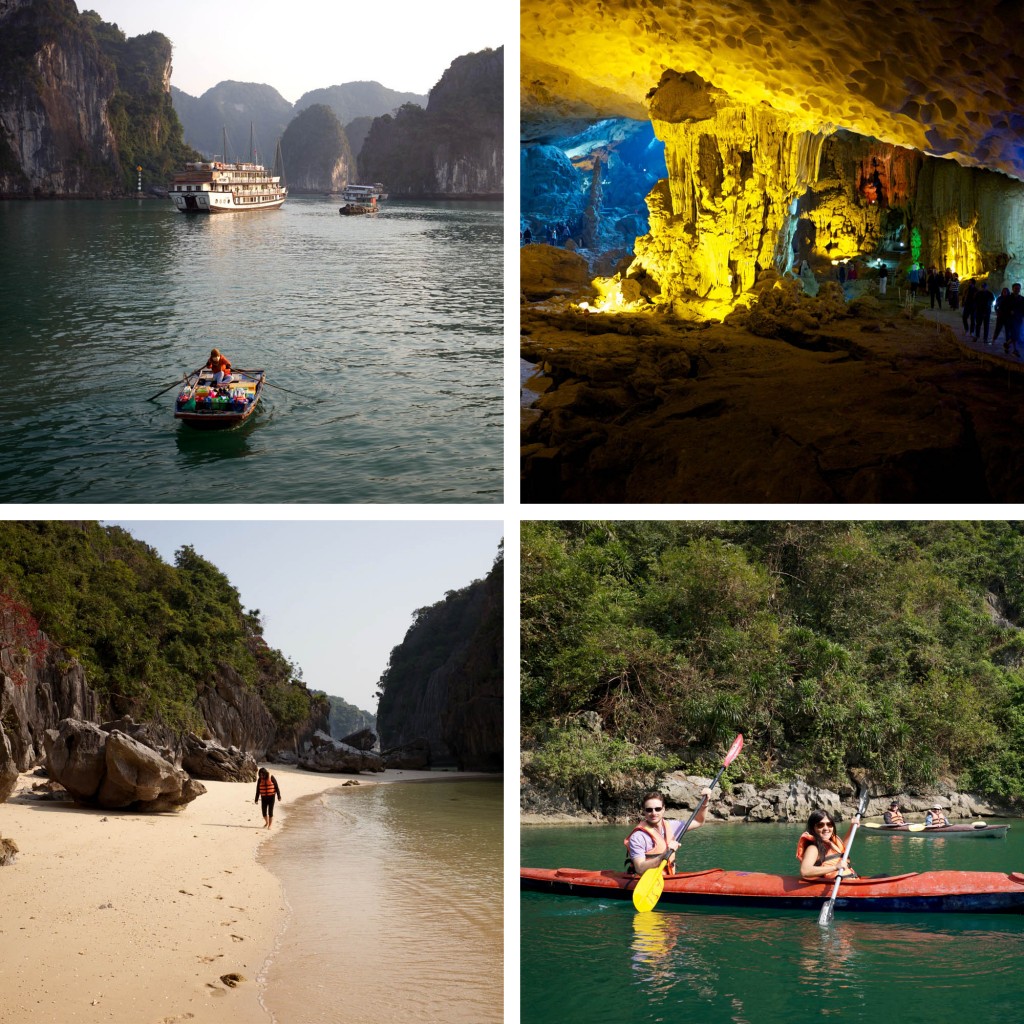 Back on land I had arranged for a car to take us to Tam Coc, an area known as the Ha Long Bay on land 4 hours away which with give us a different experience as we could hire bikes and cycle around. I enjoyed it more than Ha long because of the freedom it gave us to do our own thing. We stayed in a new hotel called the Anna Tham View, it was cheap and nice nestled in the limestone cliffs and the family that run it are wonderful. The grandmother even came cycling with us to show the way to an amazing cave and Yann got to practice her Vietnamese.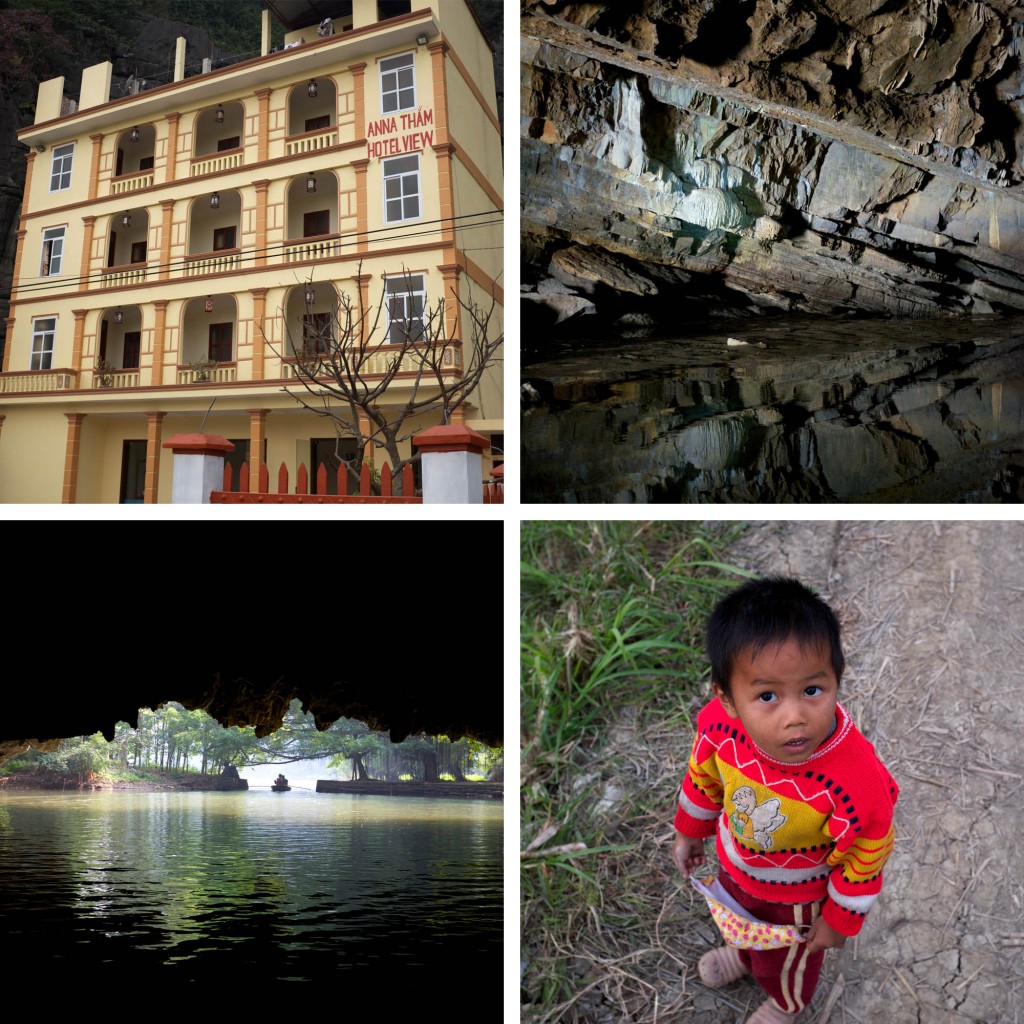 We were pleasantly surprised at the caves we got to see in the Bird park on the boat tours, something I had not expected to see, some of them were pitch black as you paddle through shining a torch to see the way and stalactites almost hitting your head if you are looking the wrong way, a very cool experience not to be missed.
What made Tam Coc even better was how few tourists there were this time of year so it was nice and quiet like we had the whole place to ourselves. During our bicycle tour of the area my wheel completely buckled about 3 miles away from the hotel so Yann had to cycle with my on the back all the way, it was very funny because it looked like I had hired someone to cycle for me, we got some odd looks on the way back.

After 2 nights in Tam Coc and some of the best food on the trip cooked at the hotel we headed back to Hanoi to catch our flight back to Singapore, it was a great trip and the perfect amount of time in each location.