April is a great time to go to Palawan, the temperature is perfect for spending all day on boat and exploring the beautiful coast. It is certainly cooler coming from Singapore.
I flew into Manila airport, then had a 5 hour connection for my 45 minute flight to Francisco B Reyes Airport on the small northern island of Busuanga. I was going to spend 2 days here so I can check out Coron Island before jumping on a boat south to El Nido on Palawan Island for 4 days.
After landing, I took a 45 minute minibus ride to Coron Town where I had booked a hotel, the sun was setting so I quickly headed out and for a walk around the area looking to find the ocean and see the view, but I never got to see it because something much more interesting got in my way.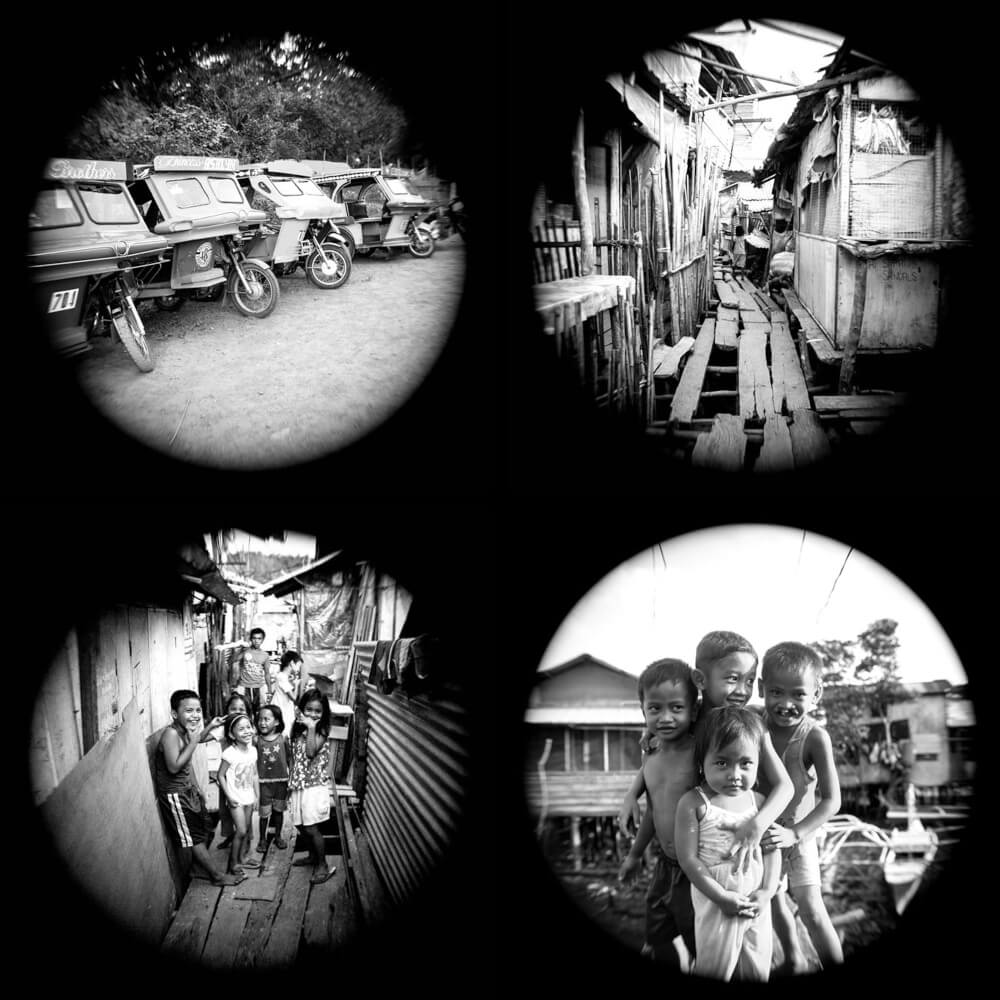 Villages on stilts sat all along the shore, the first time I had seen anything like it. I walked along the precarious walkways, some only 1 plank thick, and soon gathered a following of kids who loved to get in front of my camera. It wasn't long before it got too dark to see where I was going so I headed back out to look for somewhere to eat dinner, I plan to come back here tomorrow after a day on a boat.
Usually I like to hire a private boat so I can go and take photos at my own pace, but since Coron is fairly small I decided to take a group tour to see all the places and just enjoy the area like a regular tourist. Then I could go alone the next day and only visit the best places to shoot. It was cheap at 650php for the day including lunch, I spent a lot of time snorkeling amongst the coral and got to use the underwater pack for my camera that I bought especially for this trip. I was hoping to take some cool underwater panos, but being my first time shooting underwater, none turned out so well.

The last place for the day was the beautiful and calming Kayangan Lake, in the bottom left picture. I swam in all the way across to get away from the other tourists, but with all the swimming I had done in the day, my back was burning that night from way too much sun.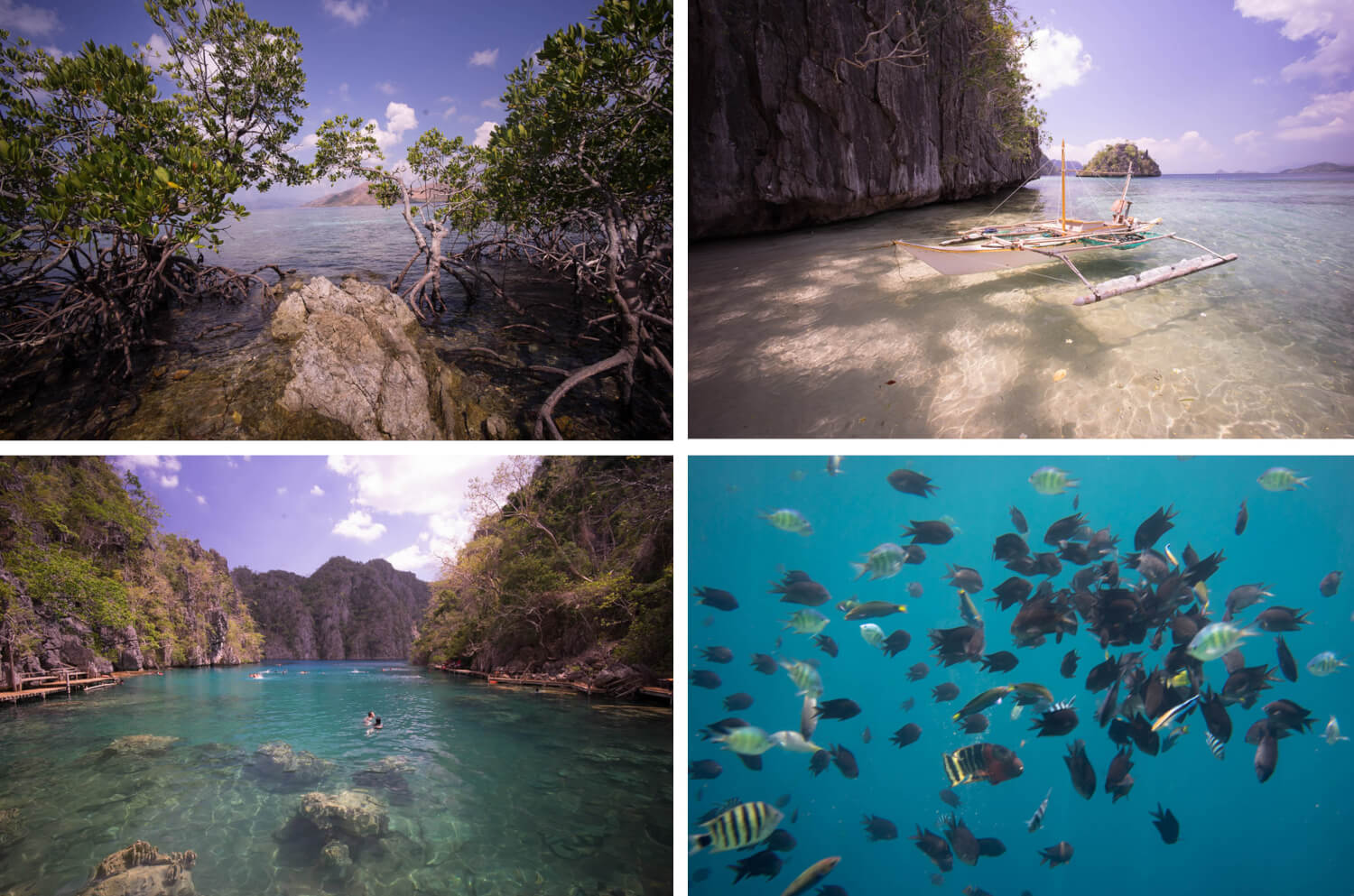 At the end of the tour I headed straight for the stilt villages to walk around, surrounded by kids excited to be in my photos again. I found the perfect panoramic spot and waited watching the children to see what they would do as I shot them running around. It felt nice to see so many welcoming people as I explored their homes. It is funny to see people live like this yet they still have their big screen TVs, smartphones and nice clothes.

I hadn't booked a private boat for the next day, I was thinking I could just rock up at the port and grab one, but this being a busy Easter weekend all the official tour boats were out. So I grabbed a trike and headed for the smaller villages nearby to find a boat to take me.

I found two keen young lads and paid them 1500 php for the day, it was a tiny boat which at I wasn't sure about at first but it turned out to be a great blessing, if I had a large tour boat and older men they wouldn't have been so willing to maneuver the boat to get the pictures I wanted. They were so eager and I got a great shot of the formations.
Whilst there were many other nice places, none came close to the beauty of this location, the name of which I have completely forgotten.


Back in Coron town I explored more of the stilt houses before heading to dinner where I watched on as what seemed like the whole town walk by holding candles in celebration of Easter. It was a wonderful sight to see them all coming together like this.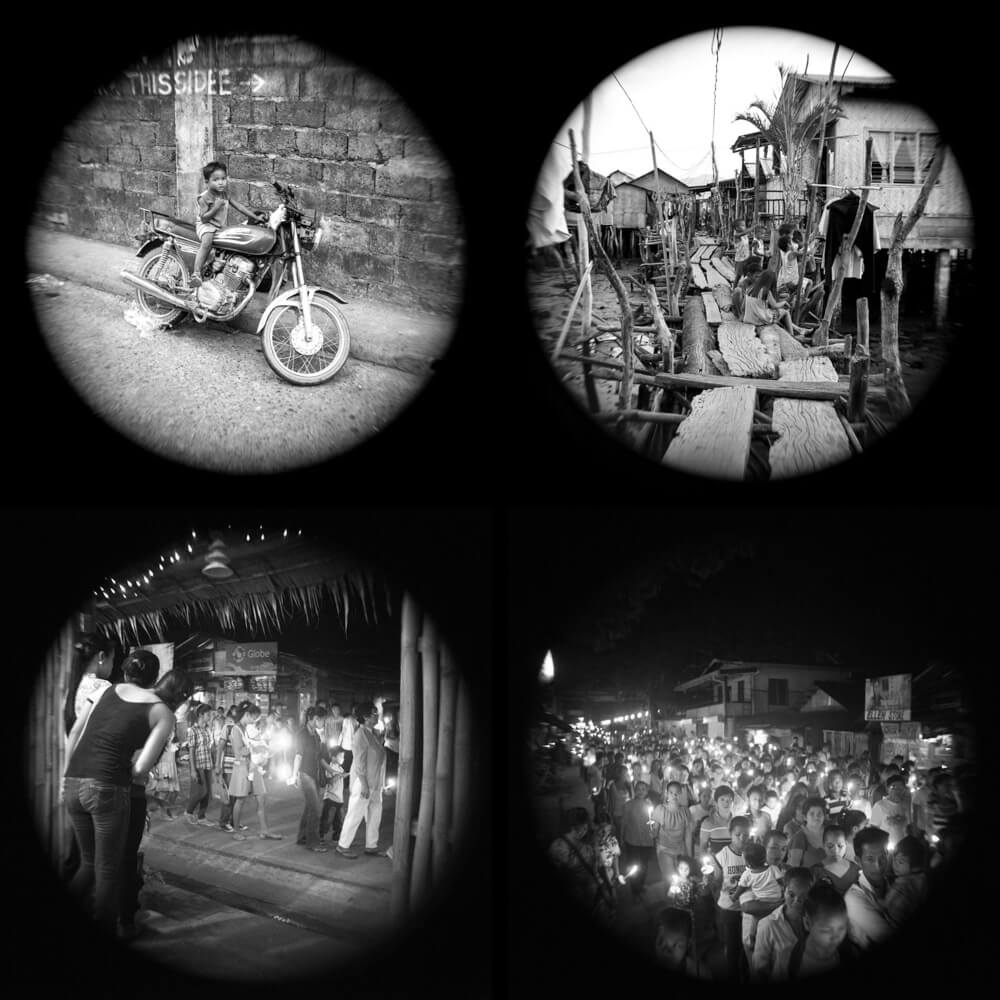 My last dinner here I went to Sinugba sa Balay for the second time and ordered Tuna Tataki. I was weary of ordering something almost raw fish in the Philippines but it turned out to be the best Tuna I have ever had, even better than Japan! It was freshly caught today so was nice, warm and creamy rather than the cold I am used to. Incredible. If I had discovered it the first night I would have eaten it every meal.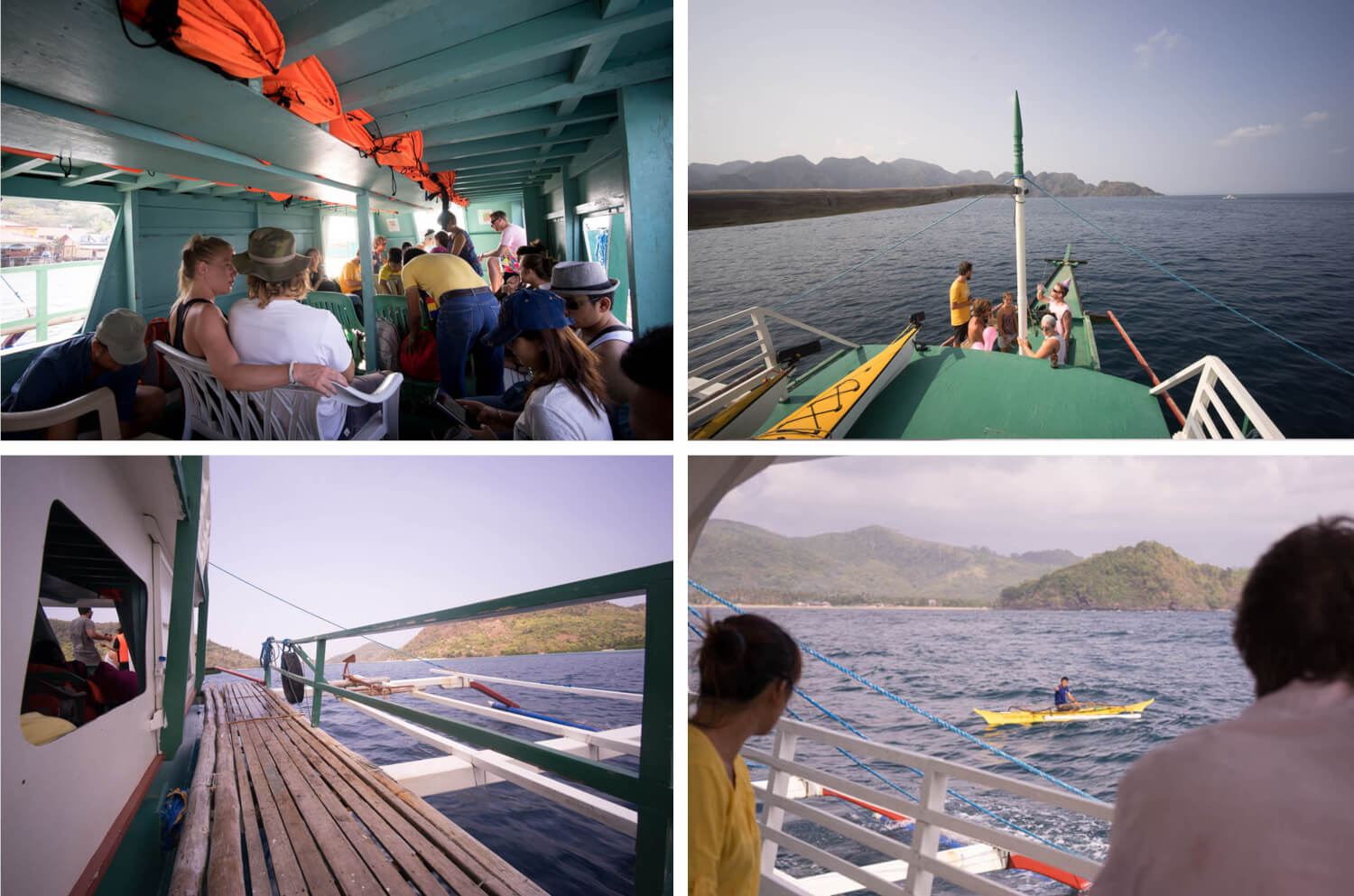 My 4th day in Palawan was going to be taken up entirely on the ferry to El Nido. It takes 7-8 hours! We left at 8.30am and for the first 3 hours of calm water I lay on the side deck enjoying the view and relaxing whilst I listened to film scores, it was wonderful. Once we hit open water though I was soon getting splashed by the big waves, I had 2 options, sit inside the cramped boat smelling the engine fumes or go up stairs. I chose upstairs and enjoyed 4 hours of what felt like a theme park ride. I had read before that some of the boats can be very small, only holding 20 people, I was so glad this was a bigger boat with the waves we encountered. Even on the top I would get splashed occasionally. At one point we even ran over a smaller boat, pictured in the bottom right. The fisherman had to dive underwater to avoid being hurt. Crazy.
I arrived in El Nido at 4pm with plenty of time before sunset to walk around the town and find a good place for a shot. I wasn't disappointed by the light that first night and captured a boy as he searched for shellfish at low tide.

After 3 days of being on a boat I needed a rest so I spent my first whole day in El Nido walking up the beach and seeing the local life.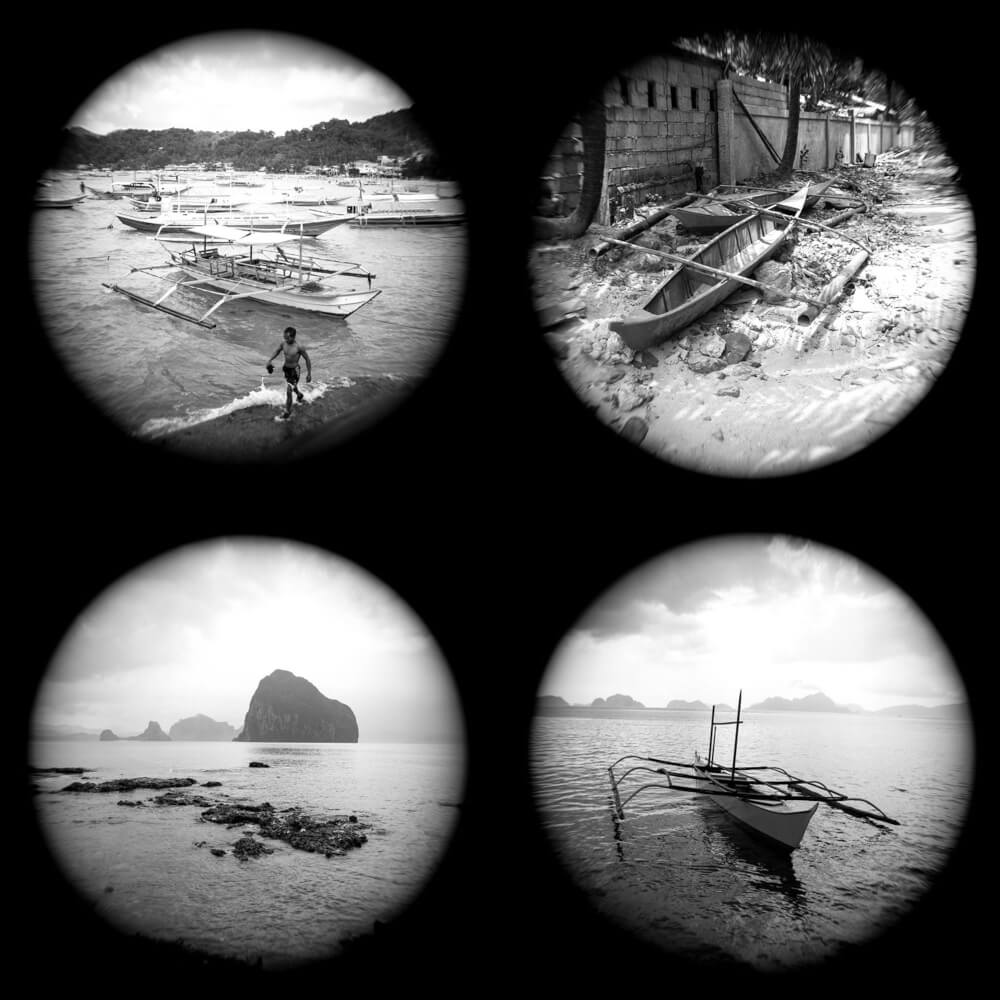 It was lovey to walk amongst the rustic houses, eat lunch as the waves splash at my feet not having to rush anywhere.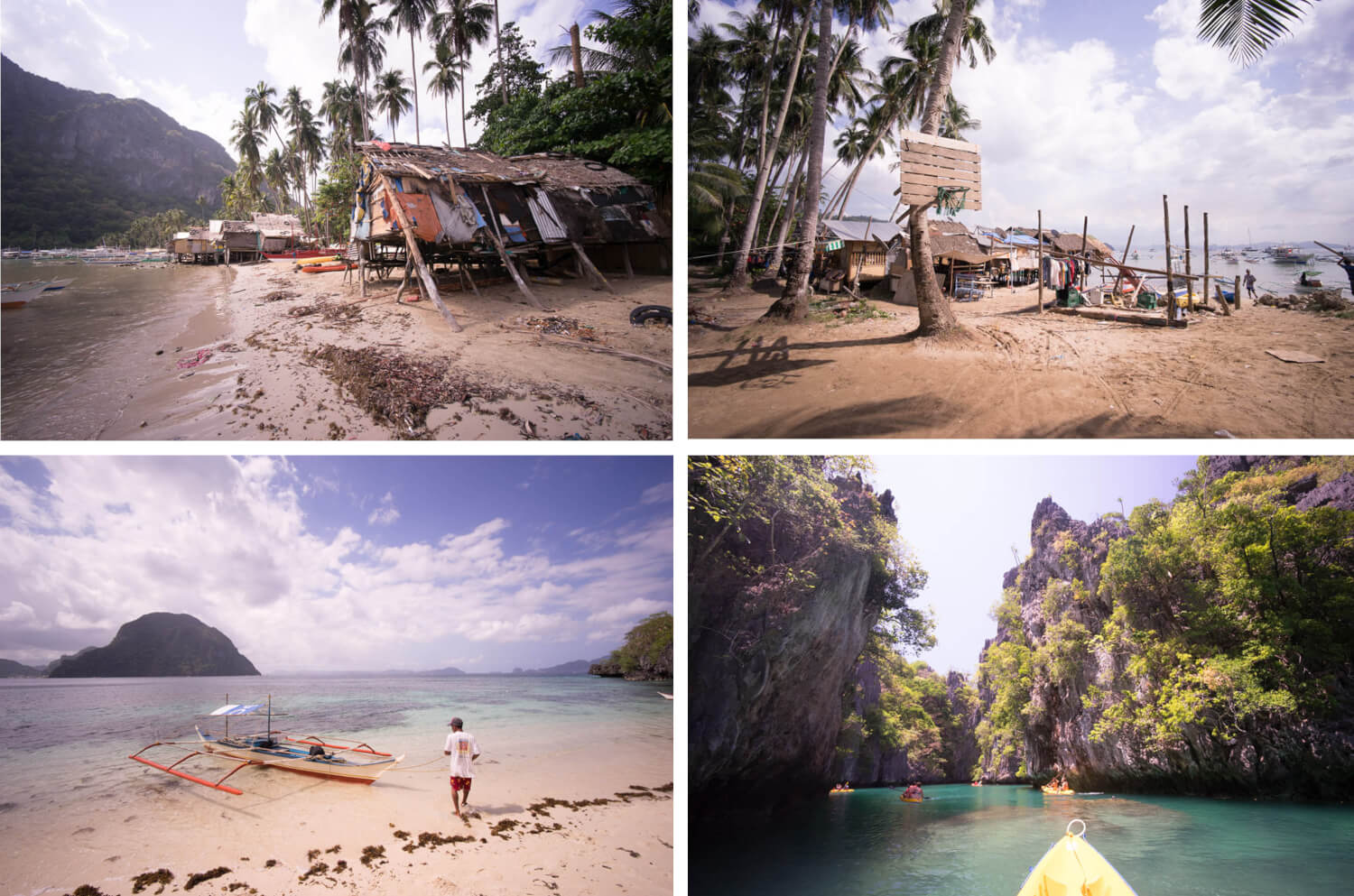 I went to a few tour operators and found out they would charge me 6000php a day for a private boat here, so much more expensive than Coron, eventually after a lot of bargaining I found one that would give me a small boat again for 4500php for 2 days which I still thought was too much, but my best option. The area surrounding El Nido is split up into 4 separate tours that go around all the pretty beaches and coves, and because I didn't want to spend the next 4 days on a boat my plan is to try visit as many as I could in 2 days. There will be certain places I don't want to stay long at, and others I want to take my time and photograph, which I can't do with a group tour.

The first day I visited many beaches, shooting as I went, sadly though the ocean was too choppy to reach the further places, but after more research, I realised it would only be a waste anyway since those areas are part of the busiest tours and I don't want people in my shots. So I was happy finding the quiet less popular beaches all to myself.

My route took me to Cadlao Island, Dilumacad Island, Miniloc Island where I kayaked around the lagoons, Shimizu Island and the last but best destination, Ipil Beach. It was so pristine yet desolate at the same time. I was the only person there the whole time, which amazed me for such a nice beach. My boat captain started to get impatient with me when it got to 5pm and I was still shooting. I had told him we would finish by 4.

For sunset I went back to the same spot along the beach in El Nido town, I hadn't found a prettier place to shoot and wanted to capture it in the best light so decided I would come back here every night.

The next day I was back on the boat and went around a few of the same beaches, avoiding the crowds and enjoying the solidarity. I chose to back to Ipil beach again to capture it with the best light.

I loved Ipil Beach so much that on my last day I decided to kayak there and sleep under the stars, it was so nice and relaxing to be all alone, only the sound of waves to listen to.
A perfect final night in Palawan.