3 years ago when I first arrived in Singapore, I visited Manila and it really opened my eyes to see a 3rd world city. But the Philippines has so many beautiful places to explore and I have been wanting to come back ever since. The only thing I booked on this trip was my flights 10 days apart into Angeles and my first night's hotel, everything after that I will just go with the flow. All I had was a list of places I wanted to visit. I wanted it to be a road trip, something I haven't done for a long time.
I chose to fly into Angeles because it's the closest international airport to Banaue rice terraces, but when I walked around the town I soon found out what everyone else is here for. It was like Soi Cowboy in Bangkok with young girls walking along side old fat white men. Lovely.
The next morning I went searching for a car hire. I jumped on a Jeepney to save time only to find google maps was completely wrong about the location, which turned out to be a regularly occurrence here. I did get a cool shot during the ride though.

Car rental is expensive here at $50 a day compared to Indonesia where you can get a car, gas and driver for less than that. All the rental places I found were out of cars and I would have to wait until late afternoon to get one, I was eager to get get out of this town to prettier scenery. Luckily I found a local who would rent me his personal car for the 10 days – a 1 year old Toyota!
I filled up the tank then hit the toll way straight away heading north, my first destination being the rice terraces. As darkness fell I arrived in Baguio, a busy town where the traffic was terrible. I decided to stop here for the night since there were plenty of hotels around and I didn't want to miss any scenery along the way.
I woke early the next day so I could make it to Banaue before sunset, I had a little walk around the area first to see the local life, exploring the communities into the hills around.

It was a great drive through the mountains and villages all day, the roads constantly winding and the air getting cooler. I stopped to photograph anything that caught my eye, I was especially on the lookout for Jeepneys to shoot, something with a cool paint job with a beautiful mountain backdrop. Of course my expectations were too high.




I stopped in the town of Bontoc for lunch and walked around, since I had been sat in the car for 6 hours I needed to stretch my legs. I found this cool trike stand near the local market that was a perfect street scene to shoot in black and white. The locals couldn't understand why I was shooting them for 30 minutes as I dodged traffic stood in the road.

I arrived in Banaue at 5pm getting a glimpse of the incredible terraces before the light faded and I headed to find a place to stay for the night, I bought a sim card with plenty of data so I could search for a place easily rather than having to book in advance for a real road trip experience that allowed me to go wherever caught my fancy. I found Uyami's Green View Lodge which was cheap and came with breakfast and the perfect spot right next to town.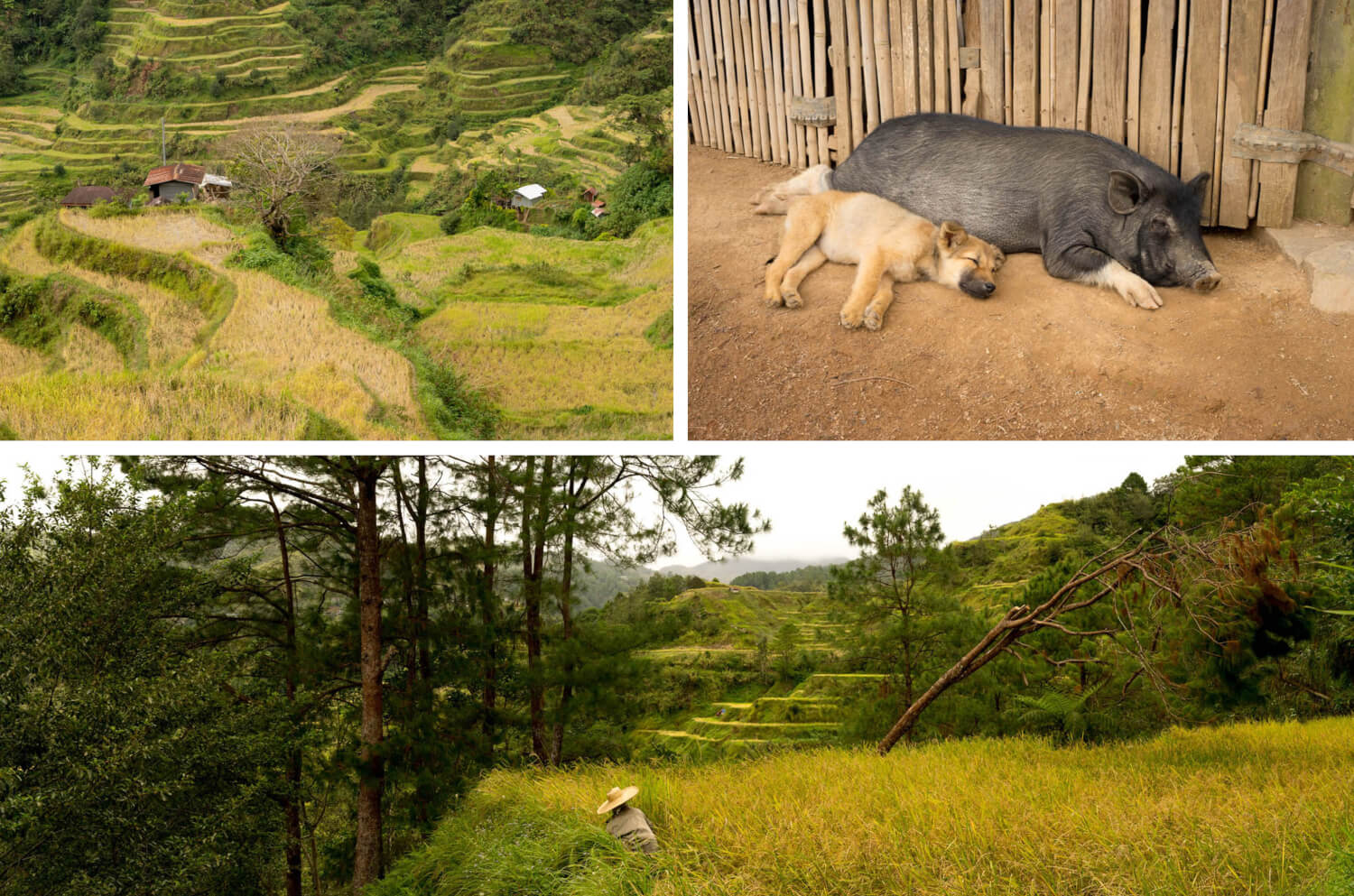 There are many rice terraces to visit in the area, the main being Banaue itself which I walked around for the whole first day scouting the area for the perfect shot. I never really found it and had no plan to come back to shoot. It was great to walk in the edges of the terraces with the cool mountain breeze blowing and seeing the people that live and work here go about their days though.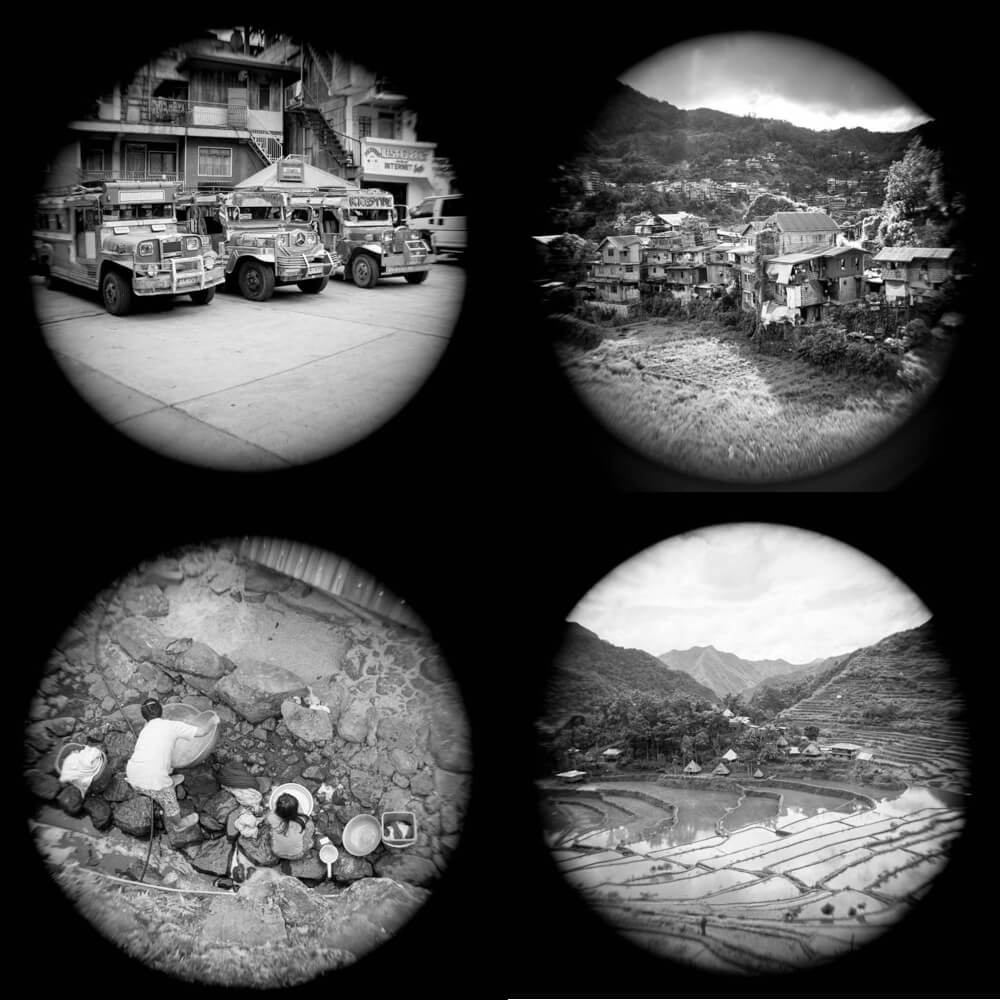 The next day I headed to Batad Rice Terraces, an hour drive east along a newly paved road. If I had come a few weeks earlier it would have been another 30 minutes of hiking down steep hill to the villages, something fine on the way but would be killer after a day trekking up and down all the steep hills. Along the way there were various sites I stopped to look at, one of which I pulled to the side of the road near a man on a motorbike. He moved out the way a little which made me think I could move in a little more when disaster struck and I drove slightly off the road with the car resting on the axel. I was so gutted thinking that would be the end of the trip, who know what damage I had done, or if the car could get back fully onto the road. This was when I found out how nice Filipinos are, the motorcyclist shouted for his friends and 10 of them helped lift the car up whilst I reversed it back. I only wish I had a photo to show you but I was too busy, I was just so relieved and continued on my way after thanking them profusely.
A 20 minute walk downhill took me to the heart of Batad village where it sat amongst the terraces, with lots of small inns to stay in overnight I wasn't sure if I would stay here or not tonight. I kept walking around the steep terraces wishing my camera gear wasn't so heavy until I came to this incredible view looking down. It was a perfect time to visit and photograph which is always a concern planning a trip to shoot rice terraces, I had no idea what stage of growth they would be at so I was excited to see them filled with water reflecting the clouds above. I spent 2 hours shooting various compositions as I waited for the clouds to create a nice patterns of light on the landscape below.


I then continued hiking to Cambulo, 3 hours away, along the way I passed groups of tourists coming back asking why I didn't have a guide to show me the way. But the trail was obvious and looked easy so I didn't think I could get lost. How wrong I was! The trail split at various points and I soon found out I was on the wrong route. Even asking a worker didn't help as their English wasn't great. After wasting a lot of time, I decided to head back to my car and try again tomorrow as it was 4pm and I wouldn't make it back before dark.
With my second attempt to Cambulo I knew exactly which way to go and arrived at 1pm hot and tired after step climbs and balancing on the narrow terrace walls. It was a cloudy day and the light didn't look great so the scenes I found exploring the levels lacked any magic. I loved walking around the village however and seeing the locals, it was so peaceful, what a wonderful place it must be to live walking to school along the terraces each day, no mobile signal- a simple life amongst beautiful terraces.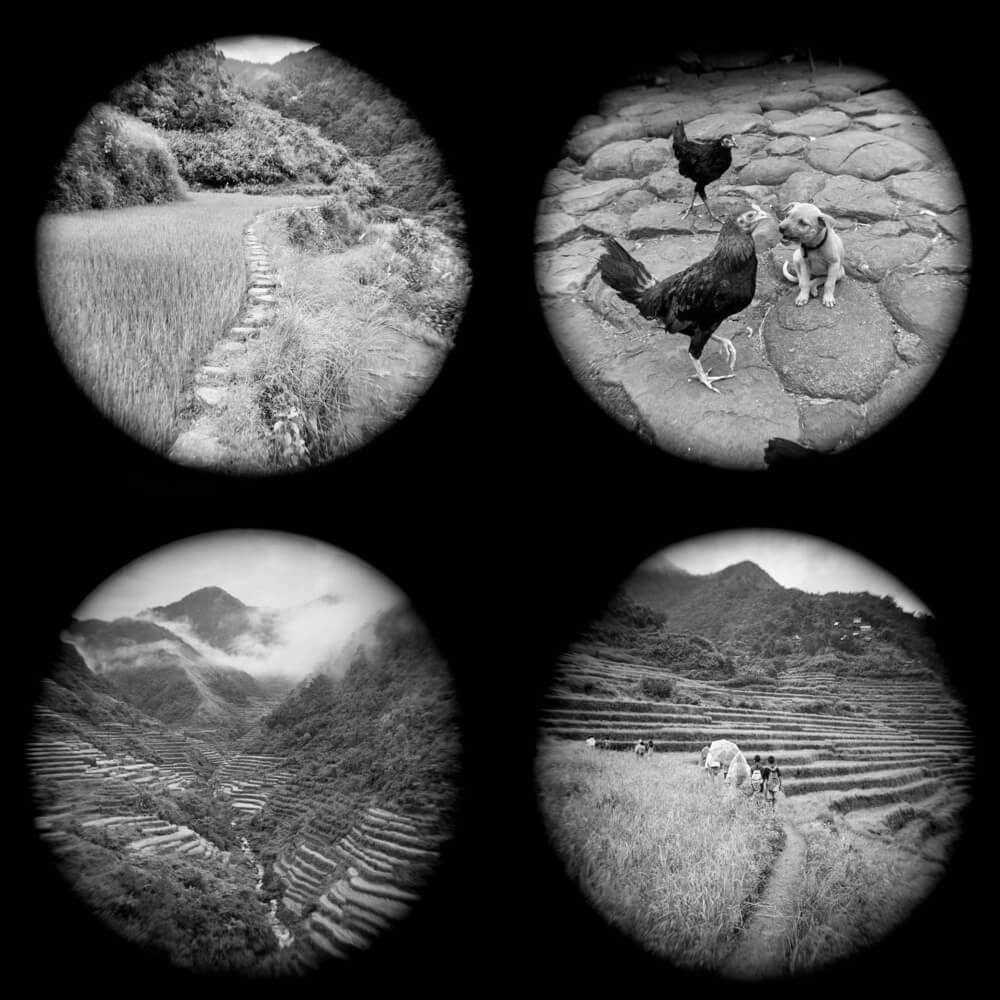 At 4pm just as I was thinking of leaving a storm passed over with heavy rain for over an hour, I didn't want to hike back and get drenched so I had no choice but to stay in the only inn for the night. The sky eventually cleared and the terraces lit up with the perfect light just before sunset. To think if it hadn't been for the rain and trapped me here I would have missed it. How wrong I was to think the light wouldn't be good here at this time because of the surrounding mountains.

I walked back to the inn so happy, relaxed and away from my usual busy life. The villagers were all sat outside their homes talking and laughing. It only cost $3 to stay for the night, and it was just as nice as some $50 hotels. I also ate the best meal on the trip here for only $1.50, Chicken Adobo and it changed my previous opinion of this dish!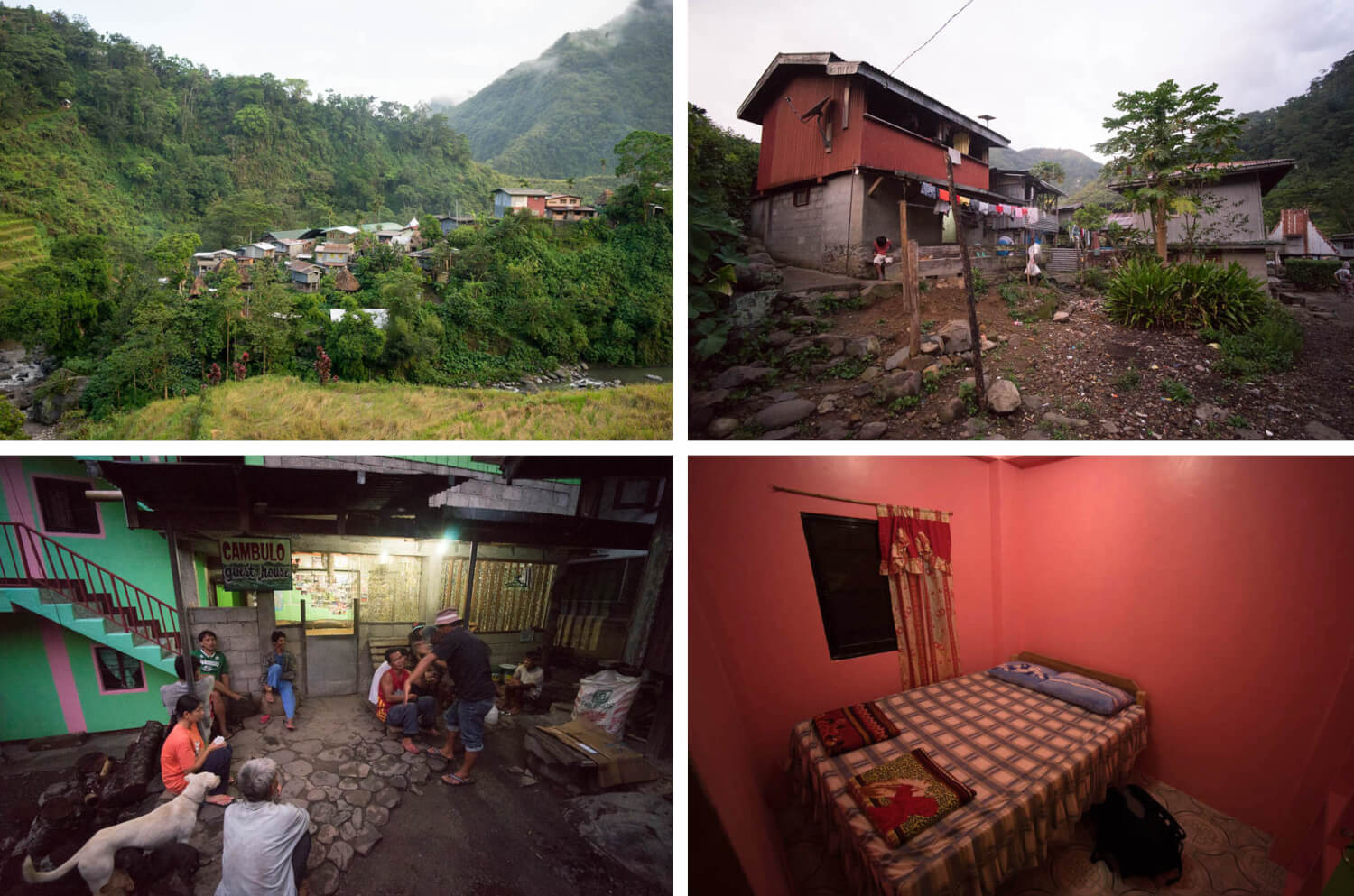 As there was nothing to do here after dark I fell asleep at 8pm and woke before sunrise setting off back to Batad after a morning walk around the village.
I spent my last day around Banaue town, the light was good today so I shot the terraces at various angles, but they just didn't compare to the colours and shapes of Batad and Cambulo.



I made my way west through the mountains towards the coast in the afternoon, it was an incredible drive with the golden light hitting the landscape, possibly one of the best drives of my life! I hoped to make it to the coast by sunset but when darkness came, I still had 2 hours of driving left winding through the mountains. This was when I discovered how much I hated the tinted windscreens they use in the Philippines; it was so hard to see and I was so happy when I got out of the mountains into the lit streets.

The 2nd half of the trip was spent driving south down the coast through Alaminos, Iba and Subic Bay. The coast was disappointing however with very few photographic opportunities and the "resorts" I stayed in, even worse. They all looked like they had seen better days, but I did love that the owner of Isla Vista was also the local Doctor!


I had planned to visit Mount Pinatubo, a volcano that had a lake inside, but after 3 hours of driving just to get there I found out it was closed. I was amazed a natural wonder would ever be closed especially since it isn't rainy season. I drove all the way back towards the City of Balanga where I enjoyed the quiet roads, whilst there was little to photograph the drive was beautiful amongst the forests and small villages. I would take detours onto small bumpy roads trying to find the coast that would lead nowhere.
On my last morning before heading for the airport I discovered this lovely rusting truck on the side of the road and I spent an hour shooting it from various angles to the delight of the owner's children. They had no idea why I would want to photograph such an old piece of junk.

Whilst the 2nd half of my road trip couldn't compare to the first I still enjoyed the drives and seeing the local life, there was always something to see along the quiet roads. Nothing beats driving down a road until the pavement ends and you can't go any further. You can't beat a road trip with no plan.