I have jumped ship again! On Friday March 1st my girlfriend and I arrived in Singapore, she was promoted within her company and I thought it would be a great opportunity to see a new country and obviously photograph asia.
I know it's taken a while to write this first post here but I have been very busy, now you may be wondering what I have been doing with no job but looking for an apartment became a full time job, well for 3 weeks anyway.
We landed at around 7pm which meant it was dark so I didn't get to see anything of singapore just yet. As soon as I stepped off the plane I felt the instant sweat of the humidity here, although it had just been raining so this was a more pleasant version apparently. The airport here is very efficient and we didn't have to queue long and was surprised that border control didn't say a word to me, just stamped my passport and let me through. We had both brought 2 big suit cases with us, the rest of our belongings are getting shipped which includes my film scanner so sadly that means any pictures I take on film I won't be able to show you until I get it, which means until then you will have to make do with snapshots taken on my digital camera.
For our first month Yann's company had organised a serviced apartment for us near her work, this was perfect as it gave us plenty of time to find somewhere to live. The taxi ride took us near the Marina Bay so I got to get a great first view of the city at night. Amazing.
As soon as we arrived we unpacked all or our summer clothes and soon the nice clean apartment was in a mess, I would not be needing the jeans and jumper I left London in for a long time.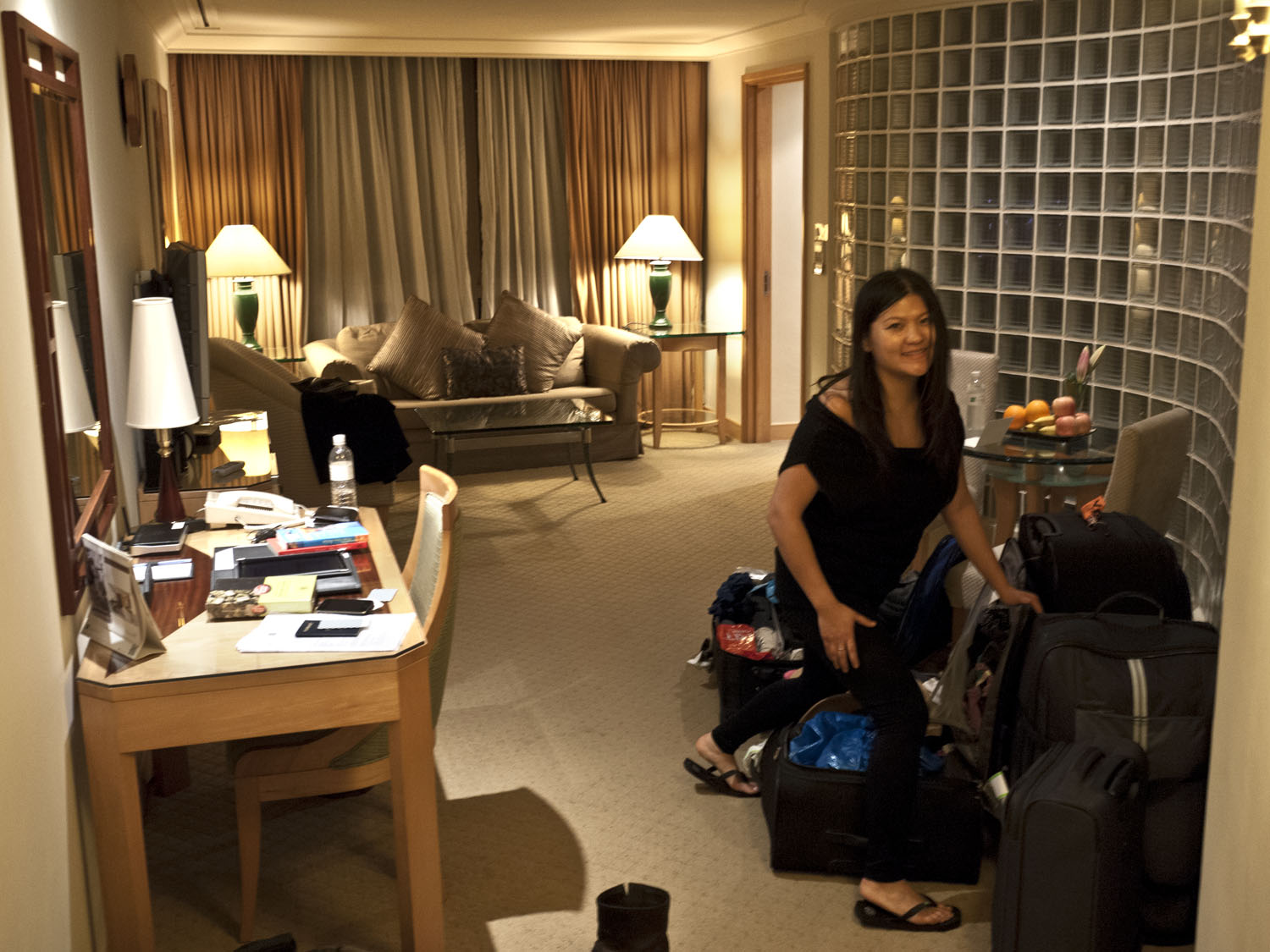 Once we had our shorts on we went for a long walk all the way to the Marina Bay, we really needed it after 14 hours on the plane and I had my first experience eating food at the very cheap Hawker centres here in singapore. You can't complain about a good S$4 meal. Along the way I spotted the location for a great shot that shows off all of Singapore that I will be coming back to shoot one sunrise.
Our Apartment for the month is near the famous shopping area Orchard Road which is full of Malls, I can see why they like them so much here because of the heat, so we spent the saturday exploring them and I bought some Linen shirts, I quickly realised all my usual tops where not going to cut it here so I bought 5.
As monday came and Yann headed off to work it was time for me to do my job, find us a nice place to live. Singapore is known for being expensive when it comes to property, we have a budget of S$4000 so I wanted to explore all the options and areas to see what that could get us. We wanted a 2 bedroom place so all our friends that said they would be visiting would have somewhere to stay, and we also wanted to have a pool and a gym. We think this may be the only country we live in where we can really enjoy a pool so we may as well go for it all.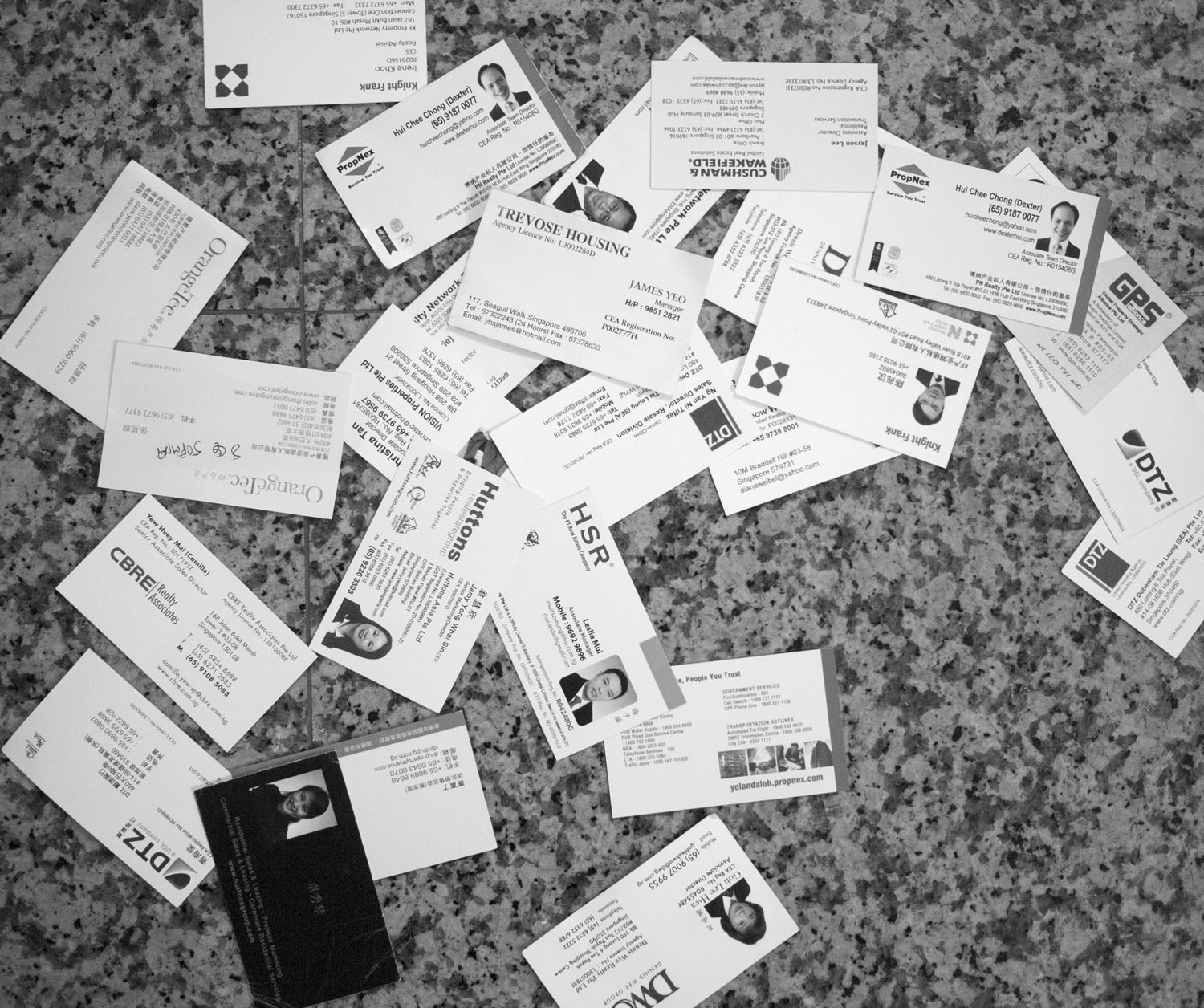 It works a little differently here to the UK when renting apartments, most people find an agent who then finds properties from other agents and they all share a commission which I have to pay for a 1 year lease or the landlord pays for a 2 year lease. We had some recommendations but after waiting for them to get back to me I decided to just do it myself and went about starting the search. www.propertyguru.com.sg seems to be the best site here so I started arranging appointments and soon had 6 in the first day and soon started compile a nice collection of agents business cards. I have done some research online and have been told to be careful of agents and landlords here, as we aren't as protected as in the UK, apparently they will try to screw you out of your deposit, and I'm the guy who has always got his full deposit back.
All the property agents I met seemed to be happy that I am English, maybe because it means I have money or maybe they just think they can try to screw me, time will tell!
As with anyone moving somewhere new we didn't know which area to live in so I looked at all sorts of properties all over. I thought since this is such a small island we could live by the beach, however it also needed to be convenient for Yann to go to work which the east coast here wasn't. My idea of a 5 minute walk to the beach wasn't going to happen.
The beach isn't so great anyway, and since this is a huge port there are hundreds of ships all around.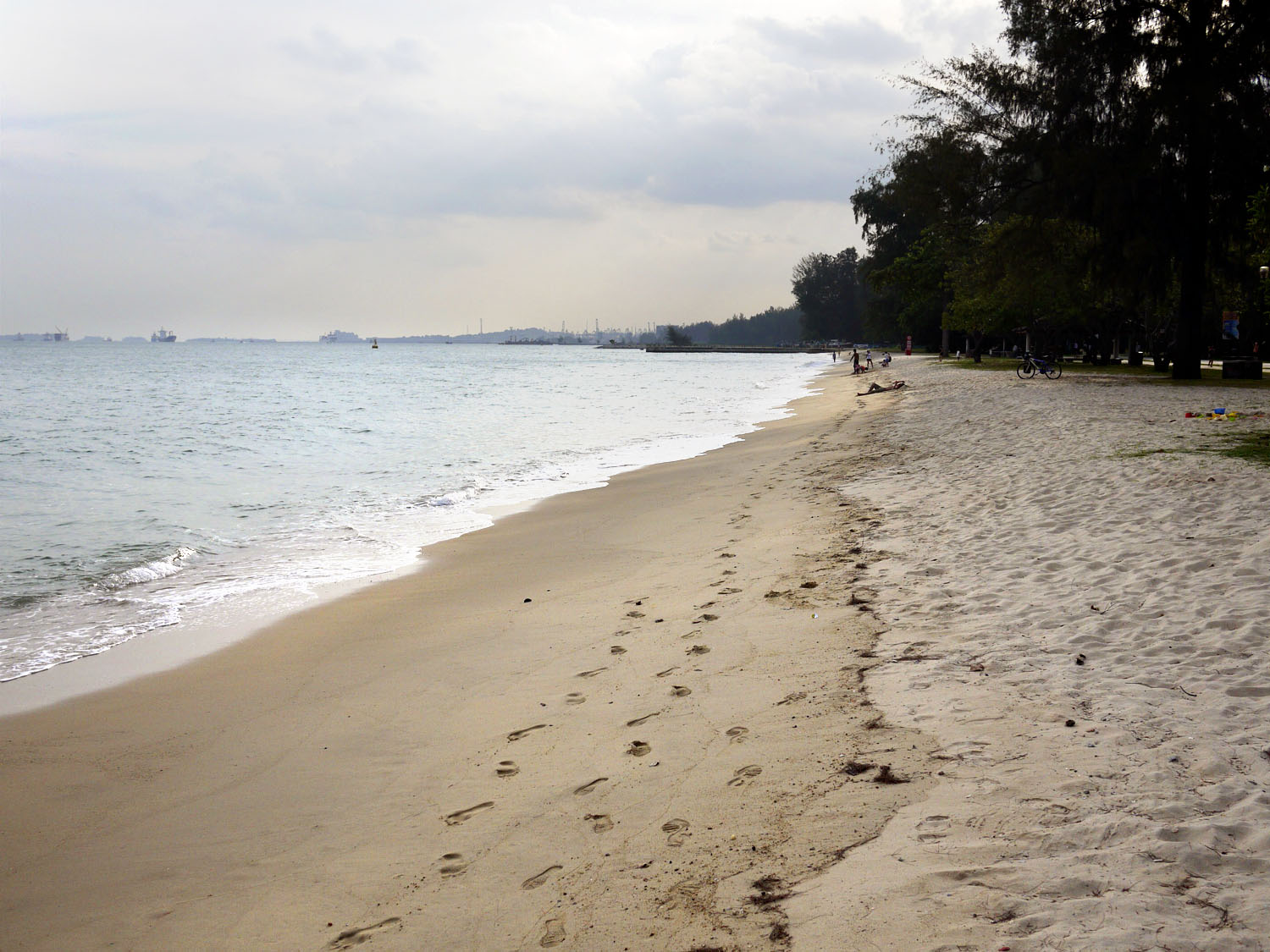 I looked at all kinds of places, some brand new but tiny, some old and huge. One even had the kitchen outside as you can see below, this was an apartment that had been split in 2 and apparently the toilet was inside a wardrobe, for some reason I wasn't allowed to see it. That also meant it didn't have a proper entrance and I had to walk across water pipes to get in, it's amazing what some people will try to sell you. I even looked at a place that had part of the kitchen in the hall way.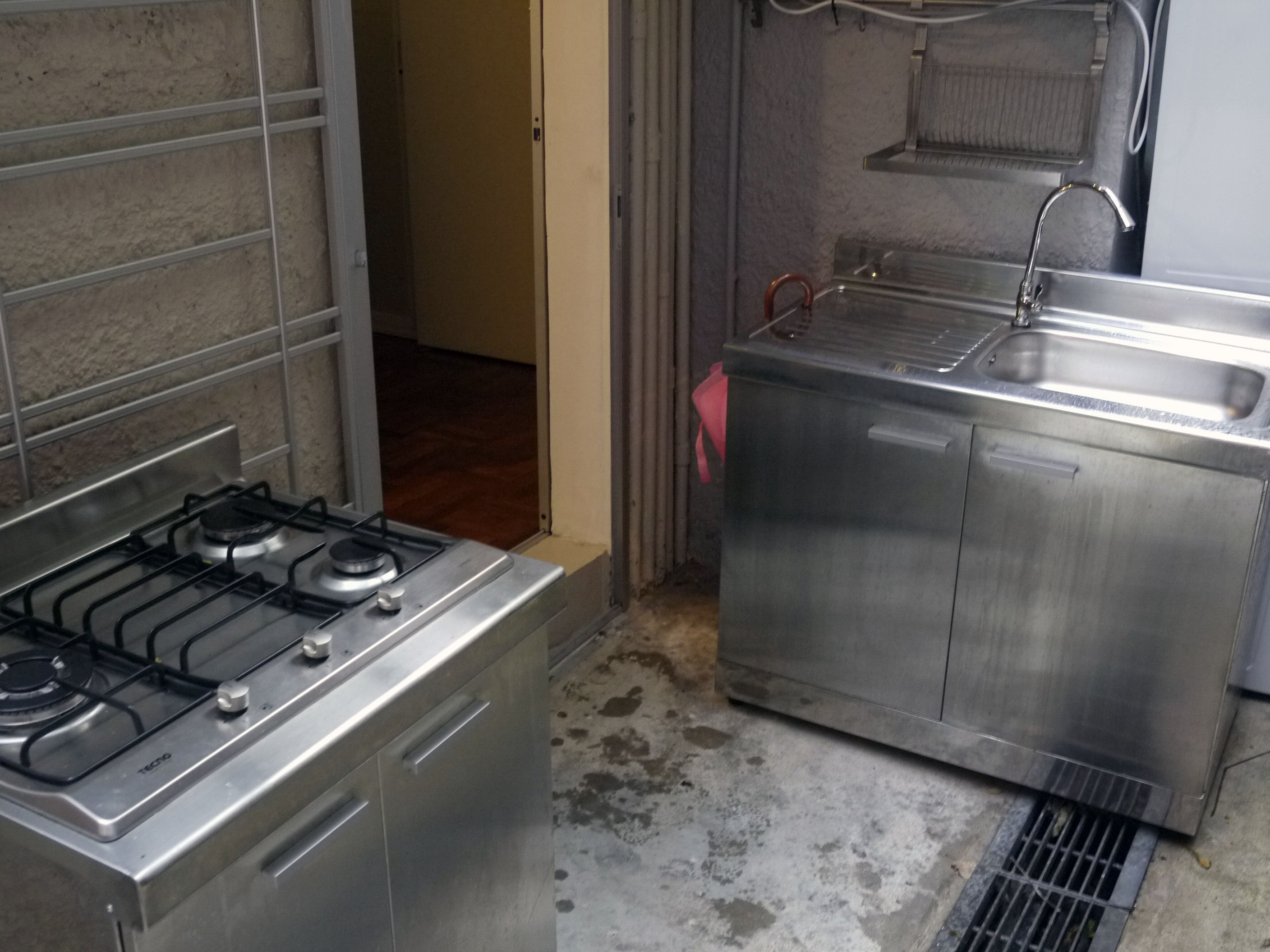 The landlords here don't like the idea of you cooking inside and stinking up the place as many apartments didn't have any cookers and would point to the microwave when I asked. The place below was advertised as heavy cooking allowed becasue the kitchen is enclosed by glass, this wasn't standard the landlord had just fitted it.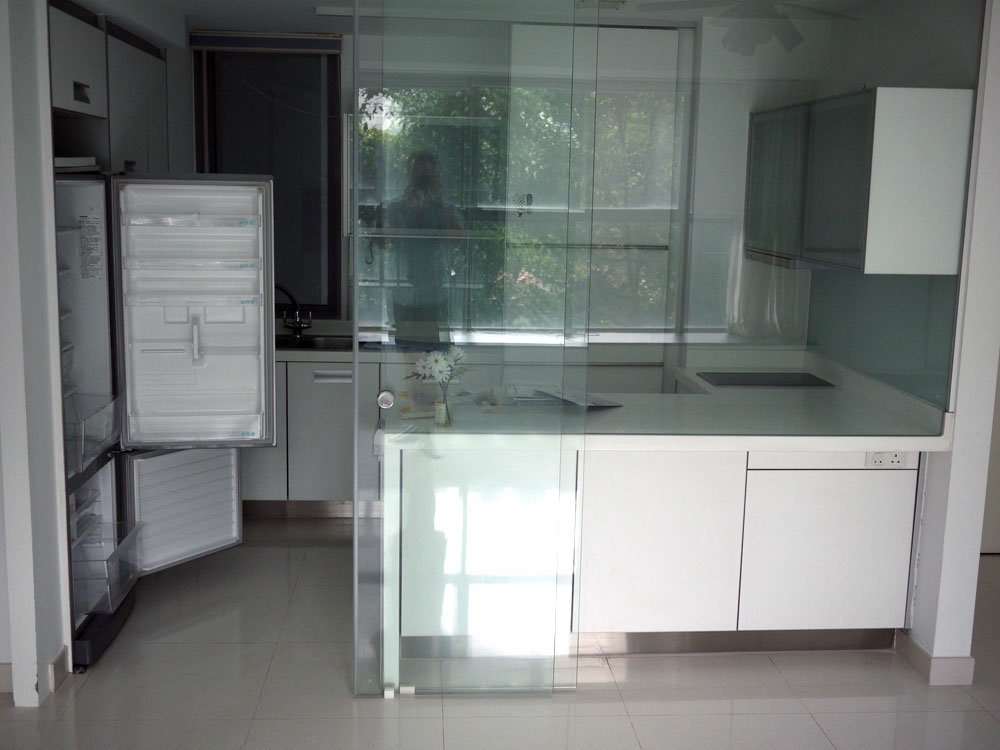 I even looked a place with a Jacuzzi but it was old and ugly looking and didn't work. I found myself saying "nice" sometimes when it was horrible, or finding other good things like "it's spacious" to say. I even looked at some places way below our budget to see the options, once above a mall and damn is was grim in there.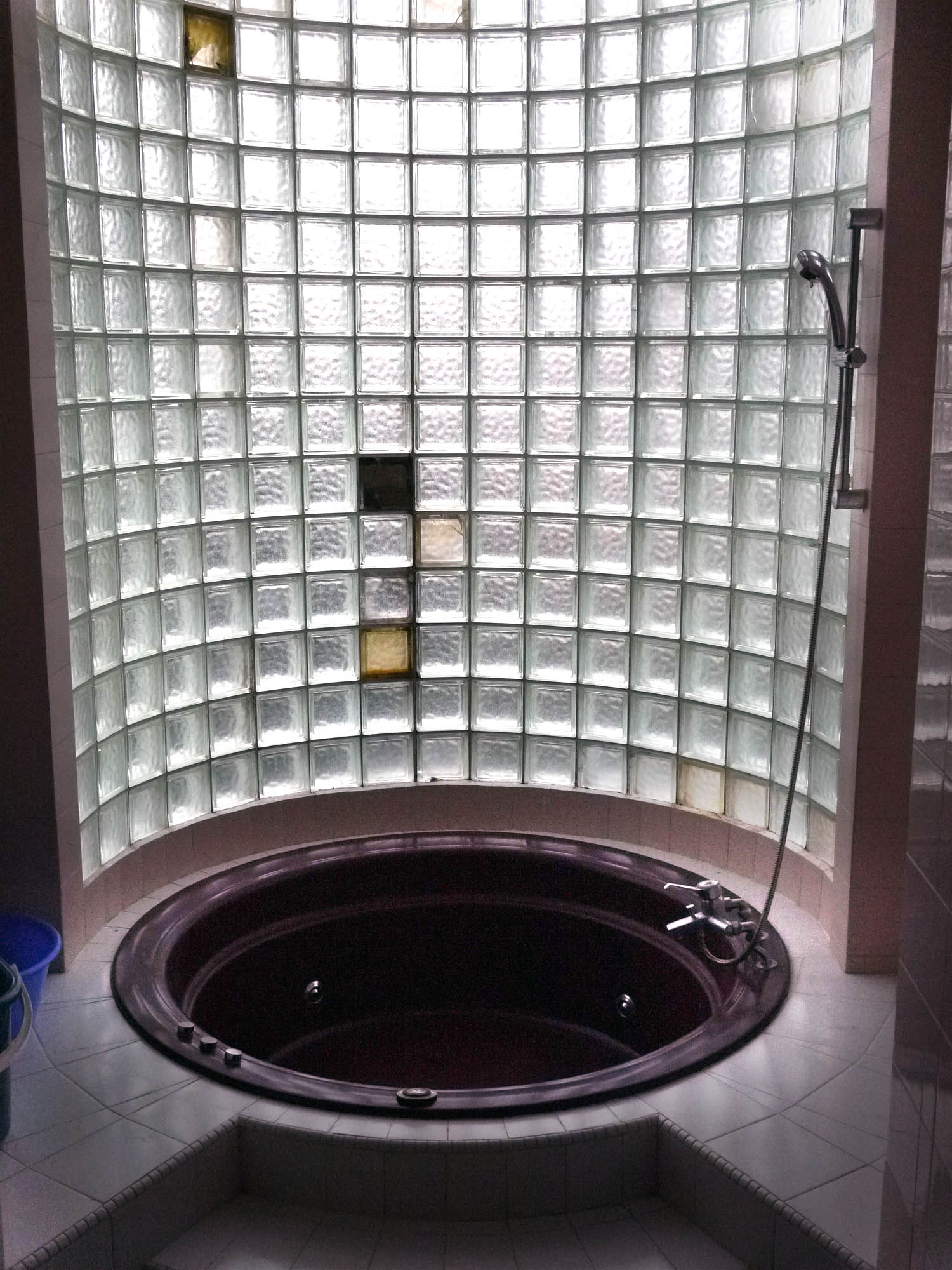 The prize for the ugliest bathroom, possibly I've ever seen, goes to this apartment. I wonder what year this was cool.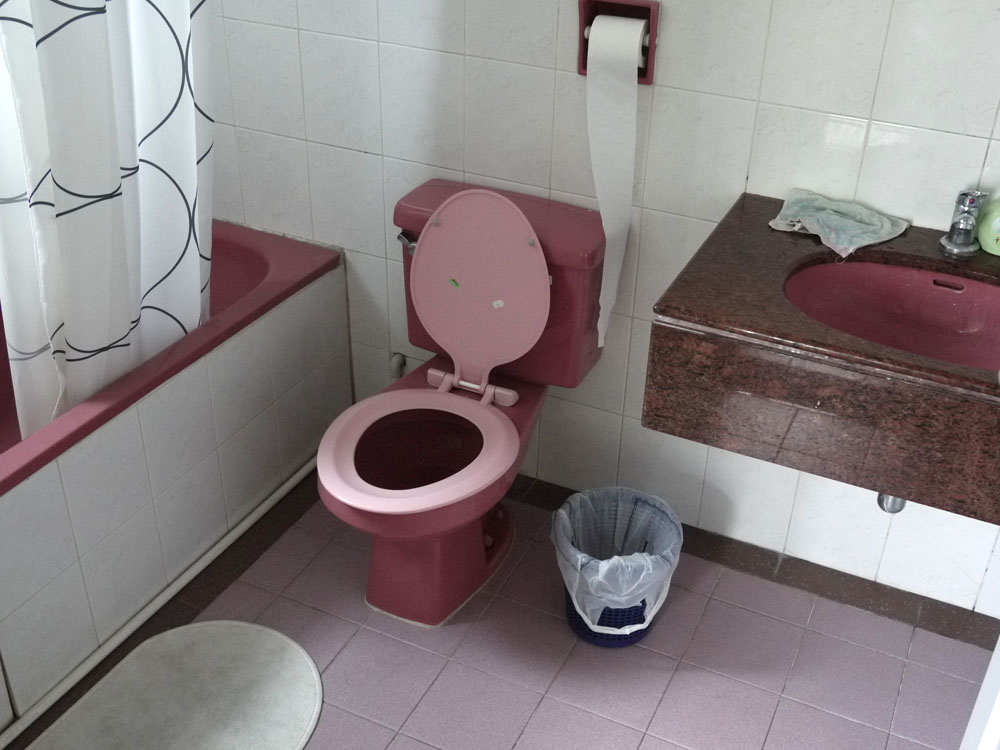 It was tiring walking in the hot weather between all the viewings, I can see why most people engage an agent as they will drive you around and do all the work but any I met just didn't show me what I was looking for, and this was a good way to see Singapore and also know the different areas and how easy it is to walk to them from the public transport.
Another feature of all modern developments here is a bomb shelter, pictured below is the doorway to one, all new apartments have to have them and it is a crazy waste of space in some of the tiny apartments I looked at. It does mean they all have lots of storage space as they are about 2×2 metres inside.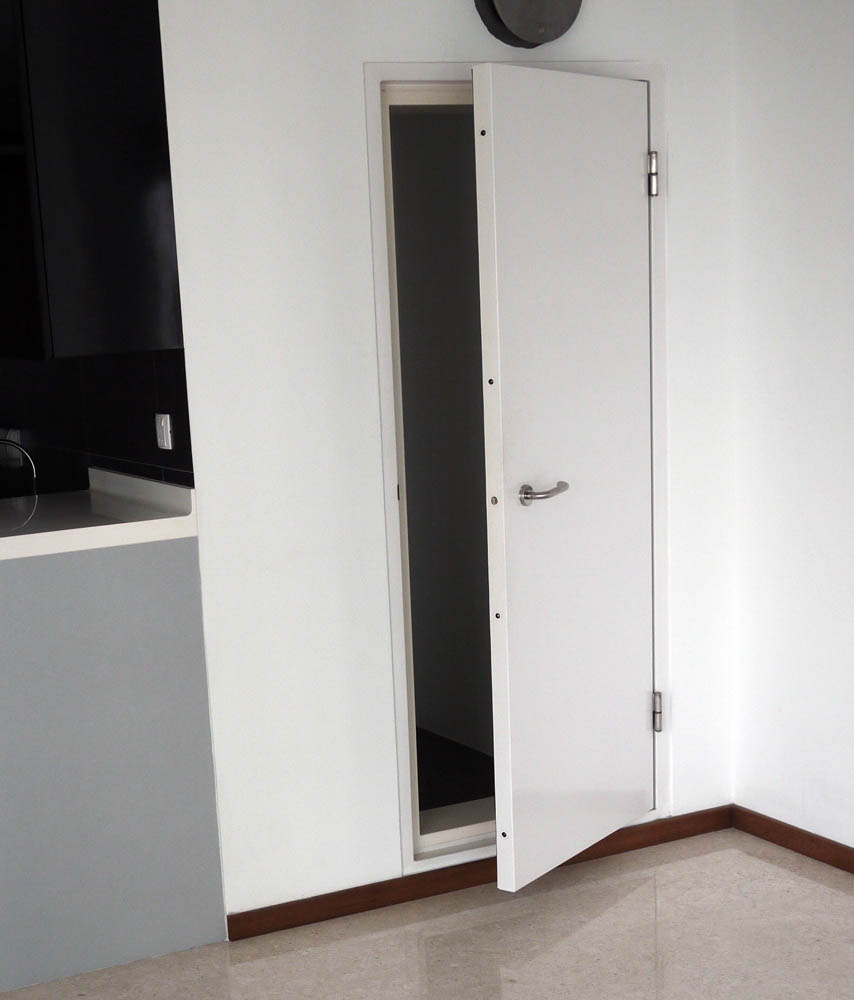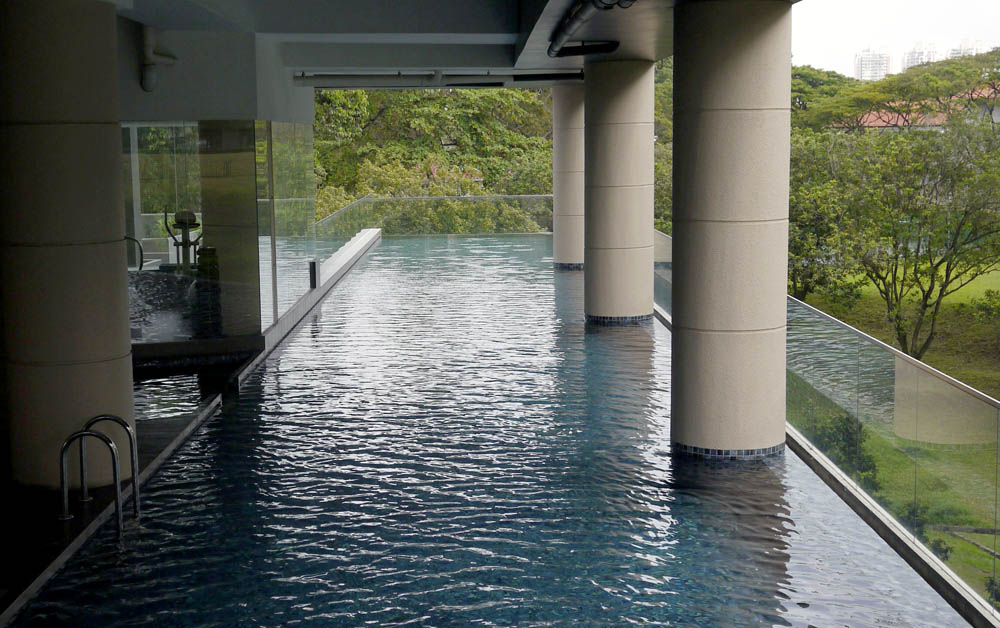 Amongst the bad I saw plenty of very nice places with great facilities, there was always something wrong though, whether it be no oven, tiny kitchens with no counter space, the 2nd bedroom too small to fit a double bed, construction work nearby as everywhere in Singapore seems to have it, no gym, too far for Yann to get to work, ugly area. I even found a complex with badminton courts, my dream come true since I love to play but the apartments there were very old and not worth the money.
This apartment had a cheap looking open wardrobe concept going on in the bedroom.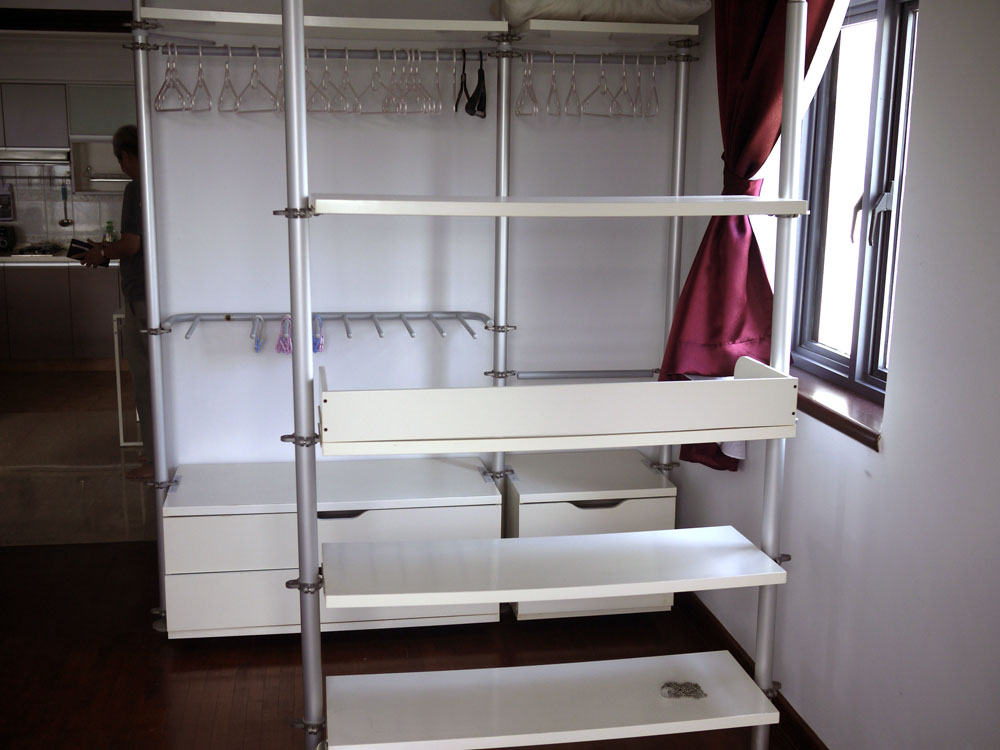 There is so much construction going on in Singapore with not system like in the UK that there is no guarantee that a new building won't poop up anywhere, the view from an apartment below for example, the agent told me she was pretty sure nothing would happen in the next year, and that was only because it takes that long to put it in motion. I saw so many apartments with views ruined by newer taller buildings.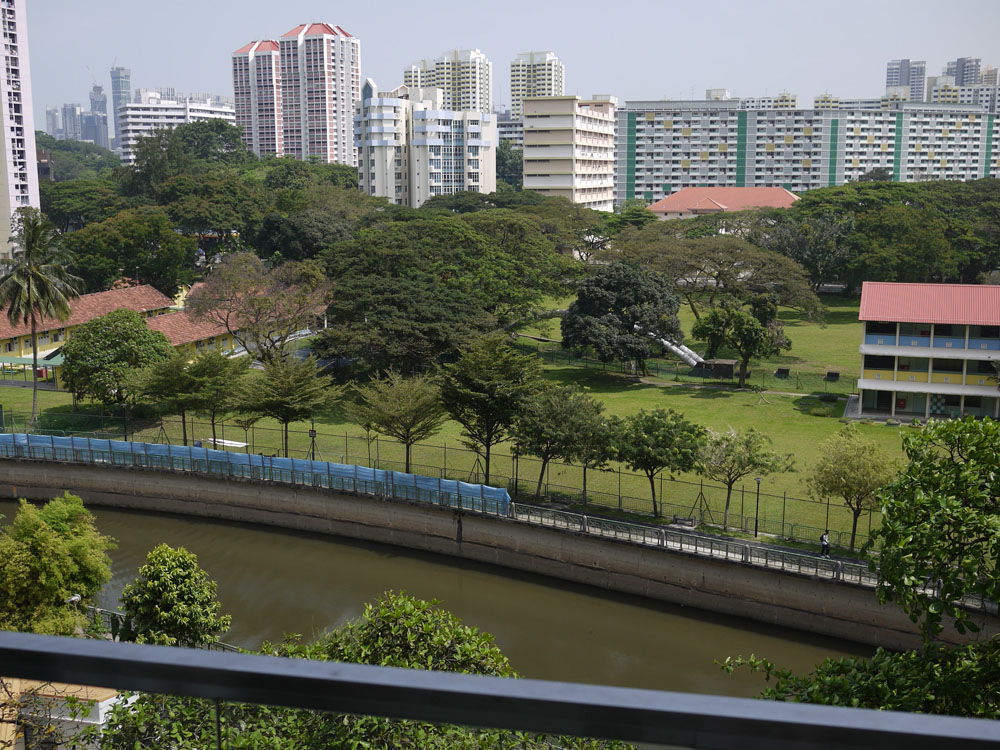 I've no idea how you could cook in this kitchen.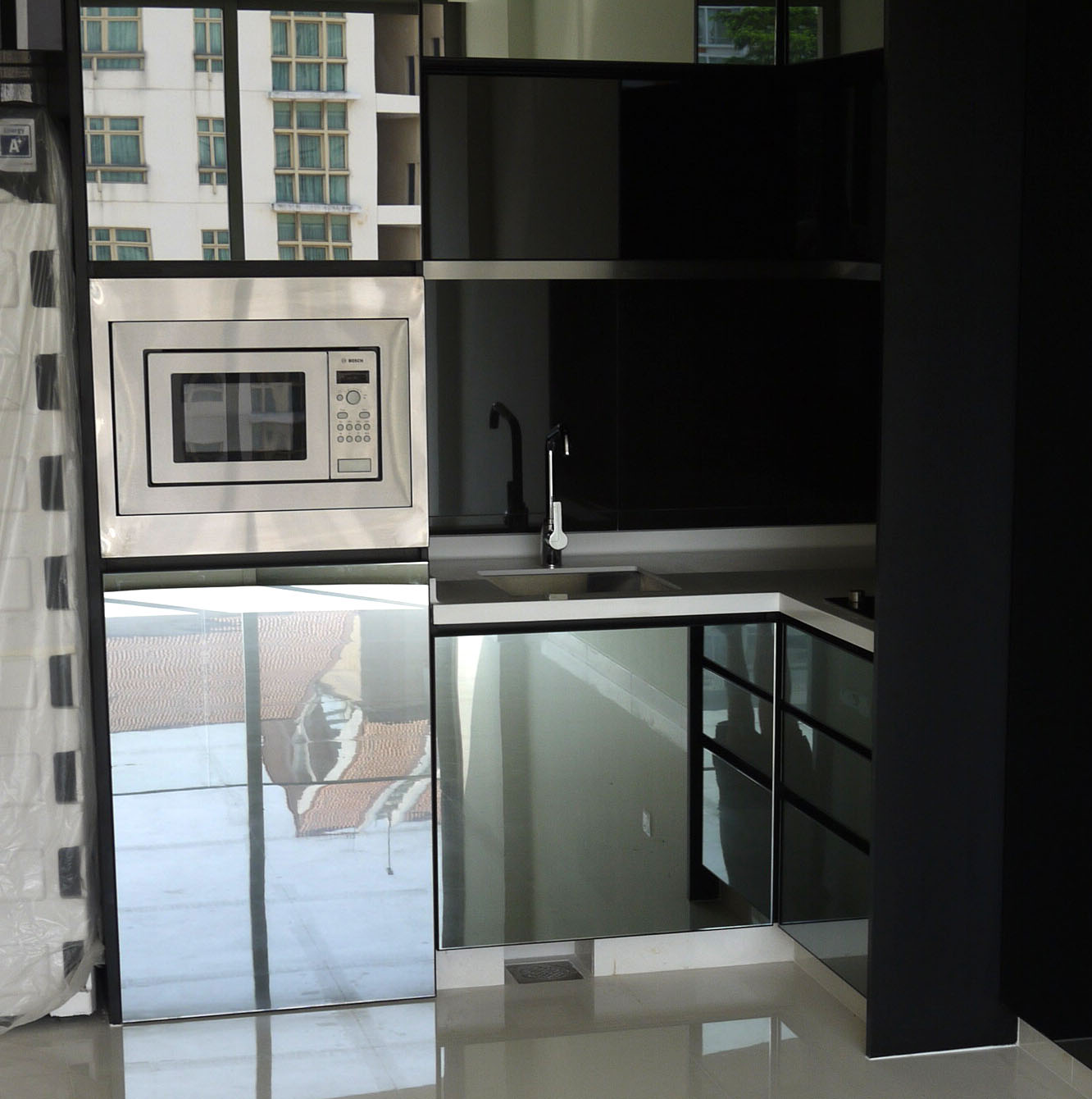 I even looked at an apartment in The Sail which is right next to Marina Bay with amazing facilities. 3 Pools, a water excersize area with gym equipment in the water, an amazing view from the common areas onto the bay. Sadly though the apartment had a view looking into another building and was a studio with only glass doors between the living area and the bedroom. It made me want to arrange viewings for expensive places though, maybe I'll do that once my search is over and waste their time pretending to be a rich expat wanting to spend S$40'000 a week on rent and have them buy me lunch.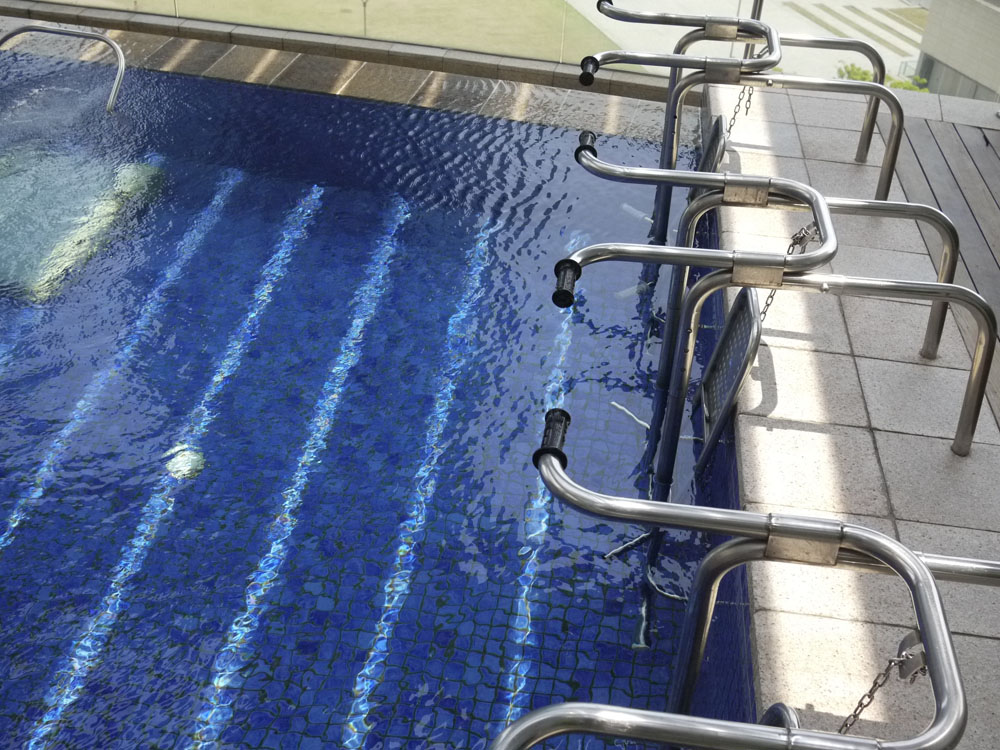 This was the best pool I saw on the roof of the building, it was also the longest so you can swim a proper lap.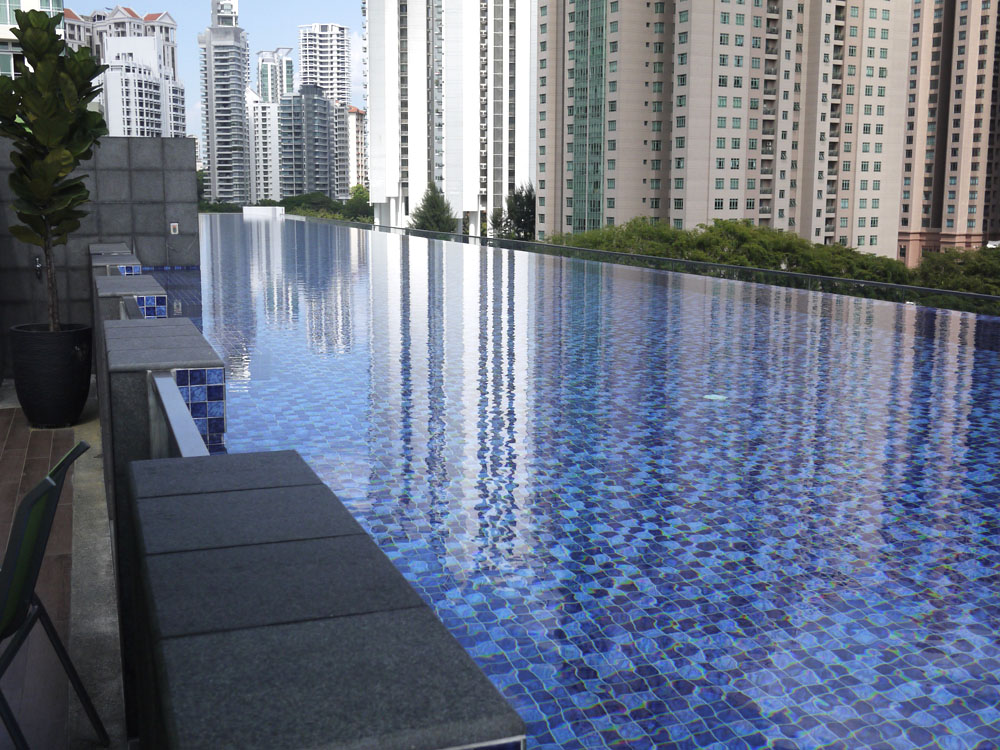 We wanted to try and find something that was perfect. A good size, a nice area with places to walk around and go and eat, and good facilities, near to a nice park. Many areas I looked at where just lots of apartment locks around malls which is not our cup of tea, it's a shame because we saw many nice apartments around the Novena area which is just like this. We soon settled on trying to find a place by the singapore river, it was central, pretty and I have always wanted to live on the riverside, something that would cost more in London. We found a complex called river place one weekend, it was right on the river with a resort feel to it, big pool and gym and the apartments were old enough to be big for the same money as elsewhere, but not old enough to look like crap. The first apartment we looked at was ok but now we had found the perfect spot we wanted to see all the options available in the complex, I had looked at over 60 apartments so far and not one was perfect, so it felt like we were at the last hurdle.
On the second weekend I arranged second viewings for my favourites for Yann to see hoping we could decide that weekend, we had a choice of 4 places in the complex. One was a 2 bed for S$4200, over our budget and un-furnished so lots of money to spend, the others all 1 bedrooms some with horrid furniture built in, some with noisy pool views that didn't feel private. They were the best of all I had seen but we found it hard to decide between them which meant none of them were perfect. We had one last viewing of an apartment I arranged last minute and almost forgot about, and when we went to see it knew it was the place and took it straight away. It was ground floor with a direct river view, the largest of all the apartments in in the complex and the biggest kitchen too. We were very excited and got it for our budget price of S$4000 when they were asking S$4400. Supposedly the last tenant payed S$4200 but then I'm not sure if I believe these agents.
I'll start with the view from the apartment, as it was one of the best I have seen.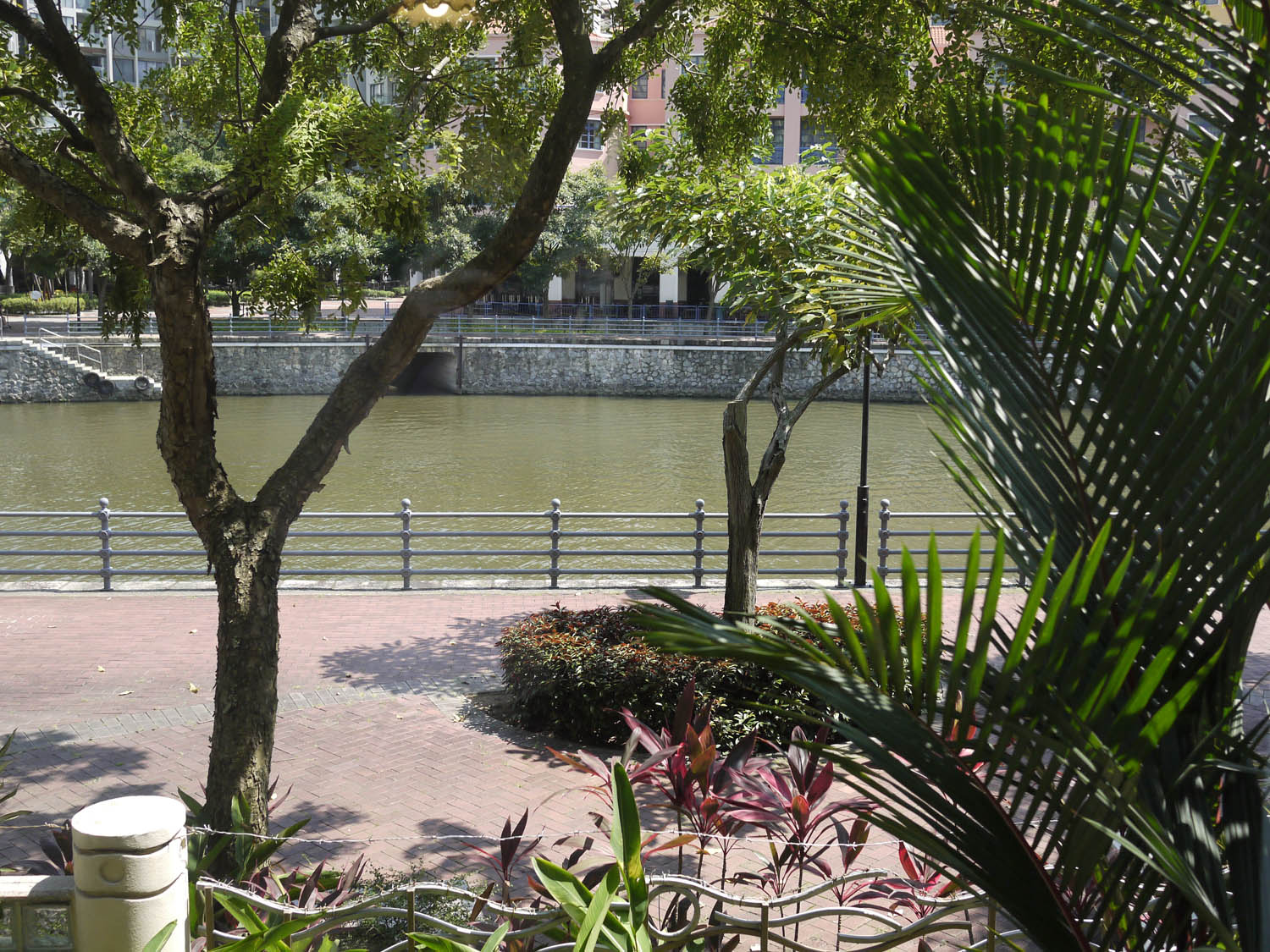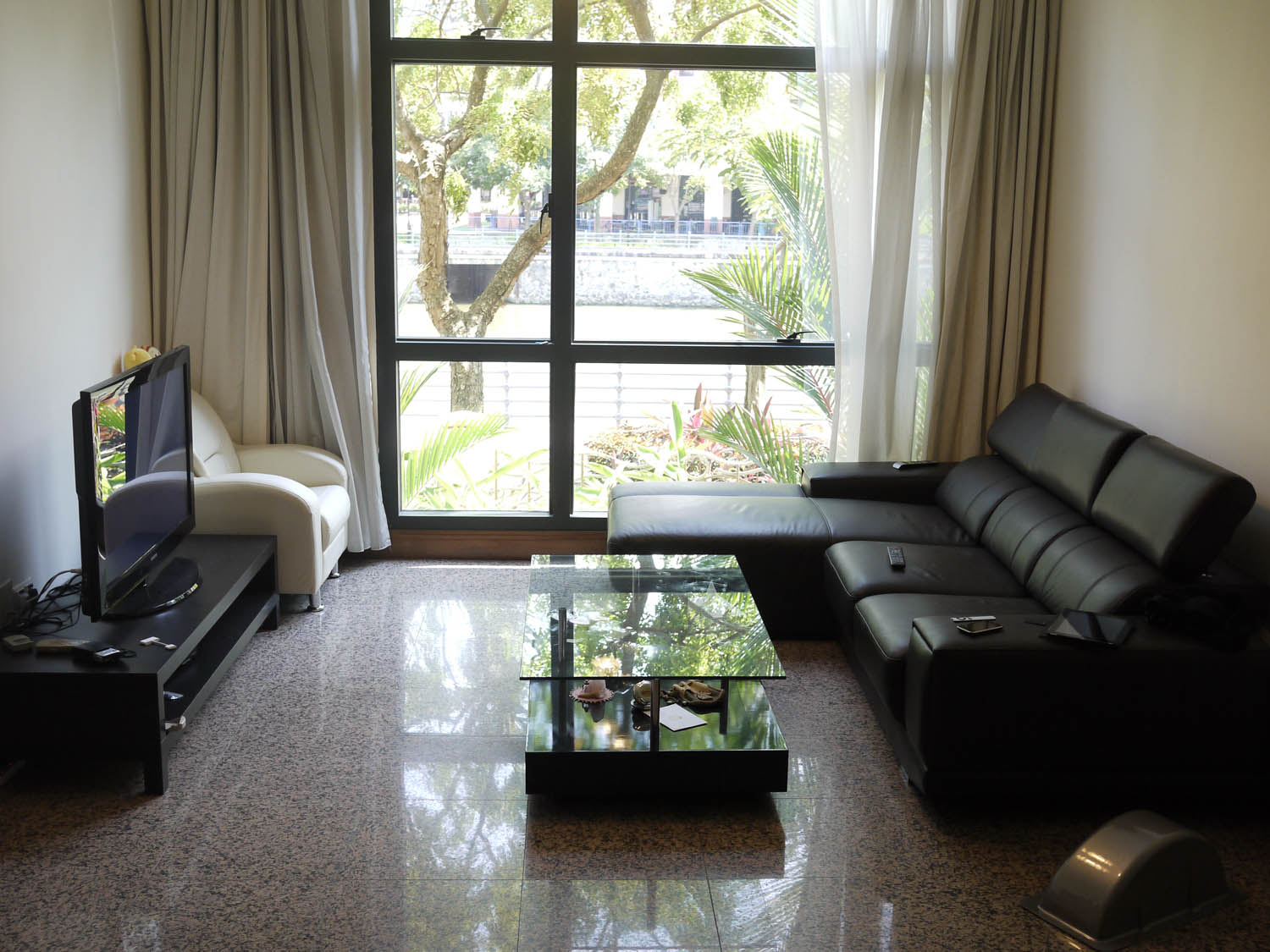 And if the pool wasn't cool enough, we also have 2 tennis courts. But when I think we are paying over £2000 a month we had better have tennis courts!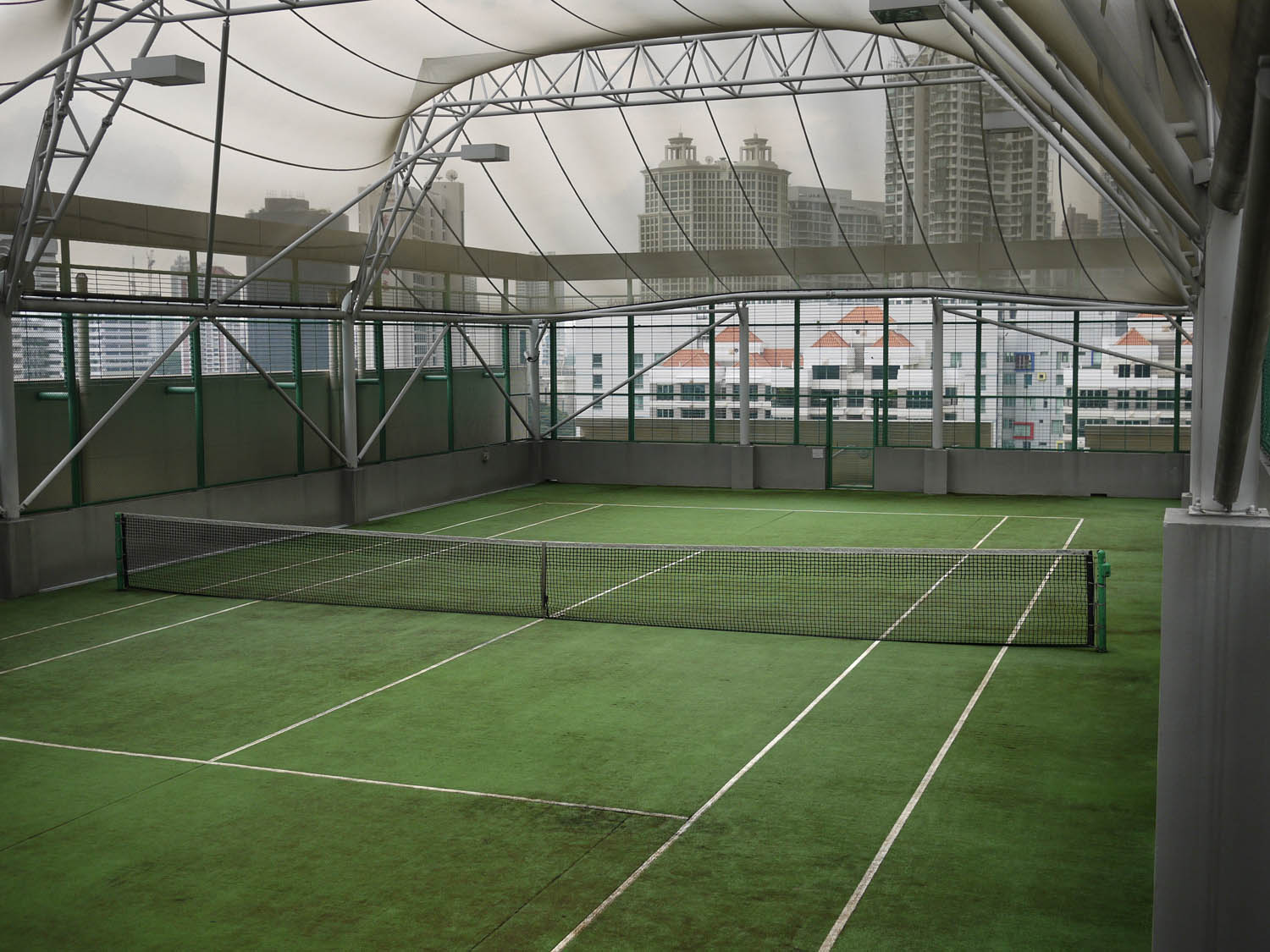 After 70 apartments I'm glad to have found home, I had seen it all in that time from Hello kitty stickers all over the flat to gaudy 1980s bathrooms but glad I saw so many as it means I know we have the right place. It was also interesting to get a picture of peoples lives here in Singapore and how messy people live. I must go tidy up now!