Until 2 years ago Myanmar was closed to tourism, making it the second most isolated county after North Korea. It's a great time to go before it gets tainted by the tourist industry to see a county as it truly is.
With only 5 days that gave us enough time to visit the capital Yangon, and Bagan where 4000 temples sit waiting to be explored. Everything is  cheap here except for 2 things, hotels and internal flights. Apparently it's because of supply and demand for our western standard rooms, you basically end up paying what you would in a European city. In Thailand by comparison $20 US Dollars can get you amazing rooms in some parts of the country. Our short 50 minute internal flight from Yangon to Bagan cost us the same as our 3 hour return from Singapore, but it did come with a free danish. Local spirits however are incredibly cheap at only US$1 for a small bottle and tasted better than the mass-produced western versions.
Yangon is a nice city for a tourist to visit in 3rd world Asia because you don't get hassled yet to buy anything like many cities as a tall glowing white man. It's an interesting city just to walk around with monks crossing the streets, barbed wire barriers, street sellers and bright gold pagodas shining in the distance. In chinatown we ate the best fish ever and it only cost $1, I need to find out how to make that fish! It's very easy to get around with cheap but descent taxis everywhere and they didn't try to rip us off like they would in Bali or Thailand.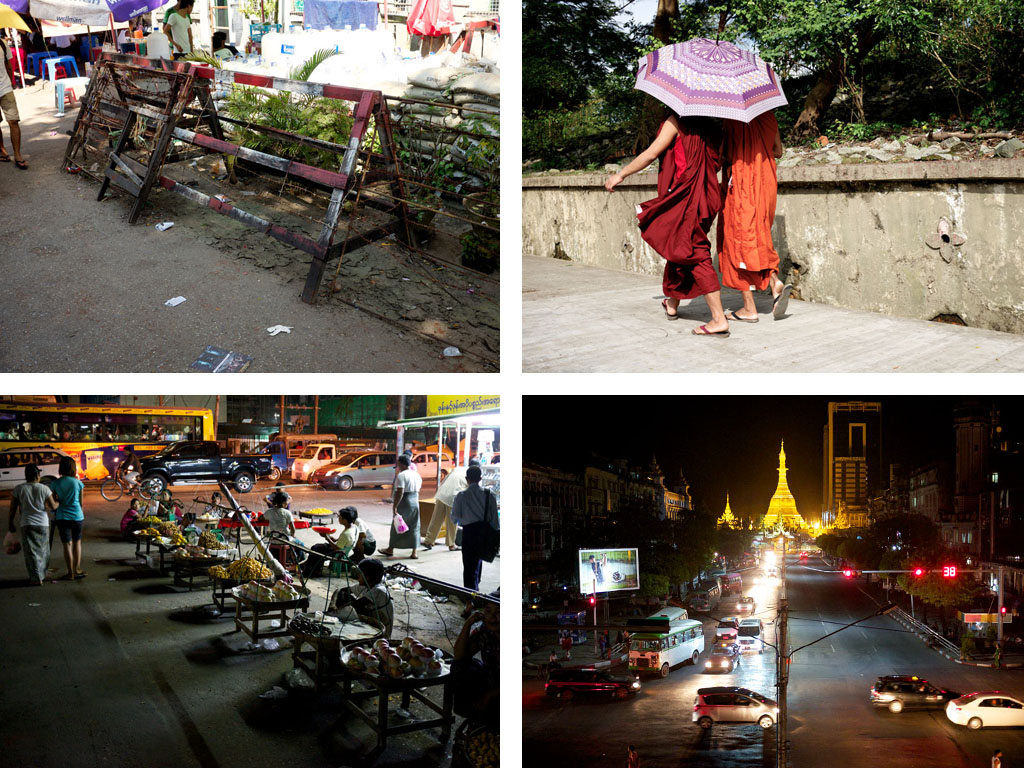 The main attraction is the impressive Shwedagon Pagoda, it felt like Disney Land walking around with all the gold, but also a special place with local Burmese coming in their thousands everyday.


The highlight for me was the Yangon circular railway, it's a $1 slow bumpy 3 hour ride around the city with open windows to stick your head out of and take in the city. There is so much going on with people walking home along the tracks, markets at stations, volley ball games. I even saw a dog that had been crushed by a train.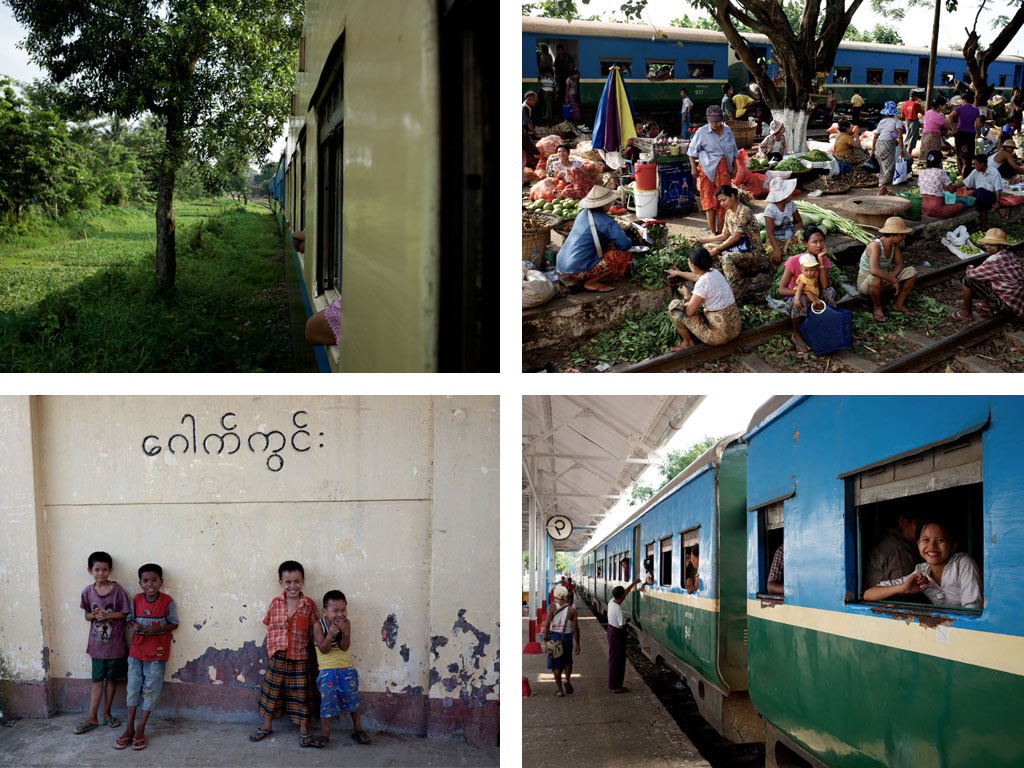 I would get smiles and waves along the way, like they were seeing something new just like I was, I shot almost 1000 pictures in the 3 hours alone.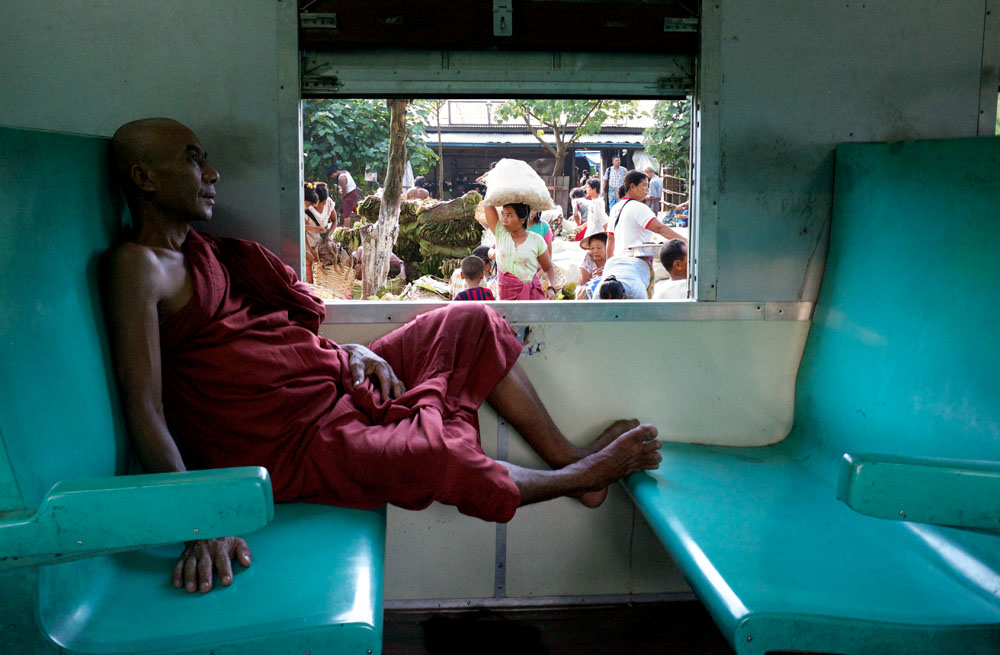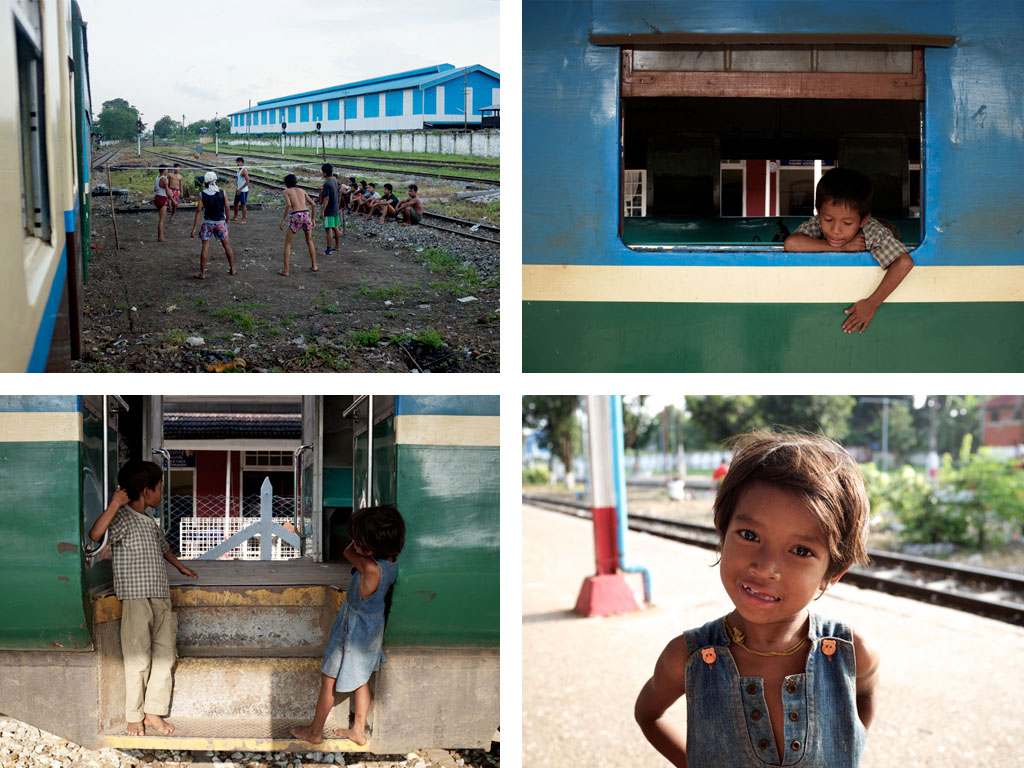 Flights to Bagan all leave around 6am from Yangon so we had to get up early, at least it gave us a full day of exploring the temples on bikes. I am glad we came in low season as this is one of the touristy areas or Myanmar and apparently it can get very busy in peak season. Most of the day we didn't see another person as we wandered in and up numerous temples. The crowds came out for sunset when everyone heads to see it in the best high spots looking across the valley.

For sunrise the next day we hired a horse and cart to take us around for few hours for $12, my chosen spot was nice and quiet and thankfully Yann was entertained by a young girl whilst I was busy taking pictures. We even got some Thanaka put on our faces by her mother, it's a white substance made from ground bark the women wear because it has a cooling effect. Apparently it's just for women but I wanted to try it.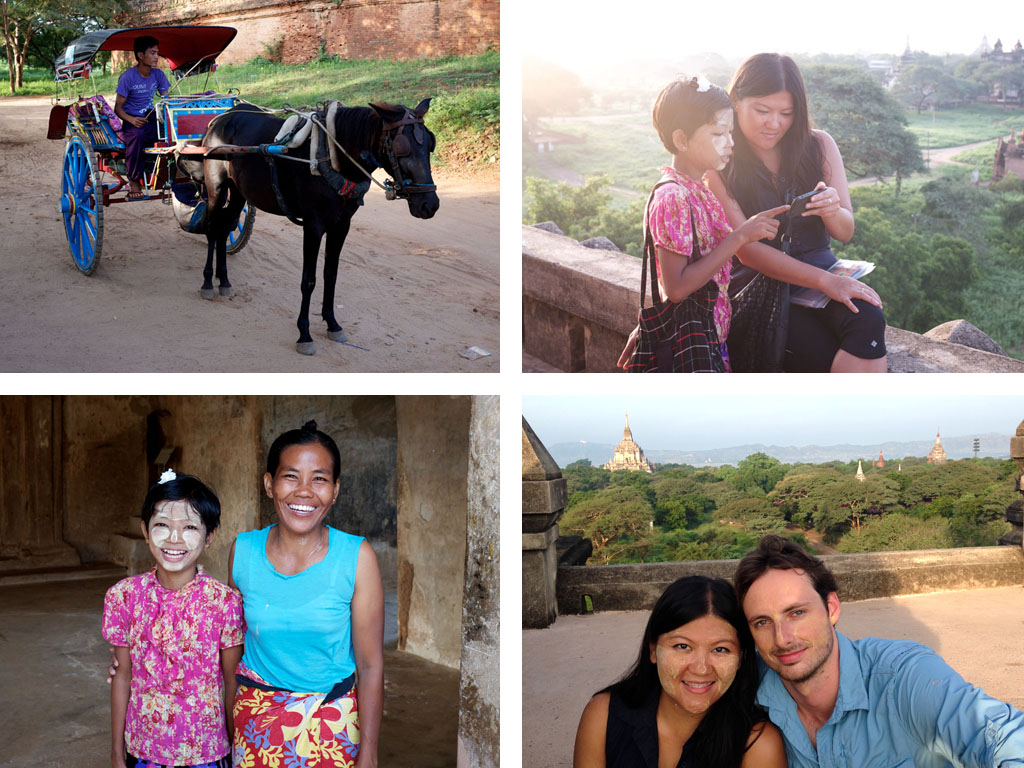 I love how it looks like a lost kingdom in the shot above, it was my favourite viewpoint in Bagan giving a great sense of the time that has passed since they were all built. I still wanted to find the perfect shot for sunrise with the temples in silhouette so I continued exploring but it turned out I had already visited the perfect spot, it was the first temple we climbed but it took me visiting every other one before I knew that. The sunrise the next morning was spectacular and it was the first day of the season the hot air balloons were in use so my timing, or rather delay in finding the spot was perfect.


It was interesting to see the land around the temples being farmed and I found this great location above, where after a bit a waiting the scene came together perfectly. Bagan is certainly an amazing place to get lost in and we had awesome weather considering it was the tail end of the rainy season. One day you may not even be able to climb to the top of the temples as the government are slowly closing them to preserve them, and I am sure tourism will change this place eventually so I am glad I got to see it now.
On our way back home to Singapore I was glad to see not everything in this country is stuck in the past.